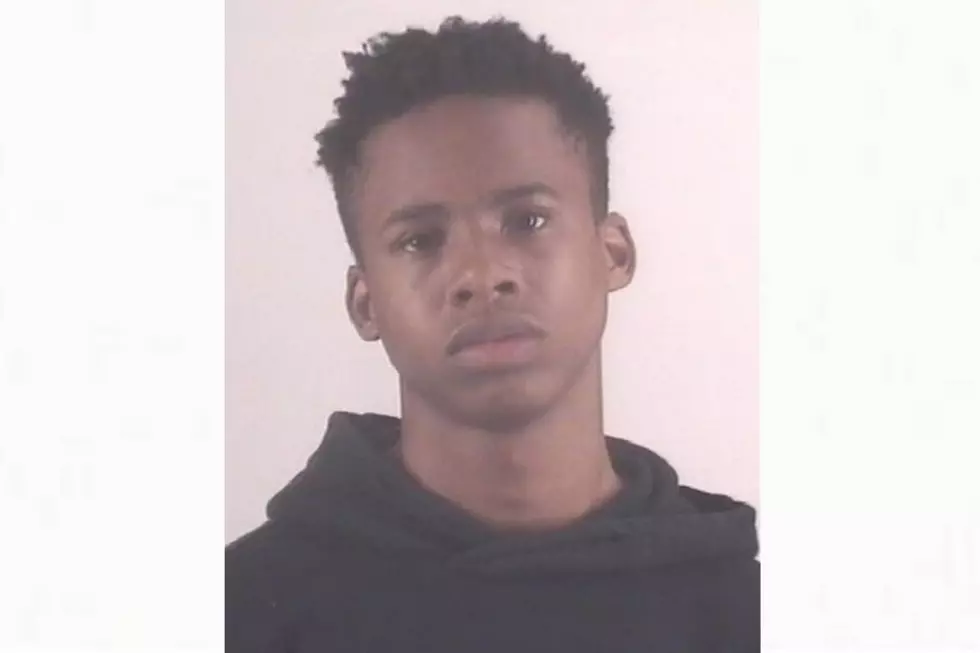 Here's a Timeline of Tay-K's Legal Troubles
Tarrant County Sheriff's Office
At its essence, rap music is raw. It's unfiltered. And many times, it's art imitating life. There may be no truer example of this in recent memory than the infamous case of 18-year-old Texas rapper Tay-K, who jumped bail for a capital murder charge in 2017, went on the run and told the whole world about it via the virtual middle finger to the cops turned viral hit, "The Race."
Born Taymor McIntyre, Tay-K's story falls under the "I can't make this stuff up" category. The son of a reported Blocc Compton Crip, Tay-K began pursuing rap in the Arlington, Texas area through his affiliation with the Daytona Boyz, with tracks like "Drift" and the solo song, 2015's "Biff Xannen," garnering a local buzz.
Just two years later, at the age of 16, he was charged with the murder of 21-year-old Ethan Walker, stemming from what police believe to be a premeditated robbery turned homicide. Authorities believe the rapper robbed and killed another man and assaulted another person before he was apprehended a short time later.
While he's been locked up, Tay-K's legal woes have continued to pile up, including multiple lawsuits stemming from his alleged crimes, drama behind bars, more charges that have been brought to light and co-defendants turning on each other.
With the "After You" rapper currently awaiting trial in what will more than likely be a much-publicized court case, XXL peers into the public records and puts together a timeline of the rapper's legal issues.
Ethan Walker Is Killed in Mansfield, Texas

July 26, 2016

Ethan Walker is shot and killed at his home on the 1500 block of Aspen Court in Mansfied, Texas. Police believe Tay-K along with six other people, including Megan Holt and Ariana Bharrat, planned to set up and rob the 21-year-old drug dealer. Holt and Bharrat are said to have gone to Walker's home with the plan being to distract him with their advances. One of the women then let Tay-K and more assailants into the home, where a struggle broke out and Walker was murdered before the crew fled. One man,  Zachary Beloate, is also shot but survives his injuries.

Tay-K is later apprehended and charged with capital murder. He is ordered to be placed on house arrest.

Tay-K Goes on the Lam

March 26, 2017

With a pending certification hearing to determine whether or not he will be tried as an adult, on March 26, 2017, Tay-K cuts off his ankle monitor and goes on the run. But not before announcing his plan to the world on Twitter. "Fuck dis house arrest shit fuck 12 they gn hav 2 catch me on hood," the tweet reads.

"The Race" Is Released on YouTube

June 30, 2017

After three months on the lam, and with his buzz mounting, Tay-K announces the release of the new song and video, "The Race," on Twitter. "Feds can't hold me back here it go Tay-K  - The Race Music Video," the post reads.

The brazen visual shows the rapper thumbing his nose at the law, bragging about his escape between menacing shots of the baby-faced rhymer toting multiple firearms.

"Fuck a beat, I was trying to beat a case/But I ain't beat that case, bitch I did the race," he raps. "I woke up too moody, who gon' die today."

Tay-K Is Apprehended in New Jersey and Charged With Another Murder

June 30, 2017

The same day "The Race" is released, U.S. marshals apprehend Tay-K at an affiliate's home in Elizabeth, N.J. They credit the arrest with "dozens of tips" that had "poured in from the entire country."

He is also charged with two more major crimes. While on the run, authorities believe Tay-K robbed, shot and killed 23-year-old Mark Saldiva at a Chic-Fil-A in San Antonio, Texas. According to witnesses, multiple men were seen arguing in a black SUV. Police say the group robbed Saldivar before he exited the vehicle and began screaming for help. He ended up jumping on top of the car, before one the passengers, believed to be Tay-K, got out and shot him. The group then fled the scene, leaving Saldivar to die.

Police also claim Tay-K assaulted a 65-year-old man in an Arlington, Texas park and tack on an aggravated assault charge.

Tarrant County Sheriff's Office

Tarrant County Sheriff's Office

Judge Rules Tay-K Should Be Tried as an Adult

Aug. 30, 2017

Though he is 17 (and was 16 at the time the crimes were committed), a judge rules that Tay-K should be tried as an adult on capital murder charges.

"The judge ruled that his case should [b]e moved to the adult court based on his age (and the fact that the juvenile court will lack jurisdiction soon)," reads a statement from one of Tay-K's lawyers, M. Trent Loftin. "The judge was very clear to tell Mr. McIntyre on the record that this decision has no bearing whatsoever of his guilt/innocence in this case... Mr. McIntyre remains upbeat after this hearing."

Tay-K's "Pretty, Blonde" Accomplice in Capital Murder Case Sentenced to 20 Years in Prison

February 23, 2018

One of Tay-K's accomplices in the home robbery and murder of 21-year-old Ethan Walker is sentenced to 20 years in prison, as she's found guilty of delinquent charges of capital murder and aggravated robbery. Prosecutors assert that the unnamed girl (she was only 17 at the time of incident) masterminded the invasion.

Tay-K Is Denied Bond

March 8, 2018

Citing the rapper's disdain for the law displayed specifically on the track "The Race," a judge a denies a bond for Tay-K.

"I don't know how many people are supposed to die and I don't know why we... as a country seem to glorify bad acts by putting out records and videos and people are following in this," State District Judge Wayne Salvant says.

"It's my understanding that people throughout this country have 'Free Tay-K' signs up or 'goto' funds to fund his defense and this court has a problem with that," he added. "I don't know what this country has become when people can go out and allegedly commit heinous crimes and be glorified for it."

Manager Announces Tay-K Will Not Face Death Penalty

May 23, 2018

Following rumors circulating that Tay-K would be facing the death penalty, Tay-K's manger Ezra Averill deaded the speculation with an Instagram post where he noted, "OH YEA AND AINT NO DEATH PENALTY OVER HERE #FREETAYK."

Tay-K Hit With Wrongful Death Lawsuit Over Chick-Fil-A Murder

June 21, 2018

The family of Mark Saldivar, the victim of the Chick-Fil-A murder in San Antonio, Texas, pursue a lawsuit against Tay-K for the wrongful death of Saldivar. They seek more than $1 million in damages from Tay-K.

Tay-K Is Sued for Profits Made From Record Deal

July 26, 2018

Tay-K Is Charged With Possession of a Prohibited Substance While in Jail

Aug. 2, 2018

Tarrant County Sheriff's Office

Tarrant County Sheriff's Office

Tay-K Is Moved to Solitary Confinement in Maximum Security Jail

Aug. 14, 2018

Tay-K Wins Legal Battle Over Bond, But Will Remain in Jail

Aug. 16, 2018

Tay-K gets a minor victory in court when Texas' Second Court of Appeals rules that State District Judge Wayne Salvant was wrong in refusing to set a bail for Tay-K concerning his aggravated robbery case.

However, due to no bail being set for his capital murder cases, the rapper remains in jail while he awaits trial.

Tay-K Accomplice Strikes Plea Deal, Agrees to Testify Against Him

Aug. 3, 2018

Things get worse for Tay-K when an accomplice believed to have taken part in the home invasion and murder of Ethan Walker enters a plea deal and agrees to testify against her three co-defendants, including the rapper.

Prosecutors waive the capital murder charge against Ariana Bharrat, as she agrees to plead guilty to aggravated robbery in exchange for a 25-year prison sentence.

Tay-K Shares a Photo From His Jail Cell

Aug. 28, 2018

Despite his circumstances, Tay-K remains in good spirits according to a Twitter and Instagram post from inside Lon Evans Corrections Center. In late August, the rapper uploaded a photo of himself in his cell, writing "Live From the Gates of Hell #FreeMe." It's unclear when the photo was taken or if it will have any implications following his charge for possession of a cell phone from earlier in August.

Tay-K Accomplice Sentenced to 40 Years in Prison

Aug. 30, 2018

Sean Robinson, another alleged accomplice of Tay-K in the 2016 murder of Ethan Walker, pleaded guilty to murder in exchange for a 40-year prison sentence.

Originally charged with capital murder, Robinson will serve 18 years behind bars due to credit for time served before he is eligible for parole.

Tay-K Accomplice Sentenced to 30 Years in Prison

Nov. 16, 2018

Tay-K's co-defendent Jalen Bell pleads guilty to two counts of aggravated robbery in the 2016 home invasion that resulted in the shooting death of Ethan Walker and wounding of Zachary Beloate.

As part of the plea deal, Bell will receive a 30-year prison sentence, according to the Star-Telegram, making Tay-K the last man standing.

Prosecutors Say Tay-K Tried to Start a Gang While Incarcerated

March 1, 2019

Tay-K's alleged behind bars activity surfaces, and prosecutors intend to it against him.

According to a report published by Texas' Fort Worth Star-Telegram, prosecutors submitted documents alleging that Tay-K attempted to start a gang called Rug-Rats while in jail.

Prosecutors reportedly filed the notice as evidence of other crimes Tay-K has committed.

Tay-K Sued for Allegedly Attacking a 65-Year-Old Man

May 3, 2019

With his capital murder trial still outstanding, Tay-K is faced with more legal drama when he's sued by Owney "Skip" Pepe and his wife, Barbara Pepe.

According to the Fort Worth Star-Telegram, Owney "Skip" Pepe, 65, claims Tay-K assaulted him while on the run from the police in May 2017. In the suit, the man alleges that Tay-K approached him from behind with a gun and demanded his wallet at Cravens Park in Arlington, Texas.

The lawsuit states that Pepe was left unconscious with "multiple broken bones" and a "brain bleed."

Tay-K Pleads Guilty to Aggravated Robbery

July 16, 2019

The long lead up to Tay-K's trial finally commences, and the rapper pleads guilty to one of the charges.

According to Texas' Fort Worth Star-Telegram, Tay-K pleaded guilty to two counts of aggravated robbery in the hearing for his capital murder trial. He reportedly pleaded not guilty to capital murder and a separate count of aggravated robbery.