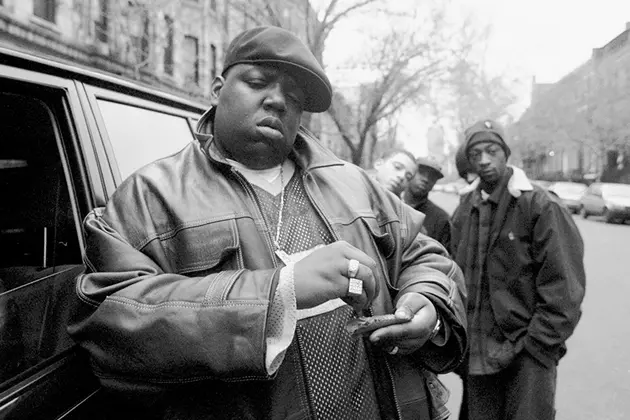 20 of the Best The Notorious B.I.G. Lyrics
New York Daily News Archive, Getty Images
"Lyrically, I'm supposed to represent," The Notorious B.I.G. rapped more than 20 years ago on "One More Chance (Stay With Me Remix)," a record that would become one of his signature tracks and confirm his coronation as the King of New York. Being a client and the player president is as distinguished a role as it gets, but the rotund Brooklyn rapper's reputation as one of the most skilled lyricists of his era and in the history of rap is the distinction that has kept his name alive 20 years after his murder on March 9, 1997.
Throughout Ready to Die, Biggie flexed his attributes as an MC, putting on exhibitions on tracks like "Machine Gun Funk" and "Unbelievable," which complemented hit singles like "Juicy" and "Big Poppa," solidifying his credibility as a hit-making rapper able to simultaneously dominate a cypher at will. He was so nice as a rapper that he could craft and construct songs and complete albums for other artists. As a result, The Notorious B.I.G. would stamp himself as the best to do it with his posthumously released sophomore album, Life After Death, which saw him pushing the limits of his talents, resulting in one of the greatest rap albums of all time.
With the 20th anniversary of the legend's death here, we decided to throw up some ice for the nicest MC and highlight 20 of the best couplets from The Notorious B.I.G's solo discography. Did your favorite Biggie lyrics make the cut? Find out below.
"Juicy"

The Notorious B.I.G.

"It was all a dream, I used to read Word Up! magazine/Salt-N-Pepa and Heavy D up in the limousine/Hangin' pictures on my wall/Every Saturday Rap Attack, Mr. Magic, Marley Marl"

"Gimme the Loot"

The Notorious B.I.G.

"Then I'm dipping up the block and I'm robbing bitches too/Up the herringbones and bamboos/I wouldn't give a fuck if you're pregnant/Give me the baby rings and the No. 1 mom pendant"

"Warning"

The Notorious B.I.G.

"Who the fuck is this? Paging me at 5:46/In the morning, crack of dawn and/Now I'm yawning, wipe the cold out my eye/See who's this paging me and why?"

"Big Poppa"

The Notorious B.I.G.

"Straight up, honey, really I'm askin'/Most of these niggas think they be mackin', but they be actin'/Who they attractin' with that line/'What's your name? What's your sign?'/Soon as he buy that wine, I just creep up from behind/And ask what your interests are, who you be with/Things that make you smile, what numbers to dial"

"Unbelievable"

The Notorious B.I.G.

"And those that rushes my clutches get put on crutches/Get smoked like dutches from the master/Hate to blast you but I have to, you see I smoke a lot/Your life is played out like Kwame and them fucking polka dots, who rock the spot, Biggie/You know how the weed go, unbelievable"

"The What"

The Notorious B.I.G. Featuring Method Man

"So instead of making hoes suck my dick up/I used to do stick-ups, cause hoes is irritating like the hiccups/Excuse me, flows just grow through me/Like trees to branches, cliffs to avalanches/It's the praying mantis, deep like the mind of Farrakhan/A motherfucking rap phenomenon"

"Juicy"

The Notorious B.I.G.

"Super Nintendo, Sega Genesis/When I was dead broke, man, I couldn't picture this/50-inch screen, money green leather sofa/Got two rides, a limousine with a chauffeur/Phone bill about two G's flat/No need to worry, my accountant handles that/And my whole crew is lounging/Celebrating every day, no more public housing"

"Suicidal Thoughts"

The Notorious B.I.G.

"When I die, fuck it, I wanna go to hell/Cause I'm a piece of shit, it ain't hard to fucking tell/It don't make sense, going to heaven with the goodie-goodies/Dressed in white, I like black Timbs and black hoodies/God'll prolly have me on some real strict shit/No sleeping all day, no getting my dick licked/Hanging with the goodie-goodies lounging in paradise/Fuck that shit, I wanna tote guns and shoot dice"

"Hypnotize"

The Notorious B.I.G.

"I put hoes in NY onto DKNY/Miami, D.C. prefer Versace/All Philly hoes, go with Moschino/Every cutie wit a booty bought a Coogi"

"Kick in the Door"

The Notorious B.I.G.

"Your reign on the top was short like leprechauns/As I crush so-called willies, thugs, and rapper-dons/Get in that ass, quick fast, like Ramadan/It's that rap phenomenon Don Dada, fuck Poppa/You got to call me Francis M.H. White/Intake light tokes, tote iron/Was told in shootouts, stay low and keep firin'"

"Fuck You Tonight"

The Notorious B.I.G.

"Some say the X, make the sex Spec-tacular/Make me lick you from yo' neck to your back, then ya/Shivering, tongue delivering/Chills up that spine, that ass is mine/Skip the wine and the candlelight, no Cristal tonight/If it's all right with you, we fuckin' (that's cool)"

"What's Beef"

The Notorious B.I.G.

"See me, B that is, I that is, G whiz/Motherfuckers still in my biz/Don't they know my nigga Gutter fuckin' kidnap kids/Fuck 'em in the ass, throw 'em over the bridge/That's how it is, my shit is laid out/Fuck that beef shit, that shit is played out"

"Niggas Bleed"

The Notorious B.I.G.

"Today's agenda, got the suitcase up in the Sentra/Go to room 112, tell them Blanco sent ya/Feel the strangest, if no money exchanges/I got these kids in Ranges, to leave them niggas brainless"

"I Got a Story to Tell"

The Notorious B.I.G.

"The shit she kicked, all the shit's legit/She get dick from a player off the New York Knicks/Nigga tricked ridiculous, the shit was plush/She's stressin me to fuck, like she was in a rush/We fucked in his bed, quite dangerous/I'm in his ass while he playin gainst the Utah Jazz/My 112, CD blast, I was past/She came twice I came last, roll the grass"

"Long Kiss Goodnight"

The Notorious B.I.G.

"I make yo' mouthpiece obese like Della Reese/When I release, you lose teeth like Lil' Cease/Nigga please, blood floods your dungarees/And that's just the half of my warpath/Laugh now cry later, I rhyme greater/Than the average playa hater, and spectators/Buy my CD twice; they see me in the streets/They be like, 'Yo he nice, but that's on the low though'"

"Sky's the Limit"

The Notorious B.I.G. Featuring 112

"If the game shakes me or breaks me/I hope it makes me a better man, take a better stand/Put money in my mom's hand/Get my daughter this college grant so she don't need no man/Stay far from timid, only make moves when your heart's in it/And live the phrase 'Sky's the limit'"

"Ten Crack Commandments"

The Notorious B.I.G.

"Number six, that goddamn credit? Dead it/You think a crackhead paying you back, shit forget it!/Seven, this rule is so underrated/Keep your family and business completely separated/Money and blood don't mix like two dicks and no bitch/Find yourself in serious shit"

"Notorious Thugs"

The Notorious B.I.G. Featuring Bone Thugs-n-Harmony

"Spit your game, talk your shit/Grab your gat, call your clique/Squeeze your clip, hit the right one/Pass that weed, I got to light one/All them niggas, I got to fight one/All them hoes, I got to like one/Our situation is a tight one/What you gonna do: fight or run?"

"Who Shot Ya"

The Notorious B.I.G.

"Who shot ya? Separate the weak from the obsolete/Hard to creep them Brooklyn streets/It's on nigga, fuck all that bickering beef/I can hear sweat trickling down your cheek/Your heartbeat sound like Sasquatch feet/Thundering, shaking the concrete/Then the shit stop when I foil the plot/Neighbors call the cops, said they heard mad shots"

"Dead Wrong"

The Notorious B.I.G. Featuring Eminem

"I don't wanna rape ya, I just want the paper/The Visa, kapeesha? I'm out like The Vapors/Who's the one you call Mr. Macho?/The head honcho, swift fist, like Camacho/I got so much style I should be down with the Stylistics/'Make up to break up'/Niggas need to wake up/Smell the Indonesia, beat you to a seizure/Then fuck your moms, hit the skins to amnesia"