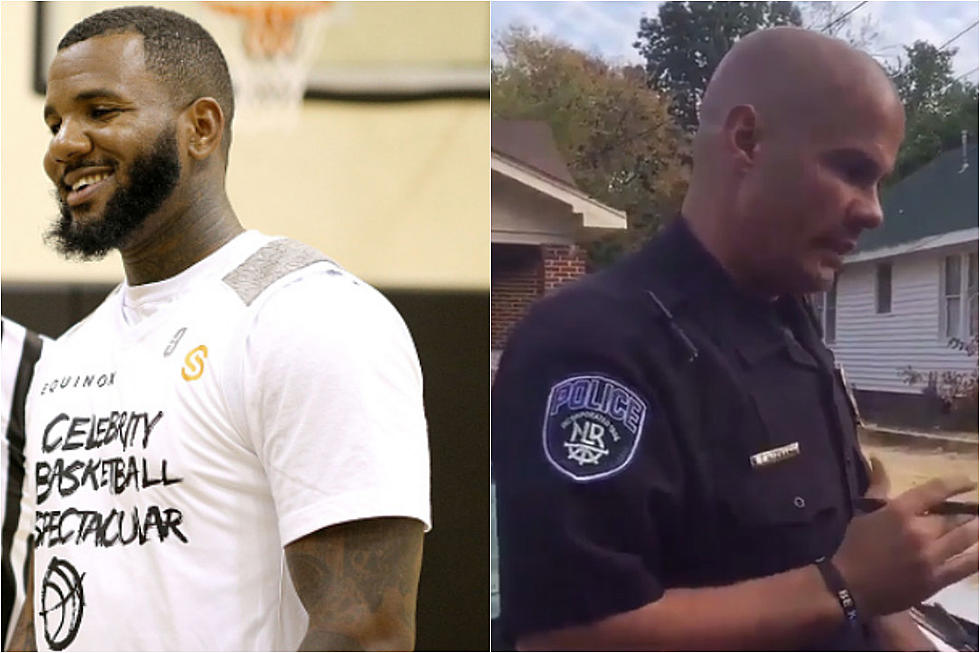 The Game's Son Harlem Starts GoFundMe Page for Arkansas Police Officer Tommy Norman
Mike Windle (Getty Images) / Instagram (2)
Game and his son Harlem have raised over $40,000 in 24 hours.
With all the negativity that has surrounded cops in the past week, it's easy to lose sight of the fact that there are many police officers who hold their pledge to protect and serve to the highest esteem. Through his efforts to bridge the gap between relationships between the police and civilians, The Game and his son Harlem have recognized one such officer and decided to help him out with a monetary boost.
The officer in question is Tommy Norman of North Little Rock, Ark. You may recognize the bald public servant from the many "good cop" memes that have circulated the Internet that show him constantly showing love and support for the mostly Black community that he serves. Harlem has started a GoFundMe page for the officer is hope to raise $10,000 to help him continue his efforts. Chuck supported his son's efforts by kicking off with a $1,000 donation.
Game revealed the plan on Instagram, saying the idea came from a conversation he had with his son about the cops.
"I had conversations with my oldest son @hvrlemtaylor about good cops & bad ones & he did his research & found officer @tnorman23's page & i was touched by how active he is in the black community where he polices, Chuck wrote. "My son said, how does he help all of these kids & stuff, is he rich ??? I said I don't know if he's rich but sometimes it doesn't take much to help those in need son...... Being that my son is on vacation with his mother visiting relatives in Atlanta, Arkansas & Louisiana he wanted to do something for officer @tnorman23 in Little Rock so he delevoped a #GoFundMe to try & raise $10,000 so that officer @tnorman23 can stuff his trunk with toys, goodies, food & other things to help him continue contributing to the kids & people in Little Rock Arkansas," he added.
As of press time, the GFM page has surpassed its goal and is sitting at over $11,500.
Norman has taken notice of Game and Harlem's good deed and has responded with gratitude. "What do I say? What do I do," he typed on Instagram about Game and son initiating this love offering. "As I type this I look into the sky & thank the man above for my heart to serve! But can I be honest? I don't see what you see. I don't see the amazement. Being on the inside looking out, and giving of my heart & soul for so many years is just a part of life for me. To grab the worlds attention? No way! A sincere thank you to @losangelesconfidential & his son @hvrlemtaylor for having faith in my mission & dream to change the world!"
Game is really showing his influence on a political level. He and Snoop Dogg coordinated a peaceful march on LAPD headquarters on Thursday (July 8).
50 Fire Hip-Hop Albums You Need to Listen to This Summer