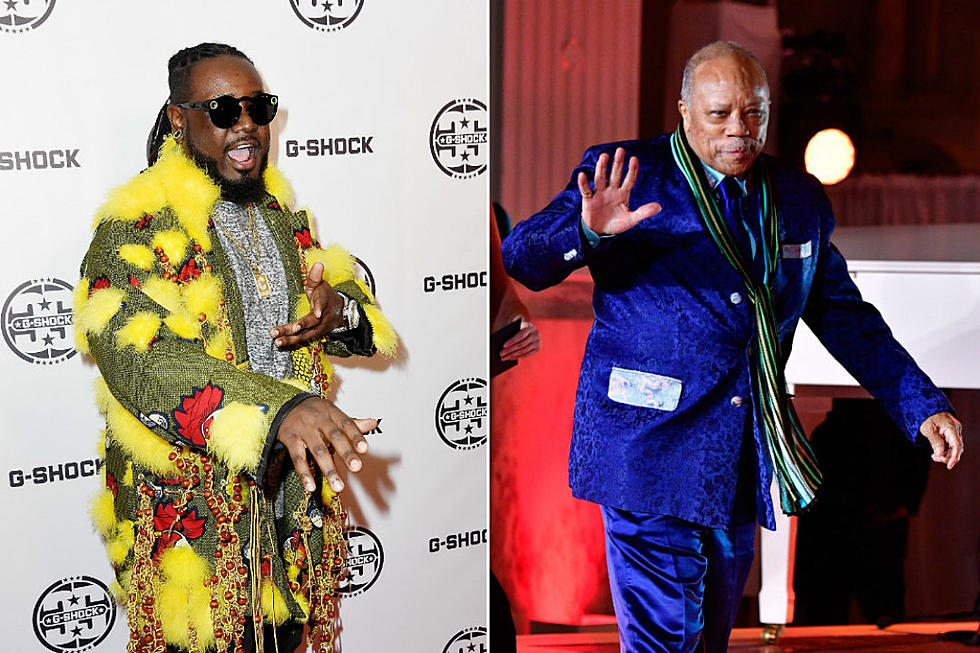 T-Pain Fires Back at Quincy Jones for Putting Him on Blast for "P.Y.T. (Pretty Young Thing)" Recording Session
Nicholas Hunt / Frazer Harrison, Getty Images (2)
Quincy Jones has the internet going nuts due to a new interview with Vulture that dropped on Wednesday (Feb. 7), in which he makes many wild claims about some superstars in the music industry and celebrity circles. While people like the late singer Michael Jackson and late comedian Richard Pryor cannot speak up for the things that were said about them, T-Pain is here to set the record straight about the claims that were aimed his way.
According to Jones, Pain did not pay attention to details when they got together to record a remake of the Michael Jackson track, "P.Y.T. (Pretty Young Thing)" featuring Robin Thicke. The song appeared on Jones' 2010 album, Q: Soul Bossa Nostra.
There are two sides to every story. T-Pain doesn't recall things playing out quite the way Jones states, sharing his thoughts on the recording session on Twitter. "For the record I told my managers (at the time) and I told @QuincyDJones in his face 'I don't want to remake any of your past records because I know I'm gonna fuck it up, I'll never be able to reach the greatest of MJ,'" Pain tweeted Wednesday afternoon (Feb. 7). "It took them hours to pump me up to even go in the booth...And I still hated it when I came out of the booth. Then the song came out and it was even worse than it sounded in the studio. This is legit one of the reasons I don't work with the managers I had anymore because if I said I was uncomfortable doing something they didn't care."
The "Florida Boy" added, "But also to be real. It just seems like @QuincyDJones is pissed off at the whole world. I have nothing but respect for the guy so I don't know why we didn't hold the song or tell me exactly what he wanted when I kept taking the headphones off beggin for direction from the God."
Check out T-Pain's version of events below.
See New Music Releases for February 2018