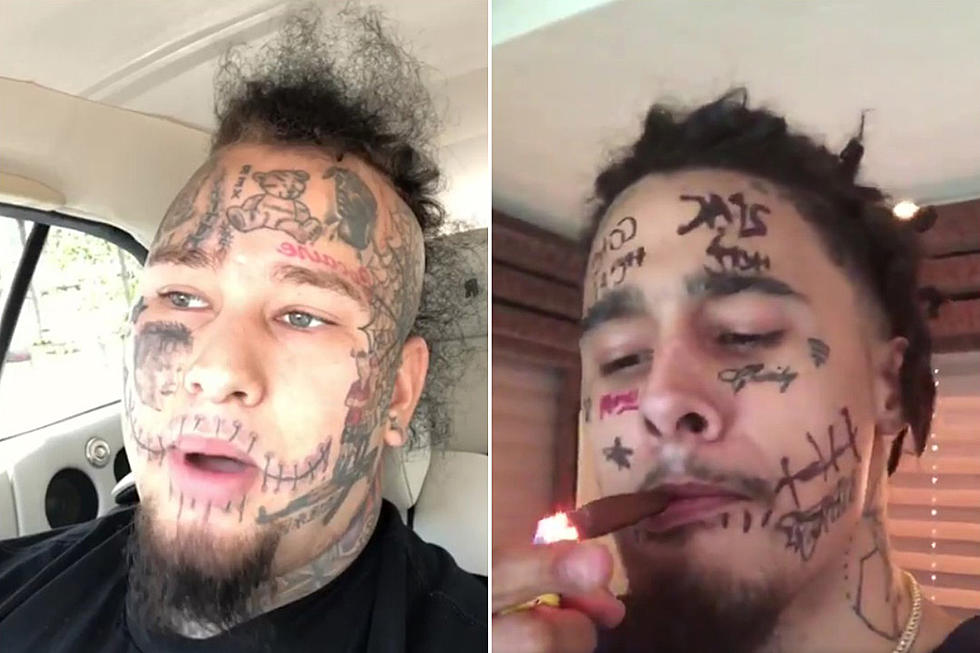 Stitches Issues Warning to Wifisfuneral Over Perceived Diss
@stitches via Instagram / @wifisfuneral via Twitter
Stitches may be trying to change his life and become a better man but the Miami rapper isn't going to let a slick comment from Wifisfuneral slide. On Friday (June 29), Stitches hopped on Instagram to issue a threat to the 2018 XXL Freshman after he says he made a snide comment about him in a video.
According to Stitches, in an old video of XXXTentacion saying Stitches runs the underground hip-hop scene in Florida, Stitches claims he noticed Wifi saying, "Chill, chill." The comment didn't sit well with Stitches, who called out the rapper in his Instagram video.
"Nigga, I will snap your neck like a Kit-Kat, you twig," he says. "You 140-pound salamander faggot-ass muthafucker. Who the fuck do you think you're talkin' to? Bruh, listen, the do-boy that you got right now that his name starts with a V, was my do-boy first. He was my bitch. He knows who he is. You were my bitch. And I'm saying it right now, I ain't hard to find."
Wifisfuneral eventually caught wind of Stitches video, reposting it on Twitter and commenting, "I'll be in Fort Lauderdale in 8 days I'll personally get you in with no problem for you to slap me." Like Stitches, Wifisfuneral also hails from Florida, although the rapper grew up in Palm Beach.
But Wifisfuneral didn't stop there with Stitches. The Ethernet Vol. 1 rapper continued to tweet about him, writing, "Ain't this the same nigga that found god & all that other bullshit? But now he back on his gamgsta (sic) shit? I'm not falling for it. 😂😂😂😂😂 This legit made my day! 😂😂."
He also created a comical video in which he mocks Stitches, drawing tattoos on his face in a similar fashion to the stitched ink on the sides of his mouth. "Wifisfuneral, this muthafucka wanna talk shit about me?" Wifi begins, mocking Stitches as he smokes a blunt. "Talk about how I ain't start the underground scene in Florida. Muthafucka, I'll break you like a twig, nigga. I will break you like a twig. You don't know I throw fake cocaine in the fuckin' crowd. I started this Florida shit. I'm a fuckin' cokehead. I want smoke with a 21-year-old 'cause I'm not fuckin' relevant. Yeah, brother!"
Wifi also challenged Stitches to a different type of fight, saying the two should settle their differences by playing the WWE SmackDown! Vs. Raw video game. "Me & stitches should settle this beef in a 30 minute iron man match playing smack down vs raw." In addition, he uploaded a video on Instagram with tattoos like Stitches' drawn on to his face.
Check out Stitches' video, as well as Wifisfuneral's tweets and video below.
See New Music Releases for June 2018