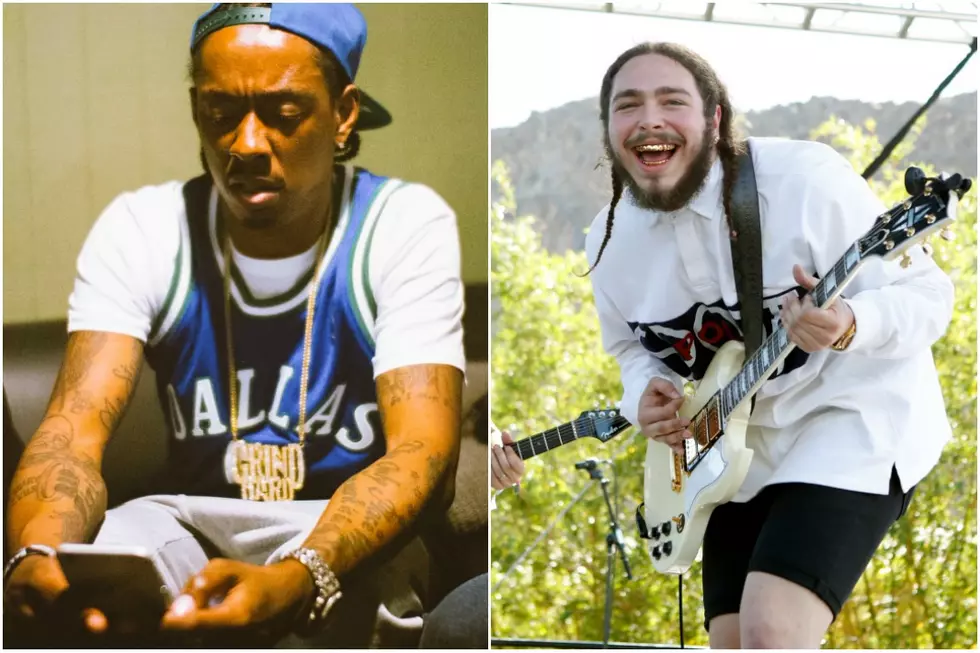 Starlito and Post Malone Speak on Going at Each Other on Twitter
DexStr8Dope/Randy Shropshire, Getty Images
On Saturday (May 27), everything was everything in Twitter land when Nashville, Tenn. rapper Starlito retweeted a viral picture of Post Malone and Allen Iverson and captioned it, "Plot Twist: Bubba Chuck snuffed him & will be wired $3M Tuesday a.m. when banks re-open #extortion #reappropriation."
No one really knew what he was talking about, but things escalated quickly, as Post hit him back saying he didn't even have $3 million to wire. Lito soon responded to the Dallas rapper: "Bric can't save you.. Iverson would never self-deprecate in the face of a difference of opinion or slight. You owe Twin nem outta H-Town too."
Post shot back, saying "bruh it sucks you're so ignorant I used to like your shit. how're you gonna say anything about when you've never met me?" and when Lito responded by saying "not your 'bruh,'" Post tweeted a picture of his platinum plaques for Stoney and "Congratulations" next to a search in the RIAA database for Starlito's name that produced zero results.
Lito was referring to Sauce Twinz when he said Post owed somebody. The Houston group first popularized the term "saucing," which Post uses heavily in "White Iverson." But who is Bric? And what was Lito getting at?
It all started with a HipHopDX interview the other week where Don Trip and Star were asked about their feelings on Post's "White Iverson" song since Trip has an old track called "Allen Iverson." Trip didn't have much to say, but Lito had some stuff to get off his chest.
"I thought it was a little bit exploitive," said Lito of "White Iverson" in the interview with HipHopDX. "On a lot of cultural levels. That's what I thought and felt. I had an opinion about that record. I had just met the Sauce Twinz and they were the only people in the world that I had heard use [saucin']. I was kind of taken back by it because it was a big record and I was like, 'Damn, that's they shit.' Then, like, 'White Iverson?' I don't think I could make a 'Black John Stockton' record. Maybe not me but a black artist in general, it would be taken in a whole different [way]. I don't know. I'm a conspiracy theorist, I look at shit really weird like, 'Damn is this not any different than some blackface type shit?' That was my first impression of that record, seeing the guy with cornrows. That's what I saw and heard, almost like some kind of bigotry-laden stuff. I mean I know [some of his] people, we got some mutual acquaintances. I don't know. I feel like my first impression from the record wasn't far off from the way it played out."
XXL spoke to both Starlito and Post on Saturday night after their Twitter spat to get both sides of the story, and Lito says his original retweet of Post's pic with Iverson was a joke.
"I thought it was a funny ass picture," Lito told us over the phone. "90% of my tweet, which was a quote of the original photo in the Post Malone tweet, was a re-caption of the picture. You know how people post pictures and they're like, 'Caption this.' It was all a joke, but the inspiration for the joke was Allen Iverson's facial expression. I looked at the picture, and I thought it was cool enough, regardless of how I feel about the song or Post Malone personally, I did think the picture was cool enough. It wasn't malicious, it wasn't personal, it wasn't like, 'Fuck Post Malone, I'm about to shit on Post Malone.' It was more like… Allen Iverson really looks like he doesn't want to take this picture."
For context, Lito also says he was ticked off in that HipHopDX interview because one of his childhood friends threw away his Roscoe's right before, so he wasn't in the best mood, but that doesn't mean he's changing his opinion on Post's record. "I don't feel any different today, I didn't feel any different the day before that," says Star. "Someone threw my Roscoe's away and probably affected my temperament and made me more vocal about [Post Malone]. When we weigh ['White Iverson' and Don Trip's 'Allen Iverson'], I still stand by Don Trip having the superior record, and that's just to my taste, that's just my opinion."
When we talked to Post about the whole thing, he didn't understand where the criticism was coming from, especially because he says Iverson himself loves the song.
"I don't even know where it came from. I know [Starlito] said some shit in HipHopDX, and that didn't bother me. You're entitled to an opinion and I don't care if you don't like me," Post tells XXL. "But the whole issue is when I posted a picture of me and Allen, that bothered [Starlito] somehow, I guess. I don't understand, because it made me happy or something? I don't understand. I just don't see how that fucks with anybody besides me and Allen. We're tight, we're cool. I met [Iverson], he loves the song, we talked about a remix with Jadakiss and I asked him who he wants on the remix and everything. And [Starlito] didn't like that."
Asked about the accusation that Sauce Twinz were the first ones to use the term "saucing," Post gives the Houston duo their props and says it was actually his Atlanta producer FKi 1st that suggested he use that word in "White Iverson."
"I fuck with the Sauce Twinz. I fuck with Rizzo heavy," says Post. "The first time I heard 'sauce' was right before I recorded 'White Iverson,' my DJ/producer from Atlanta [FKi 1st], he said 'you should change that one part to "saucing."' And I was like okay, that's dope. So that's where that came from. Because I don't even remember what word I had, but [1st] was like 'you should put "saucing" there.' And I was like fuck yeah, that sounds dope."
Then there's Bric. Bric is a mutual acquaintance of both Post and Starlito, and according to Lito, Post reached out to Bric hoping Bric could get Lito to chill during their Twitter spat.
"Even though [Post] responded to the tweet saying 'lol I wish I had 3 million to wire,' he called this mutual acquaintance of ours [Bric] and pretty much leaned on him to make me leave him alone," says Lito. "Like 'Why is Starlito picking on me?' kind of thing. And I just thought that was a far cry from what [Post] was projecting publicly."
Lito continues: "[Post] basically calls Bric like, 'Starlito is talking shit about me in this interview and now he's yada yada on Twitter,' and Bric's stance was like… what do you expect me to do about it? I then felt like, this is what's wrong with rap. People don't project who they really are, how they really feel. They do the safe thing, they do the politically correct thing. It's like a mind fuck. You're over there scratching your head or at odds or upset about what I'm saying, but you're LOLing to the public."
Asked about Bric, Post says he did, in fact, hit him up, and proceeded to read us the text message he sent to Bric from his phone. "I've been friends with Bric for a long time, ever since everything started, and I knew he was close with [Starlito], so I just said, 'Yo, what's up with your boy? Why's he acting so weird?' And that's it, really. Bric's my homie and I knew that they were tight boys, so I was like, 'What's his issue? Like what's the deal?' And Bric said don't trip on it. But you know me. I'll read you the text [I sent Bric] right now. I said, "Why is your boy Starlito being a bitch?" That's what I said. That's it, verbatim."
Regardless of the back-and-forth, Lito sees a larger problem with Post's image and "White Iverson" as a song. "To me, Post Malone is a character, he's a caricature in music almost," says Lito. "I watched one interview or an interview and a half and I saw everything I needed to see to not pay any attention to him. [The picture with Iverson] just arrived on my timeline via retweet. I cracked my joke because I thought it was funny in my head and it's just what I do from time time to time, and in the midst of 60,000 likes on the damn picture, my joke got under his skin and ruffled his feathers.
"All I was saying, and I stand on it, is that you owe where you are to Allen Iverson, to his likeness," continues Lito. "Everything he put out there is in large part the reason for your successes. That's all I was saying in a nutshell. But I'm not upset with [Post] for being white and making the right record at the right time and having the right people in place to market it and push it. I'm not upset with him for that, that's life. But it is what it is. I couldn't make a 'Black John Stockton' song, we couldn't call our shows the Black Step Brothers. It just wouldn't fucking work.
"To me, ['White Iverson'] was a celebration of white privilege. The 'White Iverson' thing is very, very, very close to like… black face, to a minstrel show. And I know that might be an extreme perspective, but it is my perspective. No black rapper could make a 'Black John Stockton.' And maybe that speaks more to John Stockton's appeal versus Iverson's, and that's a whole other argument, but I'm just saying we couldn't categorize something traditionally over-the-top white as black. We could do a black version and parody it in good taste. But it's a weird double standard thing that [Post] benefits from. It's more of like a cringe thing. It doesn't make me mad."
Post knows he's been accused of appropriating black culture before, but he's not too bothered by the conversation. "That type of shit is the shit that I've dealt with, ever since… everything. Ever since I put my song out," he says. "I'm different, and people sometimes don't know how to take it. But I think I make good music. I'm just in it for the music. I want to make music, I want to make my living, you can make your living however you want to. I want to make mine making music because it's what I love to do. And I'm blessed to be able to do what I love as a job, but you know, everybody has their own stuff going on. I don't understand. I woke up and I seen [Starlito's tweet] and I was like… this is not cool. And I'm not gonna let some dude just bully me, so it's just fucking whatever."
It's unclear where Lito and Post stand at this point, but Starlito is willing to lay it all to rest with one simple gesture: "It'll be water under the bridge if he plays me in basketball one-on-one."
Lito is planning to drop a new solo album later this year, and Post Malone's Beerbongs and Bentleys is also set to release some time before next year.
20 of Your Favorite Rappers Naming Their Favorite Rappers