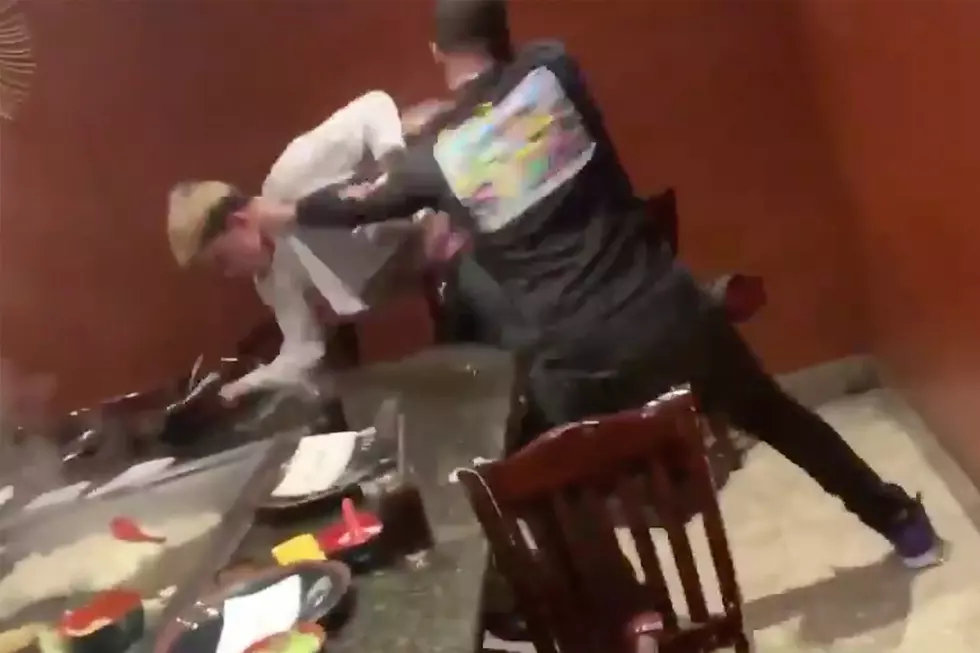 Skinnyfromthe9 Assaulted at Restaurant, Posts Statement
@Adam22 via Instagram
UPDATE:
Skinnyfromthe9 wants his attackers to know they didn't stop anything. Since he was assaulted in a restaurant on Friday (March 22), the New Jersey rhymer has commented on the situation on social media and appears to be unfazed. In one video posted on Saturday (March 23), he boasts about not taking a complete L in the squabble. "You did all that for what, bruh? I'm still shining and I can still probably fuck your bitch," he said, showing off his jewelry and lack of war wounds.
In another video, he appears to be in the airport about to take a flight to Miami, unbothered. In a third clip, be boasts about not folding after taking some punches to the face. "Ate that shit for breakfast, nigga. It's nothing."
Check out videos of Skinny's updates on the incident below.
ORIGINAL STORY:
Just a few weeks after being robbed in California, rapper Skinnyfromthe9 has once again faced some unexpected adversity.
In a video podcaster Adam22 posted to his Twitter account on Friday (March 22), we can see the New Jersey-bred rapper get attacked while he sits in a hibachi restaurant.
In the 14-second clip, which appears to have been recorded today, the assailant punches Skinny so hard that he flies back into a chair. From there, the two men start wrestling before the unnamed attacker violently throws the rapper to the floor before punching him one last time and walking away.
In a brief statement to XXL, Skinny gives an overview of the situation. "The guy tried to pretend to be a fan and asked me for a picture and then hit me by surprise," he says. "I was alone by myself, out to eat with a girl."
Skinnyfromthe9 used his Instagram story to go into further detail.
"I wasn't gonna comment on the situation cause I'm all about positivity," he says in the story. "But the dude that hit me is a straight bitch. He came up to me while I was eating at a restaurant by myself with a girl and was like, 'Yo, I know you eatin' right now, but can I take a picture?'"
He continues, "I got up, put my arm around him like we was gonna take a picture —like we was posin'— and the dude snuck me. And then we started wrestlin', and that's what happened. My face is fine. I still fuck bitches. I still got all my jewelry - the dumbass didn't even get my jewelry. He tried."
Skinny goes on to call out the attacker and the way he went about the fight.
"Dumbass nigga. He ran outside like a bitch," Skinny says. "He would not fight me one-on-one. I would beat your ass, Adam, you a whole rat," he adds, possibly referring to Adam22. "Shut the fuck up. Skinny Gang. Where I'm from, when you wanna fight somebody, you go up to them and niggas square up. Niggas throw they shit up and fight it out. Not no bitch shit, where you go and sneak niggas. That's corny."
As news of the surprise attack on Skinny spreads the internet, people are beginning to speak on the whole situation. Zoey Dollaz, a person Skinny claimed tried to jump him in Los Angeles last month, was among the first to do so. Posting the video onto his Twitter timeline, Zoey poked fun at his apparent enemy.
"Damn @skinnyfromthe9 what happened bro 😂😂😂😂😂," Zoey wrote.
XXL has reached out to Skinnyfromthe9's reps for comment.
You can see footage of Skinnyfromthe9's fight in a hibachi restaurant and watch him give a statement on the assault below.
View this post on Instagram
Read 10 Wild Stories That Took Place During Hip-Hop Tours