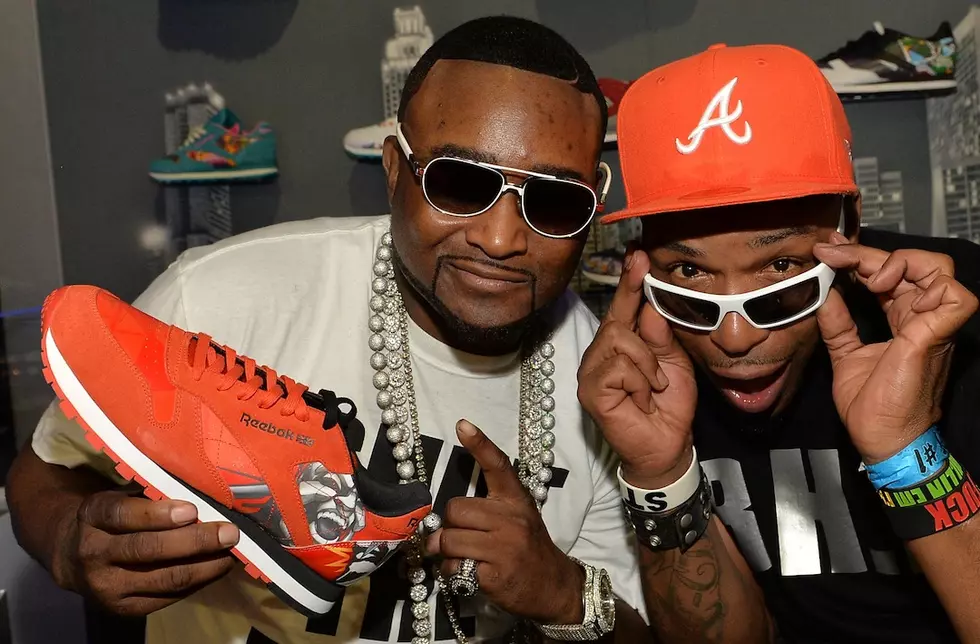 D4L's Fabo Opens Up About Shawty Lo's Legacy: "He Was a Hero"
Rick Diamond, Getty Images
Shawty Lo's death has sent the hip-hop community into a state of mourning today (Sept. 21). The ATL rapper succumbed to injuries he suffered after his 2016 Audi crashed through a guardrail, hitting several trees and proceeded to catch on fire. A slew of rappers have come forth to pay their respect to Shawty via social media, but one of the main people the hip-hop community was waiting to hear from was his childhood friend, Fabo, who's also a former member of D4L -- the group that pushed him, Shawty Lo, Mook-B and Stoney to the top spot of Billboard's Hot 100 with 2005's "Laffy Taffy."
XXL caught up with Fabo during this trying time to speak on the life and legacy of his fallen partner. As the group disbanded several years back, many were unsure of how the members parted ways when it came to their personal relationships with each other. Although Fabo and Shawty Lo weren't very public about their dealings, they remained close over years.
"Even though people [didn't] see us in the spotlight and even though people [didn't] see us together all the time, we got so many pictures and so many memories of us," Fabo tells XXL. "Lo was a dude that would throw barbecues every weekend. We always gon' be tight and the rest of D4L. We got together this morning and it was a great thing to see us all in one room together. We did that at his house."
Fabo and Shawty even recently reconnected and recorded new material. "We were working on a song called 'I Heard' and we had another song that we were working on," he shares. "We got a lot of music. My last memory was being there with him for about four hours in his house in the studio. It's just crazy right now."
Even though the group did go their separate ways and whispers of tension spread over the years, Fabo assures that the group remains like family and all of the members are thankful to Shawty for believing in their dreams and pushing them to stardom. "He was a hero. Shawty Lo was a hero, especially to me," the D4L breakout star recalls. "I met Shawty Lo when I was in high school. He used to come up there while I would practice with the band and just bring us water because it would be hot or whatever. So, he was a hero before I even started rapping."
Even from jail, Lo put the battery in his fellow group members' backs to get things done. "Shawty Lo was the one that put us in the studio," Fabo continues. "All of us were street cats from three different neighborhoods. He told us that we could be something. He built the studio and did everything. He had a vision and he believed in us. When he was in jail, this dude called home and cursed us out so much about being in the studio on time still. He was a drill sergeant still standing on your shoulder and that gave me 'Laffy Taffy' and 'Betcha Can't Do It Like Me.'"
Fabo is extremely thankful to Shawty Lo for involving him in the legacy that the now deceased rapper leaves behind. "Without Shawty Lo, there would be no me, there would be no D4L," Fabo praises. "There would be no snap music -- I think as a whole we did a lot. Just watching music nowadays I see a lot of D4L in it. I mean just making things simplistic and going after it with hard melodies on the track. I hear that [in today's] music all the time. I think D4L was great for music. It changed music in a way. It let people do things status quo. It kind of bugged the system."
While fans of the Units in the City creator knew him more for his music, Fabo was fortunate to also experience Shawty Lo's playful spirit. "He was a prankster, definitely a prankster," Fabo says. "If he had his own TV show and did things his own way, he would definitely be pranking you -- He was just the type of person that you couldn't go to sleep around. He would put ketchup and everything all over your face or whatever. We used to call ourselves the No Sleep Gang."
And finally, Fabo leaves everyone with words of kindness about his late comrade. "If you needed it, he would give it to you -- the shirt off of his back, the shoes off of his feet," states Fabo. "I seen him literally give people his shoes. He was just a great person, a great individual, father and son. I definitely appreciate everything he did for me."
See Hip-Hop Reacts to Shawty Lo's Death