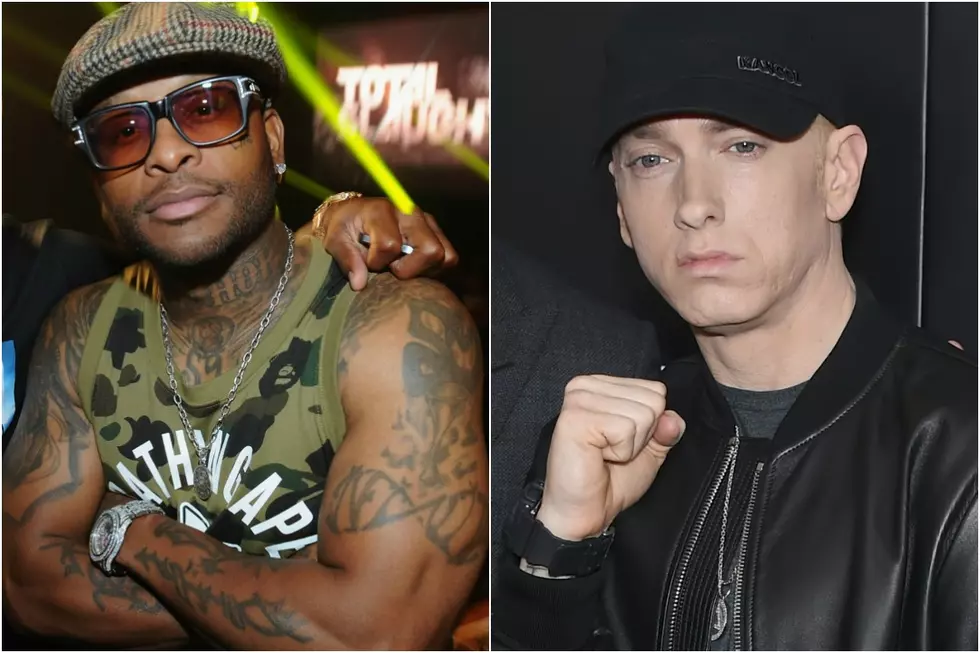 Royce 5'9″ Commends Eminem on Celebrating 10 Years of Sobriety
Craig Barritt/Dimitrios Kambouris, Getty Images (2)
An entire decade has passed since Eminem touched the hard stuff. Considering where he was between the Encore and Relapse years, this is a huge accomplishment. Shady recently celebrated his decade of sobriety, while also receiving well wishes from frequent collaborator Royce 5'9".
The date of Shady's last taste apparently started on April 20, 2008. The Detroit rap god shared a pendent he received for his feat on social media on Saturday (April 21). "Celebrated my 10 years yesterday," he captioned the photo.
Royce uplifted his friend's achievement on social media the day prior. "Happy sobriety birthday to my mentor @Eminem," he typed on Twitter. "Keep fighting the good fight homie ... I love you for life 🙏🏿."
It's no secret Eminem was in a bad place before he got some help. It took some near-fatal overdoses before he was able to take that leap.
"I wasn't ready mentally. I wasn't ready to give up the drugs," he told XXL about his earlier struggles with pills in 2009. "I didn't really think I had a problem. Basically, I went in, and I came out. I relapsed, and I spent the next three years struggling with it. Also, at that time, I felt like I wanted to pull back, because my drug problem had got so bad. I felt like, Maybe if I take a break, maybe this will help. I started to get into the producer role more... I can still be out there with my music, like with the Re-Up album, but I don't have to be in the spotlight the whole time."
Check out Em and Royce's posts below.
Check Out the 2018 Hip-Hop Music Festivals You Need to See