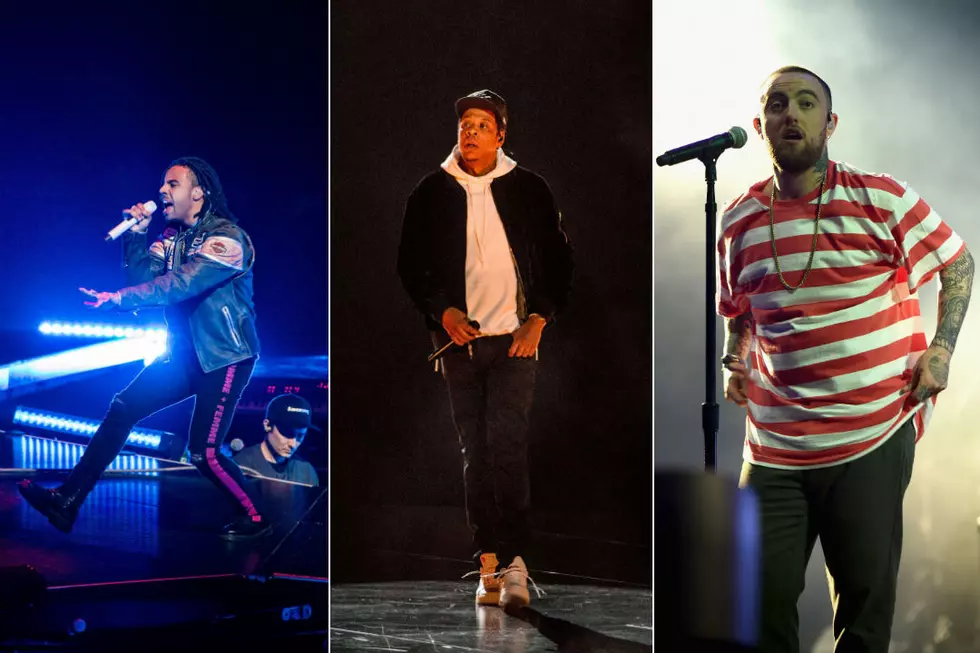 Here Are 8 Rappers Performing Covers of Classic Rock Songs
Timothy Norris/Timothy Norris/Kevin Winter, Getty Images
The relationship between rap and rock has been closer than ever in 2017. With hip-hop acts Lil Uzi Vert, XXXTentacion, Ski Mask The Slump God and other new rap artists growing up inspired by the rock genre, the influence can certainly be felt in today's hip-hop culture. Taking their love for rock and roll a step further, some of hip-hop's biggest names in the genre have even covered popular rock tunes from back in the days during their shows. Most recently, Chicago rapper Vic Mensa delivered a chilling version of Radiohead's OK Computer classic, "Karma Police" during BBC Radio 1's program "Piano Sessions."
No stranger to the rock world, Vic's recent cover of Radiohead's smash song is not the first time the Roc Nation artist covered a rock song. In 2014, during his Lollapalooza performance, the "Down On My Luck" rapper covered The White Stripes' "Seven Nation Army" song in front of a sold out festival crowd in his hometown of Chicago.
Another coveted rapper who covered an iconic rock song was none other than JAY-Z. After getting billed as the headlining act for U.K.'s 2008 Glastonbury Festival, Oasis band member, Noel Gallagher, criticized festival organizers months before the show for billing JAY-Z as the closing act of the festivities. In typical JAY-Z fashion, the Brooklyn rapper responded to his hater in a grandiose way. While taking the Pyramid stage at Glastonbury, JAY-Z opened his set covering Oasis' biggest hit to date, "Wonderwall," while U.K. attendees sang along with the "99 Problems" rapper in the pouring rain.
Today, XXL looks back at the 10 classic rock songs covered by 8 of hip-hop's favorite MCs.
1

"Fix You" by Coldplay

Chance The Rapper

2

"Seven Nation Army" by White Stripes

Vic Mensa

3

"Wonderwall" by Oasis

JAY-Z

4

"All Apologies" by Nirvana

Post Malone

5

"Bohemian Rhapsody" by Queen

Kanye West

6

"Karma Police" by Radiohead

Vic Mensa

7

"Drain You" by Nirvana

Kid Cudi

8

"Say It Ain't So" by Weezer

Mac Miller

9

"Numb" by Linkin Park

Machine Gun Kelly

10

"Basket Case" by Green Day

Post Malone