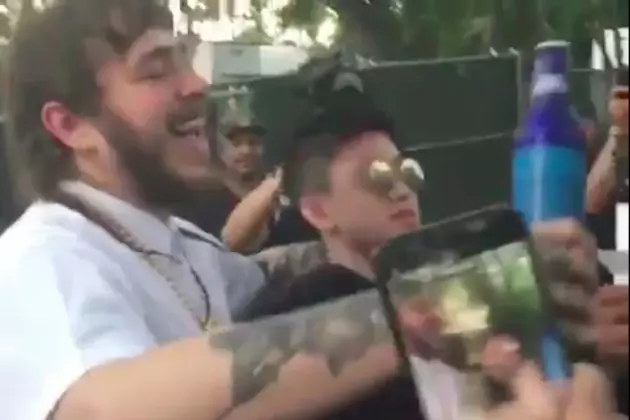 Post Malone and Rich Chigga Sing "Congratulations" With Mariachi Band
@JuncajJon via Twitter
Update (May 9, 11:41 p.m. EST):
Rich Chigga has shared the full footage of him surprising Post with a Mariachi band singing "Congratulations." Watch it below:
With a lineup featuring the likes of Kendrick Lamar, A$AP Rocky and Young Thug, plenty of fun was had at the 2017 Rolling Loud Festival. Interestingly enough, though, one of the more entertaining parts of the fest took place off of the main stage, and it involved Post Malone and Rich Chigga.
In a video that seemingly went viral the moment it was posted to Twitter, Post and Chigga are singing their heart out with a mariachi band that's playing a live rendition of Post's Stoney hit, "Congratulations."
In the beginning of the must-see new video, Post appears to be giving the band a few instructions about how to play his song, before a bright smile crosses his face and he launches into the track himself. That's when Chigga comes and joins him, and for at least 40 seconds—which is the length of the video—all is right in the world. "Congratulations" went platinum a few months ago.
This vid is just another example of Post being the fun-loving guy he is. Last week, he did something probably at least as fun as singing with a mariachi band when he demolished a few old Toyotas in a tank. You read that right.
See Post's latest bit of fun-partaking in the video of his Rich Chigga and mariachi-assisted live performance below. It's pretty awesome.
See Photos of Young Thug Performing at the 2017 Rolling Loud Festival