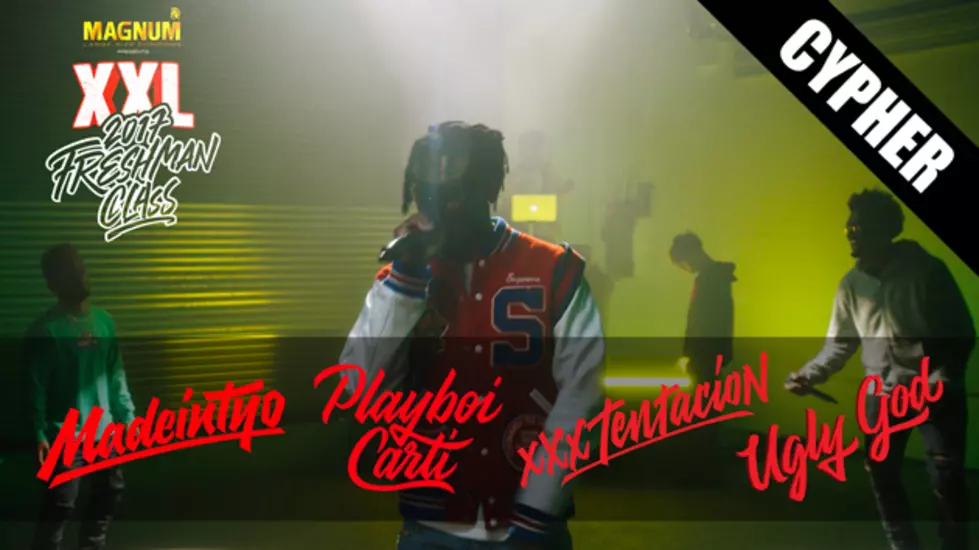 Watch Playboi Carti, XXXTentacion, Ugly God and Madeintyo's 2017 XXL Freshman Cypher
XXL
After Kyle, Aminé and A Boogie's cypher dropped on Monday (July 10), next up is Playboi Carti, Madeintyo, Ugly God and XXXTentacion. These four performers vibe off each other's energy to create one insane matchup.
With producer Sonny Digital on the ones and twos, Playboi attacks the beat first. Hopping around in a Supreme varsity jacket and backpack, while exuding the same confidence with which he delivered his hit single "Magnolia," Carti keeps things light and fun. "Ben Baller, no Johnny Dang/All my niggas blood gang/All my niggas gangbang/Aye, what? Ya, aye," spits Carti.
After Carti, Madeintyo takes over and does his signature dance while rhyming about his jewels. "Tokyo, Tokyo that cool thang/Probably take her out to Blue Flame, uh/Yeah diamonds when I walk/Diamonds when I walk/Diamonds when I talk/Yeah," Tyo rhymes at the end of his verse. Ugly God picks up right where Tyo leaves off by spitting those same bars as an ad-lib for the beginning of his own verse.
Ugly then dives into his own hilarious verse, bringing his snarky, childish attitude to the mic. "Look at my wrist, goddamn/Look at my bitch, goddamn/Look at my dick, goddamn/Talk shit and get hit, goddamn/Pull up on your block/Nigga you a bitch/I might fuck yo' bitch/I might hit a lick," spits Ugly through his own laughter.
Finally, XXX adds an unexpected dose of drama to the cypher by having Sonny cut the music to deliver his eerie verse a cappella. "And if the world ever has an apocalypse I will kill all of you fuckers/Feel with be plentiful, death will bountiful/I will spare none of you peasants," raps X while bending down on one knee directly in front of the camera.
Check out the full five-minute Freshman cypher below directed by Travis Satten and produced by Team Satten Productions. Stay tuned for the final Freshman cypher featuring Kap G, Kamaiyah and PnB Rock later this week.
See Behind-the-Scenes Photos of the 2017 XXL Freshman Cover Shoot