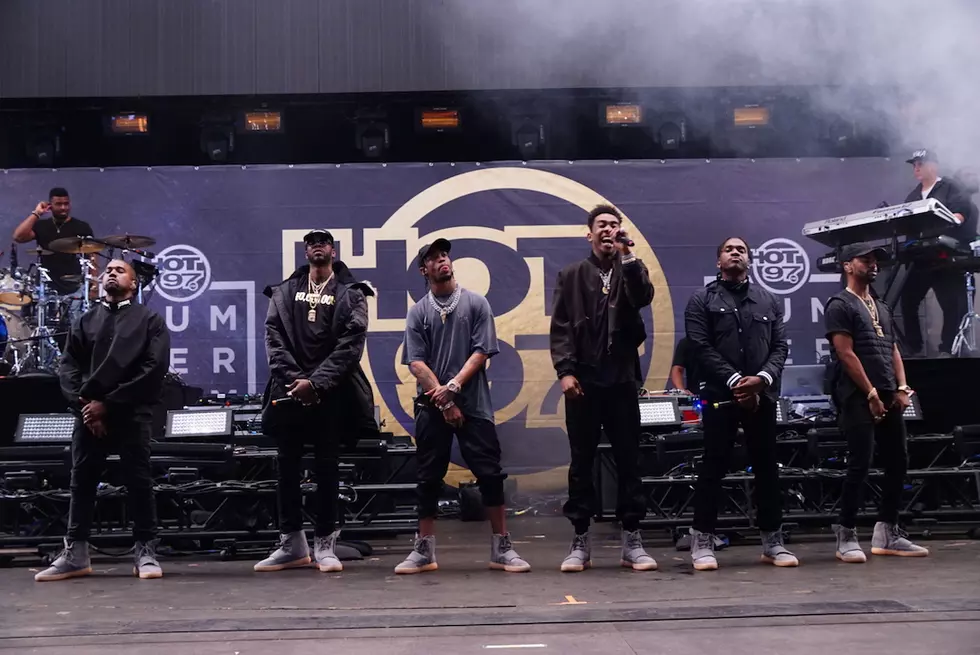 16 Photos From Hot 97 Summer Jam 2016
Pete Monsanto, Hot 97
Last night, June fifth Hot 97 turned MetLife Stadium upside down with their annual Summer Jam concert. Maino, Uncle Murda, Kanye West, Big Sean, Desiigner, Remy Ma, Fat Joe, and the A$AP Mob all hit the stage while Kim Kardashian even made an appearance. The 2016 edition of the famed hip-hop concert almost didn't go down because of the heavy rains and strong winds in the tri-state area but like many times before, Summer Jam still held out through the rain.
There were several highlights throughout the night like when the G.O.O.D. Music clan hit the stage alongside label-heads Kanye West and Pusha T. Although Desiigner didn't get to hit the festival stage, the pre-shpw which houses all the buzzing performers, which was cancelled due to the forecast, the Panda Man put on a performance to be talked about. Fat Joe and Remy Ma brought out Ashanti and French Montana. DJ Khaled called upon Busta Rhymes, The LOX, Yo Gotti and O.T. Genasis. The A$AP Mob also put it down in their hometown but unfortunately, the headliner, Future, was not able to perform due to curfew restrictions.
Even though this year was way tougher than others production-wise, Summer Jam 2016 was still a good time. Check out a photo recap in the gallery above.