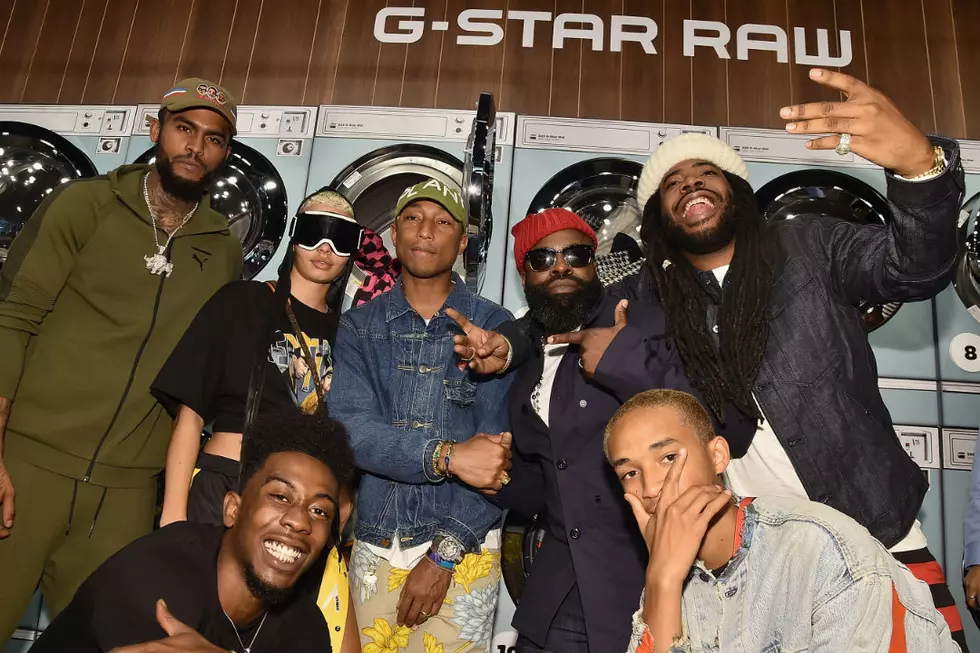 Pharrell and G-Star Raw Unveil Second Drop of G-Star Elwood X25 Collection
G-Star Raw
Yesterday in New York City, G-Star Raw co-owner Pharrell introduced his latest G-Star Elwood X25 collection. Presenting the brand new garments at a star-studded event, the "Happy" artist previewed a collection of 25 unique prints on the G-Star Elwood jeans.
Introducing the collection in a unique way, Pharrell and his brand held a launch event at a vintage laundromat space that he dubbed as "The G-Star Mat." With hip-hop having a strong presence at the event, Pharrell welcomed the likes of Desiigner, Black Thought, Dave East, Joey Bada$$, D.R.A.M., Jaden Smith and other top notch celebrities.
Drawing inspiration from across the globe, Pharrell's latest collection of G-Star Elwoods will release in 25 bright and vibrant prints that feature graphic designs from the natural world, including poison dart frogs, butterfly fish, leopards and whale sharks. Other motifs take cues from diverse cultures such as Indian paisley prints and Japanese kimono embroidery.
Juts like the new set of prints from G-Star, the location space was also designed to channel creativity. P's vision of active laundromat machines featured each one of the 25 Elwood designs. The space also allowed guests to see the concepts behind the creation of the G-Star Elwood.
The brand new G-Star Elwood X25 Drop II collection is set to launch at G-Star Raw locations and at select G-Star retailers, as well as online, on Monday, Oct. 16. Peep pictures from the event below.