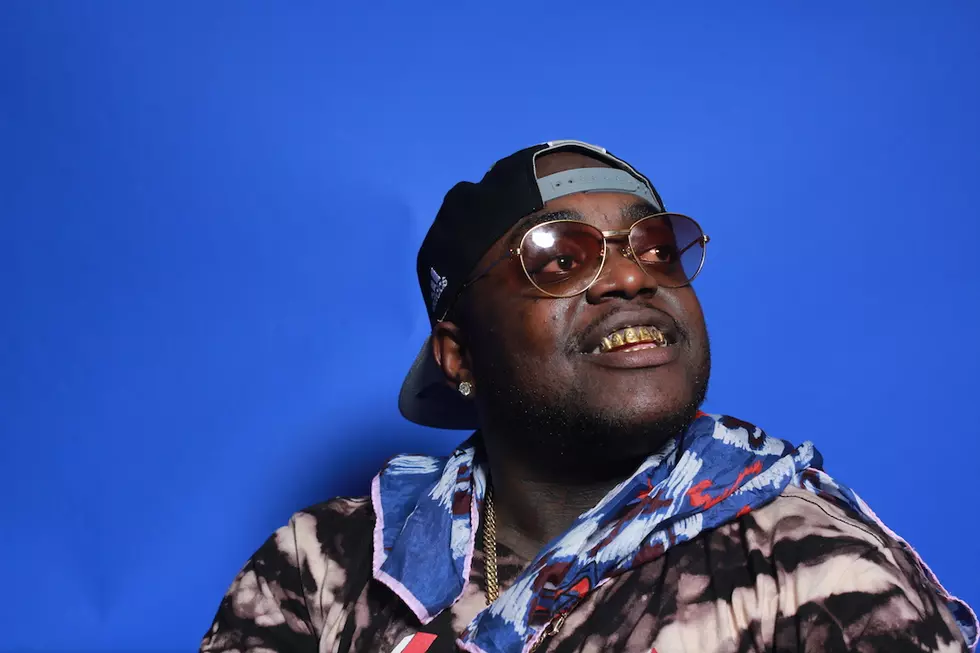 Peewee Longway Is One of Hip-Hop's Secret Weapons
Cam Kirk
On Aug. 26, 2015, Peewee Longway quit rap. "From this day forward Peewee Longway will never rap again," he said on Twitter, "so don't come at me wit that shit or nothing got to do with it I'm done bacc to BS."
It was roughly a week after he dropped the second installment of his Money, Pounds, Ammunition mixtape series, one which he shined a light on fellow artists in his MPA Bandcamp squad while also including collabs of his own with other Atlanta rappers like Quavo and Offset.
He certainly hadn't meant to be a rapper all his life. His MPA crew started hustling in the street long before any of them picked up a mic. That's how he met people like Gucci Mane and Bankroll Fresh, far removed from any studio. He started rapping around 2012 but it wasn't until 2013, when Guwop ushered Longway into 1017 Records just before Gucci got locked up, that the short and stocky rapper released his debut mixtape, Running Around the Lobby.
Longway, born Quincy Lamont Williams back in 1984, grew up on the Hot Boys, Soulja Slim and Uncle Luke in the Jonesboro South housing project of Zone 3, Atlanta, four doors down from Young Thug. They've known each other for most of their lives, and despite taking a slightly different approach to rapping, Longway's never felt turned off by Thugger's eccentric style. Though they haven't worked together in awhile (Wee says he hasn't pulled up on Thug yet, but he wants to), their relationship has always been a brotherly one; it was Peewee Longway who convinced Gucci to sign Young Thug to 1017 before Longway himself even joined the team. Guwop trusted the "Good Crack" rapper so deeply he claims to have signed Thug on the spot without even hearing Jeffery's music, purely off the strength of Longway's cosign.
The Mr. Blue Benjamin creator has always been something of a facilitator in Atlanta, an important go-between in an electric circuit of talent. It was in his old spot, the famed Lobby, where he and Thug shot the video for one of their first and strongest collabs "Loaded," Jeffery towering over Longway throughout the visual. It was also there that he came up with terms like "dab" and "pipe it up" (further popularized by fellow lobby runners Jose Guapo and Skippa Da Flippa), and it was Longway who first brought Migos to Coach K and Pee at Quality Control.
But besides being someone who makes things happen behind the scenes, it's Longway's lyrical ferocity that sets him apart from other rappers on the scene. His delivery is incredibly quick, as though he's always geeked up, leaving one to wonder when he breaths during verses. It's somewhat different from what's come to be expected from Atlanta these days, where a slower, woozier sound has taken hold in recent years. He stacks syllables so densely even LL Cool J, a poster boy for the golden age of hip-hop, has professed his fandom for Peewee Longway.
Despite, or perhaps because of, having a style that stood out from the rest of the pack, his music never caught fire outside of Atlanta like Thug or Rich Homie Quan's music did, and so towards the end of summer 2015, despite having multiple mixtapes under his belt already, he didn't feel like music was going his way. "I was feeling a certain type of way because I was dropping music and it wasn't going the way I wanted it to go, so I was just kind of dropping shit for the hell of it," he said. His retirement from music was short-lived, however, as days later he was back promoting upcoming releases.
A couple months later, he dropped his official album, Mr. Blue Benjamin, one of the best rap projects of 2016. Bolstered with production from go-to guys like TM88 and Will-A-Fool, the project helped reenergize interest in the rapper and led to two more efforts from him last year: Money, Pounds, Ammunition 3 and Longway Sinatra, a full-length collaboration with Atlanta producer Cassius Jay.
Now he's working with producers like Jay and Lil Mister on the upcoming Blue M&M 3, and he looks to have collabs with Schoolboy Q and Jazze Pha in the works, as well as another project called State of the Art. He still records in a closet just like the one we saw him make "Sneakin N Geekin" in, though he occasionally hits Billboard Studios to record too, and he hopes to work with Lil Wayne in the near future. Despite the ups and down of the music industry, Peewee Longway is back to running around the lobby.
See 20 of Your Favorite Rappers Naming Their Favorite Rappers