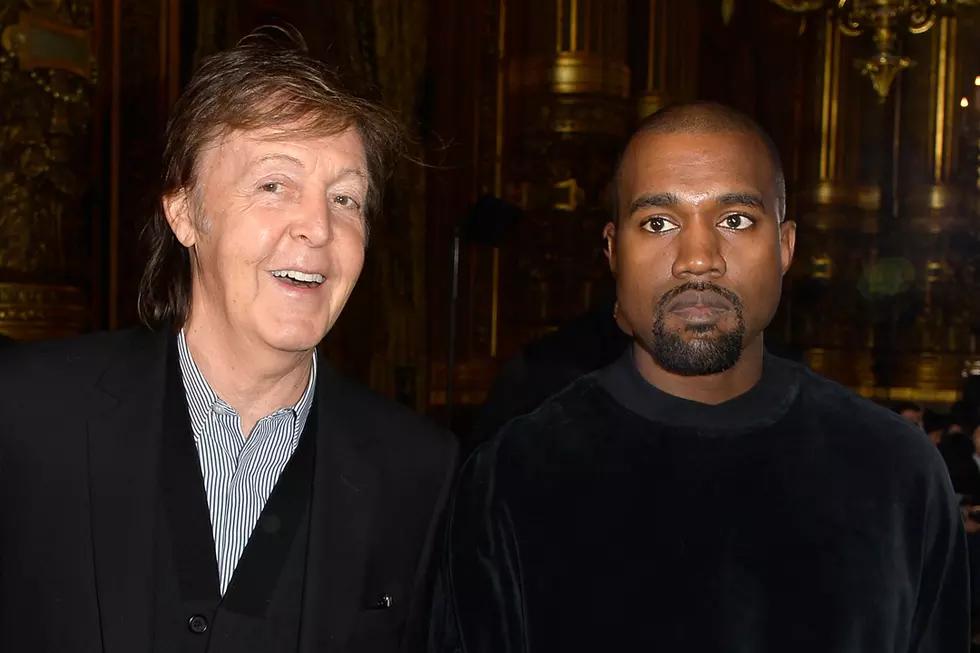 Paul McCartney's Got More Hip-Hop Moments Than You Might Think
Pascal Le Segretain, Getty Images
Paul McCartney is undoubtedly one of music's greatest living legends. As a member of Britain's superstar group The Beatles, the singer-songwriter is one of the band's most prominent figures. He's composed over 2,000 songs for The Beatles and is universally hailed as one of the successful composers in rock and roll history. McCartney has dropped 17 solo albums, has 21 Grammys to his name, has been knighted by the Queen of England and the list goes one and on. But even though he's been in the music world for almost 60 years, he still insists on staying on the cutting edge of music trends, namely hip-hop.
McCartney's name entered the minds of turnt up rap duo Rae Sremmurd when they compared themselves to the famed group on their song "Black Beatles." The song is currently climbing the Billboard charts, making the leap from No. 16 on the list to No. 9 on the Hot 100. This is all thanks in part to the #MannequinChallenge, a social media movement Swae Lee and Slim Jxmmi jumped.
On "Black Beatles," they even name-drop McCartney in their lyrics. "I wear leather Gucci jackets like its still the 80's/I've been blowing OG Kush, I feel a lil' sedated/I can't worry about a broke nigga or a hater/Black Beatle, bitch, me and Paul McCartney related," raps Slim Jxmmi in the second verse.
While this song is catchy as hell, McCartney's name actually comes up in hip-hop more often than you might think. The former Beatle, often a coveted collaborator for rappers like Kanye West, has a history with rappers that runs deep. Check out his recent connections to the genre here.
1

Uses Rae Sremmurd's "Black Beatles" to do the #MannequinChallenge.

As the #MannequinChallenge became more of an online sensation by the day, Rae Sremmurd's track "Black Beatles" broke into the Billboard Top 10 as a result of fans joining the movement using their song as the soundtrack. Paul McCartney gave the Ear Drummers duo a confirmation that he approves of their track by featuring it in his own short #MannequinChallenge video on Twitter.

2

Hangs with Eminem and Macklemore.

Paul McCartney hung out with both Eminem and Macklemore during the 2014 Grammy Awards weekend in Los Angeles. We wonder what that conversation was like. You can take a look at this rap-rock moment here.

3

Tries to attend a party hosted by Tyga.

Welp. Not all of McCartney's connections to rap are positive. During the weekend of the 2015 Grammy Awards, the Beatles member was denied entry to a club in Hollywood where T-Raww was hosting a party.

TMZ caught video of McCartney being denied entry to The Argyle in Los Angeles while accompanied by fellow stars Beck, Woody Harrelson and Foo Fighters drummer Taylor Hawkins.

4

Teams up with Kanye West for "Four Five Seconds."

In what was one of the best loosies released in 2015, Kanye West, a longtime fan of McCartney, asked the British superstar to assist on Rihanna's single "Four Five Seconds." The trio created a soulful hit that played off folk, R&B and a touch of gospel, uniting all three of their fan bases.

5

Inspires Kanye's song "All Day."

Kanye took a page from McCartney's playbook when he sampled the rock star for his 2015 track "All Day."

"All Day" was actually crafted during the same sessions that resulted in the Rihanna collaboration "FourFiveSeconds." McCartney whistled a tune that Kanye liked and the Chi-Town rapper liked it so much, he used it as the baseline to his new banger. McCartney had no idea Kanye was going to us the melody until he heard the song months late.

"It's a great record, sonically it's brilliant, but quite a few people said, 'You can't be connected with this, there's, like, 40 N-words," said McCartney in a radio interview in May 2016.

6

Influences other rappers to tap into his music.

Paul McCartney's melodies and lyrics have been sampeld by the likes of De La Soul, 88 Key, Dr. Dre, The Roots and more. Dre, for example, sampled McCartney on his 2015 album Compton, taking "Spirits of Ancient Egypt" and revamping it for "Darkside/Gone."

7

Gets educated by listening to hip-hop.

Even though he's a Grammy Award winner and living legend, McCartney is still a student of music. He said in an interview with Rolling Stone in August that he listens to hip-hop for educational purposes.

"I listen to it for, you could call it, education," said McCartney. "I hear a lot of it and go to concerts occasionally. I went to see Jay Z and Kanye when they toured. I've seen Drake live. It's the music of now."

Pascal Le Segretain, Getty Images

Pascal Le Segretain, Getty Images