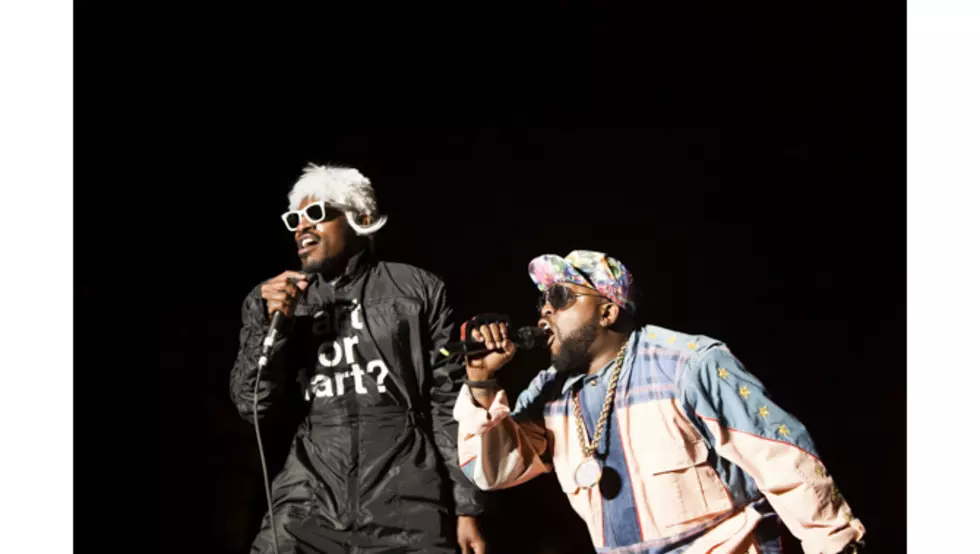 OutKast Brings Plenty Of Nostalgia At Governors Ball
Photo Credit: Lauren Gesswein
Photography By: Lauren Gesswein
OutKast are reunited and they are well into their run of playing 40 or so festivals this year. After a rocky start at Coachella in April, a triumphant show at BottleRock Napa Valley, their headlining set at Governors could have swayed either way. Thankfully, the iconic Atlanta rappers have done enough of these to smooth out the kinks and delivered a nearly two-hour set containing all of your favorites.
The duo kicked things off with the thunderous anthem "B.O.B." and "Gasoline Dreams," letting both old and new fans know that the mighty 'Kast has arrived. They wowed the audience with performances of "Skew It On The Bar-b," "Rosa Parks," and "Da Art Of Storytellin'." Big Boi and Andre 300 sounded great together, feeding off each other's energy without any hiccups. And while Big Boi was sporting some normal attire, Dre stuck to his dynamic style, rocking a white shaggy wig and a mechanic's jumpsuit. Printed across his chest was "Art or Fart," which could be interpreted as his stance against hip-hop as an art form today.
The night continued with more of OutKast hitting fans with the songs they've grown to know and love. There were tracks like "So Fresh, So Clean," "Ms. Jackson," and "Ghetto Musick," but they also revisited some of their deeper cuts such as "Hootie Hoo" from their debut Southernplayalisticadillacmuzik. They also set aside some time to do mini solo sets. Highlights of those include Big Boi's "The Way You Move" with Sleepy Brown and Dre's "Hey Ya," which had him bringing a few ladies on-stage to dance. Suprisingly, Janelle Monáe was among the group, showing off her moves with a big smile on her face.
But night one of Governors wasn't about showcasing why they are great performers separately. It was about bringing together a legendary duo whose chemistry can't be denied. 'Kast even pointed out the pairs before them—UGK, 8 Ball & MJG—that helped pave the way for dynamic hip-hop duos later on. It was the perfect setup for "International Player's Anthem," which depending on what version you like better (UGK or Three 6 Mafia's), it instantly got the crowd rapping along.
They ended with "The Whole World" featuring surprise guest Killer Mike and thanked their fans for coming. If you needed another reminder, this night showed OutKast is still one of the greatest duos to ever do it.
Check out photos from OutKast above, as well as RatKing, Janelle Monáe, and Damian Marley.