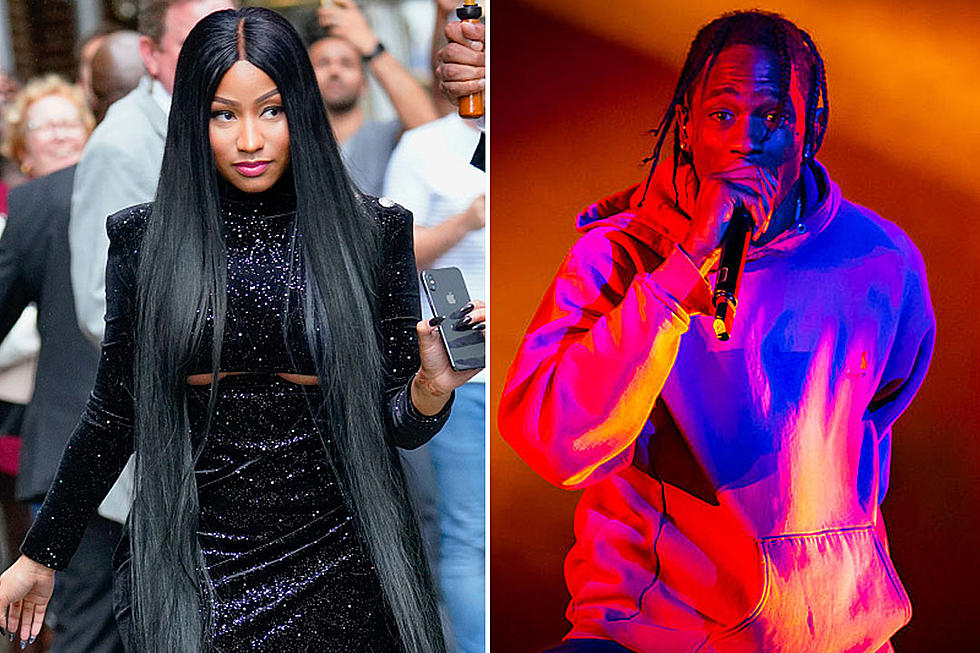 Nicki Minaj Says She Wanted to Punch Travis Scott in the Face for Taking No. 1 Album Spot
Gotham, GC Images/Mark Horton, Getty Images
When asked how she was feeling when Scott's Astroworld beat Queen for the No. 1 spot on the Billboard 200, Minaj says she wasn't angry or upset, she just "wanted to punch him in his fucking face." As Nicki has said before, she didn't feel it was fair that Scott's merchandise and tour packages helped him earn the No. 1 spot.
"It's just that when you have a No. 2 album to someone who's selling shirts and merch and selling passes for a tour that's not even announced yet, it feels like you're being tricked," she said. "It feels like somebody is playing a game and like beating you at a game as opposed to just selling music."
Elsewhere during the interview, Nicki spoke about her previous romantic relationships and called her time with Meek Mill "toxic." While she wouldn't give any more details about their relationship, she told DeGeneres, "I was in a relationship with Meek for a while, which ended and it was a very toxic something. But we had some good times and we ended that."
As for her love life now, the "Ganja Burn" rappers says their is someone new in her life but they're "just chilling." When asked how new the new man in her life is, Minaj said "fairly new," adding, "He's been around for a couple weeks now... But I don't have a boy, I'm just chillin'!"
Check out clips of Nicki Minaj on The Ellen Show below
See Photos of Nicki Minaj's Different Looks Over the Years