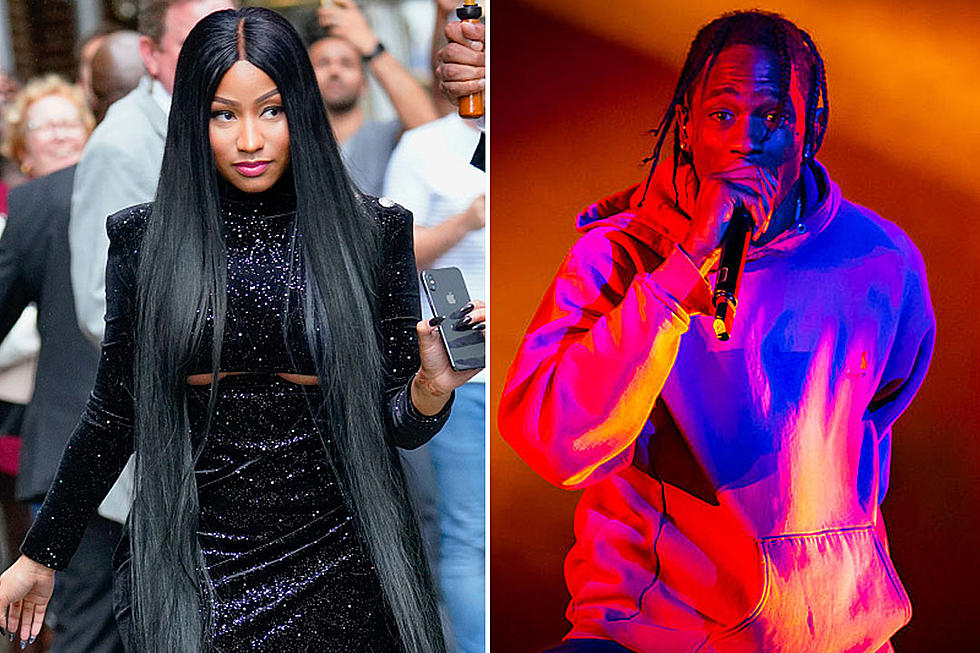 Nicki Minaj Calls Travis Scott the "H*e N***a of the Week" on Queen Radio
Gotham, GC Images/Mark Horton, Getty Images
As promised, Nicki Minaj took to her Beats 1 Radio station, Queen Radio, on Tuesday (Aug. 21) and had some serious words for Travis Scott, labelling him the "hoe nigga of the week."
"Travis Scott wins Hoe Nigga of the Week, by a landslide. He out here selling fucking clothes got y'all thinking he selling fucking music," she said, before going on to call herself "the greatest female rapper of all time."
She revisited the point a few times throughout her radio stream. "What we're not gonna do is have this fucking autotune man come up in here selling fucking sweaters and telling y'all he sold half a million fucking albums, 'cause he didn't," she said.
"You stupid fuck! You're a fucking man! You got your homeboy talking for you, your girlfriend posting tour passes saying you sold albums—stop it! Knock it the fuck off!" she continued.
"I looked at the numbers the Carters, Kanye, Nas, etc recently did. Travis sold 200k in his first week of clothes alone," she tweeted, referring to Travis' merch bundles. "I spoke to him last night & he said he's been selling clothes b4 the music. Billboard says they'll change the rules cuz of this, so it should be changed now!"
She went on to say that she thinks Travis' girlfriend Kylie Jenner had something to do with Astroworld staying up top. "I put my blood sweat & tears in writing a dope album only for Travis Scott to have Kylie Jenner post a tour pass telling ppl to come see her & Stormi. lol. Im actually laughing. #Queen broke the record of being number 1 in 86 countries. Thank Jesus & thank you to my fans," she continued.
She went on to call the tweets "dry/sarcastic humor."
Her Queen Radio outburst today (Aug. 21) is the latest in a long stream of problematic moments for Nicki this week. She angered some fans yesterday when she proclaimed that she is "the new Harriet Tubman" for the strides she's made in advocating for artists on streaming services.
Read Nicki's tweets about Travis Scott and Kylie Jenner below.
See Nicki Minaj Believes Kylie Jenner Helped Keep 'Astroworld' Atop the Billboard 200 Chart