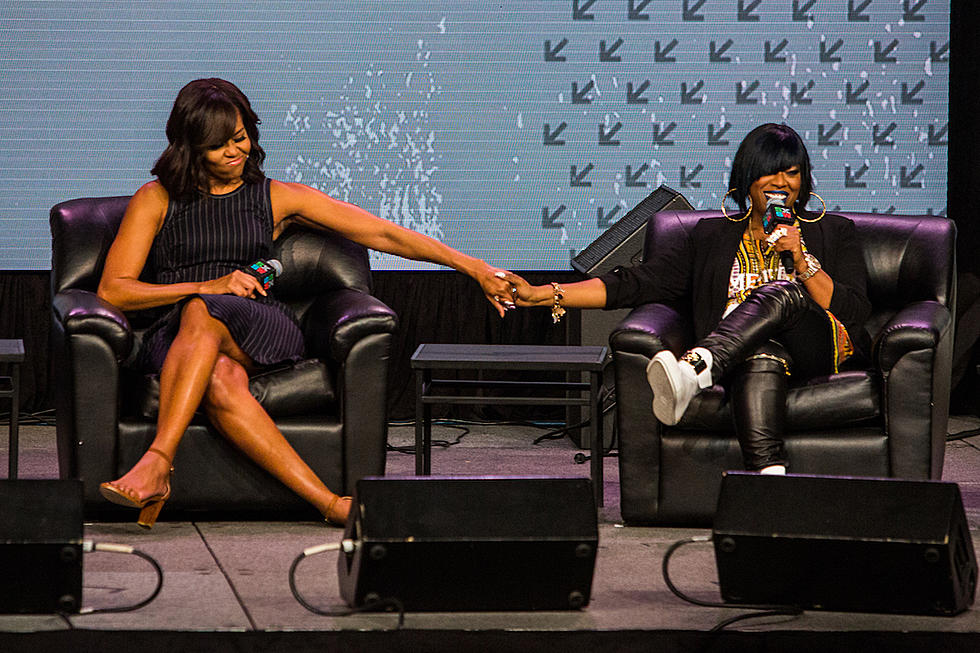 Michelle Obama Pays Tribute to Missy Elliott and Queen Latifah
Drew Anthony Smith, Getty Images
Last night's VH1 Hip Hop Honors filled David Geffen Hall in New York City with A-list stars from all generations of the hip-hop world. Among the surprise guests and nostalgic performances, one special presenter outranked all others. First Lady Michelle Obama made an appearance at the show via pre-taped speech to personally congratulate Missy Elliott and Queen Latifah on their honors. Missy and Queen are vocal supporters of the First Lady's Let Girls Learn initiative, which aims to provide more than 62 million girls around the world with accessible education.
"I'm so proud of the two of you because through your music and your activism, including your support of our Let Girls Learn initiative, you all are empowering young women around the world to believe in themselves and fulfill their boundless promise," said the First Lady in her pre-taped speech.
Mrs. Obama previously appeared on a panel with the two female MCs back in March at SXSW Festival to talk music, politics, and the Let Girls Learn campaign. The First Lady also gave a keynote speech at the festival. announcing a song named "This is for My Girls" written by Diane Warren and featuring Lea Michele, Kelly Clarkson, Missy Elliott, Zendaya, Janelle Monáe,, Kelly Rowland, Jadagrace, and Chloe x Halle. At the VH1 Hip Hop Honors, Mrs. Obama again reminded the crowd of the song and reiterated that 100 percent of the song's proceeds will support the Peace Corps' Let Girls Learn Fund.
First launched in March 2015 in conjunction with the Peace Corp, Let Girls Learn has raised millions of dollars for female education and fostered partnerships with more than 35 countries including Japan, Pakistan and Tanzania. Other celebrity backers of Let Girls Learn include Meryl Streep, Sophia Bush, Frieda Pinto, Kelly Rowland and Janelle Monae. Check out Mrs. Obama's speech above.
See 20 Great Albums From Female Rappers Over the Years