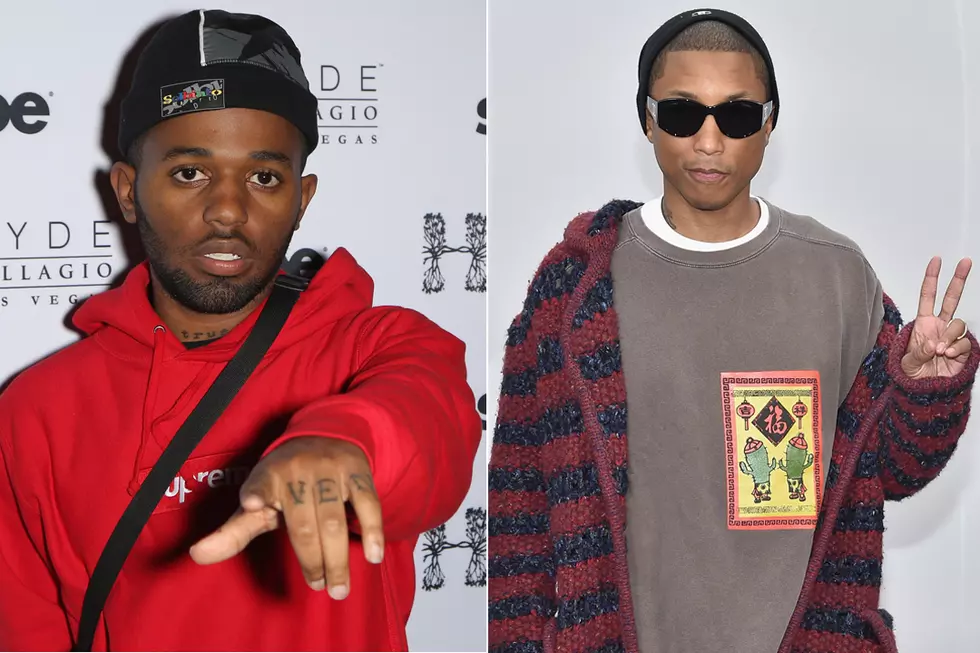 Madeintyo Hits the Studio With Pharrell to Work on Debut Album
Gabe Ginsberg/Pascal Le Segretain, Getty Images (2)
No matter what you did these past few days, Madeintyo definitely had a better weekend than you. The ATL rapper hit the studio with none other than one of his childhood rap heroes, Pharrell. Tyo posted a pic of the two rappers in the stu' on his Instagram on Sunday (March. 12), captioning the photo, "Working on my album. Thank you to all my fans, I really appreciate you. Tour starts next week, see you guys soon!"
Madeintyo's latest single "Skateboard P" off his Thank You, Mr. Tokyo EP gives a major shout out to the legendary rapper/producer so it makes sense that Tyo would want to share news of this meet up with his fans. Madeintyo's breakout single "Uber Eveyrwhere" may have just gone platinum, but the Pharrell-inspired "Skateboard P" is continuing to climb the charts. The track is currently at No. 39 on Billboard's R&B/Hip-Hop chart.
Besides a shared love of fashion and flexin', Madeintyo and Pharrell have something new in common. Both rappers have welcomed bundles of joy this year. Tyo welcomed his first child at the top of the year on Jan. 30 with his fiancée, visual artist Distorted while P and his wife, Helen, shared that they had welcomed triplets one day later on Jan. 31. Tyo spoke with Hot 97 recently about how fatherhood has changed him so far.
"I'm excited. It's making me work even more harder," the rapper explained. "I tell people they should be more scared because I got more energy behind me now. I'm more motivated than ever."
Check out the snapshot below and keep an ear out for this collab to drop on Tyo's upcoming album.
20 of Your Favorite Rappers Naming Their Favorite Rappers