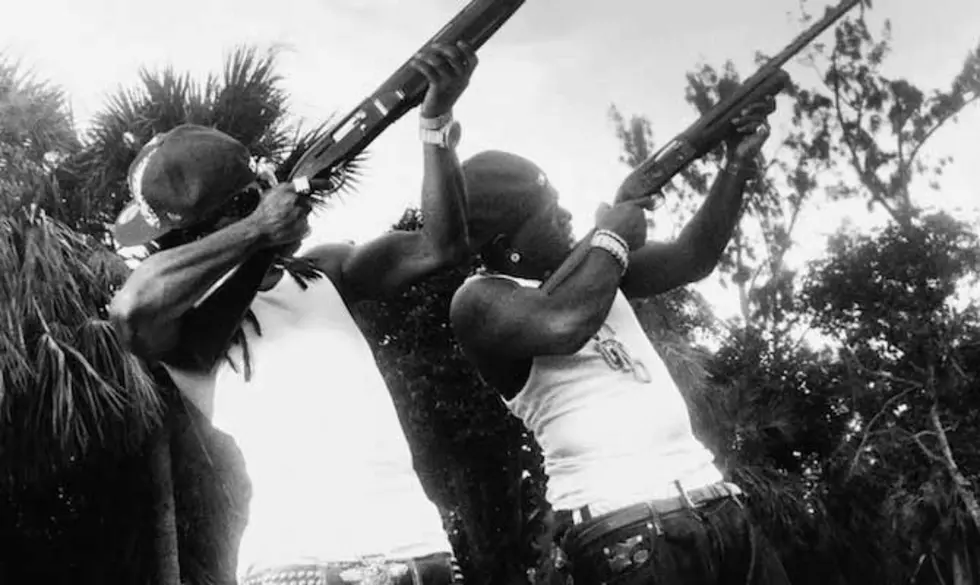 Throwback: Lil Wayne And Birdman Against The World
Photo: Phil Knott
Everything I Love
They've come a long way. From the time when the N.O. was nowhere on the hip-hop map to nationwide dominance to dissent and dissolution. Now the last of the Cash Money Millionaire Mohicans are back atop the rap game. They've come a long way, Baby and Wayne.
Interview Jon Caramanica
Images Phil Knott
Editor's Note: This story originally appeared in the December 2006 issue of XXL Magazine.
Bryan "Baby" Williams, a.k.a. Birdman, and D'Wayne "Lil Wayne" Carter, a.k.a. Weezy F. Baby, share a bond rare in the rap world. Closer than business partners, closer than collaborating artists, closer than friends, even, they kiss each other on the lips and openly use the word "love" to describe their feelings for one another. Like Father, Like Son is the name of their new album, a title that reflects the fact that, in the 13 years since Baby brought Wayne into Cash Money Records—the New Orleans record label he formed with his older brother, Slim—they have become, very deeply, family.
The bond has been strengthened through strife. Cash Money rose to prominence in the late '90s, largely due to the beats created by in-house producer Mannie Fresh (who also made up a duo, Big Tymers, with Baby) and the rhymes of marquee stars Juvenile and B.G. (who joined Wayne and a fourth rapper, Turk, in the label's supergroup, the Hot Boys). In 2001, though, the team started to splinter. Juve left first, claiming Baby owed him money, and set up his own label. (He'd return to fulfill contractual requirements in 2003 and achieve massive success with the single "Slow Motion," only to leave again soon after, and with more angry words.) B.G. followed suit, and then Turk, and, finally, last year, Mannie. Cash Money sales had been slipping, and a lot of people thought it was curtains for the company.
It would have been, probably, if not for the amazing artistic growth Wayne has enjoyed over the past couple years. Quietly at first, with 2004's Tha Carter, and then more emphatically, with last year's platinum-certified Tha Carter II and two widely heralded installments of DJ Drama's Gangsta Grillz street album series, Lil Wayne has made a convincing case for being, as he says, "The Best Rapper Alive."
XXL recently caught up with Baby and Wayne in Miami, where they've relocated to in the wake of Hurricane Katrina's devastation. The love and loyalty was thick as the two detailed their history, fumed over former friends, discussed their current situation and pondered what the future might hold.
XXL: Let's start at day one. Talk about your first connection and how it evolved.
Baby: I met Wayne when he was young, out there in front of Peaches record store. A lot of grown muthafuckas freeze up in my presence. The nigga didn't have no fear. He rapped for like 10 minutes out there.
Wayne: May 14, 1993. Friday. U.N.L.V. had just dropped "It's An Uptown Thing" [officially, "Nigga I'm Bout It"].
At the time, did you want to be a rapper, or were you thinking, these are just some dudes doing it?
W: Baby and Cash Money was bigger than rap itself to me. I was 12 years old, so Cash Money Records was the world. When he gave me that number, it was like getting the direct number to the president... That card, just to go back to the hood with that card, niggas was like, "That's the real card. It say Bryan 'Baby' Williams..." I called it every day. He told me to come to the office, and I ain't never leave the office.
As an executive, did you feel you'd found someone you could put on the roster?
B: I knew we could grow up with him.
W: They made artists. It wasn't no such thing as coming there and you already had a style. It was you became somebody. You could be whoever you was before you came there, but you came out Cash Money.
Obviously, the two of you have a really strong personal relationship with that paternal connection, something we don't see a lot of in hip-hop. Tell me how that came about.
B: Over the years, we grew to be like the family shit. We all lived together. I was putting them through school and shit. I was bringing them to school. In New Orleans, it's a lot of murders, right, so a lot of niggas don't have daddies. I was young. I was 18 years old. I was a youngster growing up, trying to raise a youngster. I was in them streets trying to live and survive, 'cause I knew we had this dream... All I wanted them niggas to do was rap and just fuck with this music. I'd keep that drum machine on. I didn't care if the fuckin' electricity bill was $1,000 or $2,000. That bitch would not go off. That was school for us.
How many people were on the roster at that point in the early days?
W: It was three of us young. It was me, Turk and B.G. And Lil' Derrick, may he rest in peace.
Growing up under Cash Money, how was it? Was it real brotherly among the younger generation?
W: Baby and Slim was the first people I met in Cash Money, and that's what they showed me. It didn't matter who came to the circle. You eat with that man, you die with that man. Once he leaves that table and he ain't eating with you, then fuck him. He not family no more. That chair is at the table, empty.
As the other guys started to leave, did you want to keep it together, for either professional or personal reasons?
B: I reached for every last one of them niggas. Juve bitched out, left me a message, talking 'bout a nigga wanted to kill him. He hoed up from the gate, so I ain't even fuck with him.
He said you wanted to kill him?
B: Said I sent some niggas at him. I don't know what he was talking 'bout. But he the only nigga I ain't reached out to. The only reason we got back and did an album was because he putting all that bullshit out and that shit wasn't selling. So the best option was for him to come back. And you see the success of his comeback to the success of him right now—he ain't no success right now. He's a failure with that bullshit. I reached out to Geezy a few times. "Nigga, what's up? This me, nigga. You on my skin, nigga. What's up?" He ain't really wasn't talking 'bout nothing. And the bitch Fresh, he ain't really want to holla at a nigga.
But still, maybe you wanna keep it together for the sake of the business?
B: I would have if I could have, but I didn't see that it could happen. Every nigga had their own personal problems, but camouflaged a lot that shit by them being young. A lot of niggas had issues. But when the money came in, it made the issues worse. For the niggas to last as long as they did, they did a lot. I just looked at it like, once niggas got older, they become themselves. I already knew certain niggas had they own issues. I knew the shit might end up sour. But don't nobody want to see some blood. Every fuckin' artist talking about they wanna fight. Man, get the fuck outta my face with that lame shit. I still don't have no beef, 'cause ain't nobody trying to see no blood.
Were you ever thinking, before everybody started griping and leaving—especially with B.G. and the drug situation—did you ever think, I'm not going to fuck with you until you fix this?
B: Nah, I know where he come from. That's our soul. I'm riding for this here. I was just hoping maybe one day he get his mind right.
Did you ever think of cutting him off?
B: We wasn't cut from that. I never thought like that. Them niggas woulda had to leave me. I would never leave them. I felt like I wasn't doing no nigga wrong. We hustling. We come from nothing. Bitch, I had you when you was eight years old. I'm the one put the money into you and raised ya, nigga... And when I see and hear this nigga popping like he popping—out of respect, out of just respect, out of you being 7, 8 years old, out of respect... This bitch get on TV and say a nigga a buster. How the fuck you gon' fix your mouth to call a nigga a buster? Bitch, I'll have niggas go in your pocket and take your shit. Niggas is fugazi. Nigga a four-dollar bill, homie. Heard me? Get dough and holla at me. He small. He don't want the whole thing. The nigga petty. He don't want the whole thing.
Were the issues with Mannie the same issues with Juve and B.G.?
B: Fresh—straight fuckin' clown.
W: Doing Cash Money for Fresh, it was trigonometry. Trust me. That shit was very hard for him. They showed us and we went and lived it. Some lived it harder than others. When we got off the road and it was time to be D'Wayne Carter, I went back to the block. Fresh, he did this, then went back to the house. It was trigonometry for him. He had to study the shit.
B: The way that nigga Fresh played it, I could never respect it. Ain't no need being around me, nigga. You ain't 'bout what we 'bout. He coulda went out like they went out, when they went out. Instead he laid low, laid under a nigga, then gon' go out. I ain't with that. Fuck you, nigga.
For a while, it seemed like you were in litigation with everyone.
B: I'm outta court with all these niggas. Any dispute I had with all them niggas is dead. If they felt that I owed some money, I paid them muthafuckas. But I still can't speak on that over a period of time. I just wanted to get the whole shit to be over with. That's not what I'm about. I'm not about taking nothing from none of them niggas, 'cause I gave them niggas. I ain't played it by the paper trail, so everything I did looks invisible, so that's how them niggas was able to come back and tell the court. It was a mistake on my end, and I can take my lick. I did what I had to do, got them bitches out the way, and I'm doing my own thing. All my books closed. I'm clean. Fuck them niggas. That's just my whole philosophy. Get you. I'ma do me. They really don't want to see no blood, so no need to talking about it. All that other shit is irrelevant.
You put out the "I Miss My Dawgs" song, and you said it came from a sincere place. The other guys said it was some sort of publicity stunt. How did that make you feel?
W: Fuck them niggas. They should be happy a nigga was still seeing them at that time. I don't see them no more. Literally. They dead to me, man.
B: I mean, it's official. I can't fuck with them. I can't stand them. I despise them. Fuck what they stand for. Niggas crossed a helluva line, dawg. I can't never in my life, ever, ever, ever. It's like that with me. And if they ever crossed my path, on some hoe shit, playing with me, I'm gonna show them bitches what these teardrops made of. Play with me if you want to.
Do you feel like you still represent what you represented back in the beginning?
B: I'ma die that way, dawg. My script ain't changed. When we got this shit in our mouth [points to gold teeth], it wasn't about no nine to five, none of that shit. So when I put this shit in my mouth, I knew one thing: This was a wrap for me. This was my life. Whatever I do, I could never go get no gig from nobody.
W: That's something a nigga don't be knowing, too. A lotta niggas get that shit and can take that shit out. These can't come out. This nigga, his name was Big Three-two. He had 32 golds way before I knew what golds was. That was one reason my moms didn't want me to fuck with him, because the golds meant something else in New Orleans at the time, like you was a wild little nigga. Once you do that, you make a pact with yourself.
Now that you've relocated here to Miami, do you feel like New Orleans is still home for you?
B: Yeah. I'm going back to New Orleans when they build the Trump Towers and shit. [Laughs] They ain't keeping me out that muthafucka. I don't care what they build, I'm going to buy one.
You're getting your Florida driver's license, though. Does that mean you're going to be permanently settling out here?
B: I always wanted to come out here. And when Wayne came, I knew I was coming. I went to Houston first, but I wanted to go by the young'n, to fuck with my son.
Does it come naturally, expressing the emotional content in your father-son relationship? In the game you're in, a lot of people are not good at expressing that.
W: I grew up to find that ain't the game everybody play outside of New Orleans. Where we from, we talk like that. Family, you gotta cherish that. I can't even explain not loving my family, not showing my family, like, I love you, nigga. That's not how it go in N.O. Even from a young'n, you see niggas on the block, showing, I love you. That's my nigga. I love that nigga. I had niggas talking to me when I was 12 about another nigga on the block like he talking about a bitch. That was my way of learning. That nigga wrong, but I love him. And then I grew up to find—through bitches I know, through niggas I meet from elsewhere—nobody ain't used to that. That's why niggas grow up and diss it. Nigga, that's funny. 'Cause, nigga, you ain't used to it.
Baby, you think you're done with rap after this record?
B: I ain't got to fuck with it. I'm good. I never was a lyricist. I started game spitting. Wayne's a lyricist. That shit I do, stunting, got a class by itself. I ain't give a fuck about rhyming. Nigga, what I say is what I do. I had a whole 'nother pizzazz about myself. Wayne got poetry. It's a dream what this nigga be speaking. So I wanna watch Wayne. I think that's gonna be one of the most interesting things music has ever seen.