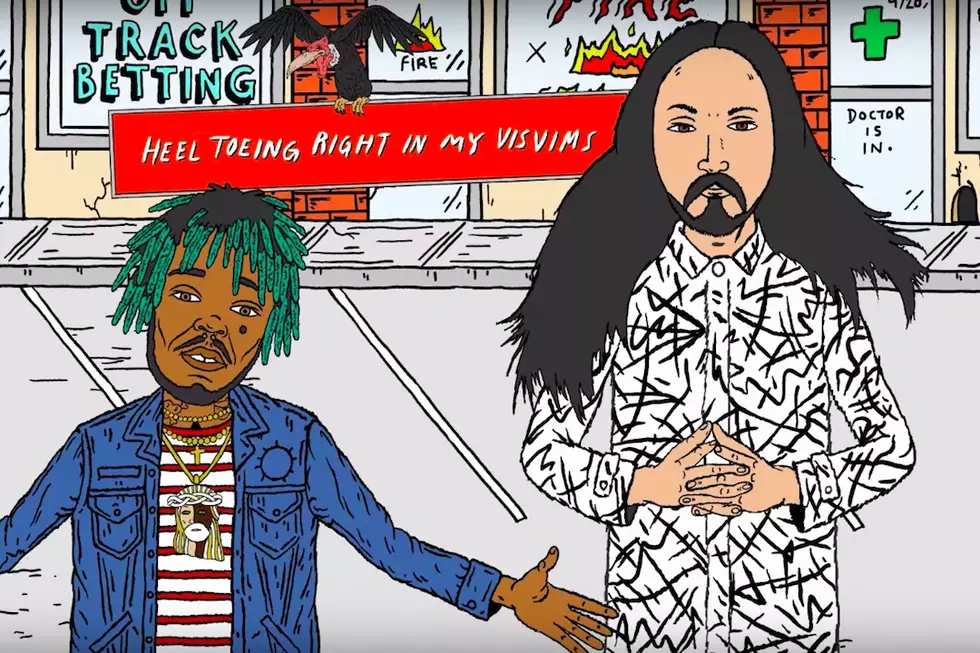 Lil Uzi Vert and Steve Aoki Get Animated for "Smoke My Dope" Lyric Video
Steve Aoki via YouTube
Netflix's anticipated Bright movie is coming to the streaming service this Friday (Dec. 22), and the artists from the official soundtrack are keeping fans on their toes for the film to come.
Steve Aoki unveils the official lyric visuals for his "Smoke My Dope" record with Lil Uzi Vert, which features the two becoming animated for the cartoon-esque video. The two hitmakers' characters pose in front of a strip mall, which features a smoke shop and slew of other businesses, while the lyrics to the catchy song flash around the screen.
The soundtrack to Bright has been teased for the past month or so, as it features a slew of big names including Migos, A$AP Rocky, Meek Mill, Future, Ty Dolla $ign, Logic, D.R.A.M. and many more.
The film, itself, stars Will Smith and takes place in an alternate world, where things like magic and creatures from fairy tales co-exist with human beings. Bright is co-directed by David Ayer, who directed Smith in 2016's Suicide Squad.
Watch the new lyric video for Lil Uzi Vert and Steve Aoki's "Smoke My Dope" record below, and be sure to watch Bright on Netflix when it comes out this Friday.
See New Music Releases for December 2017