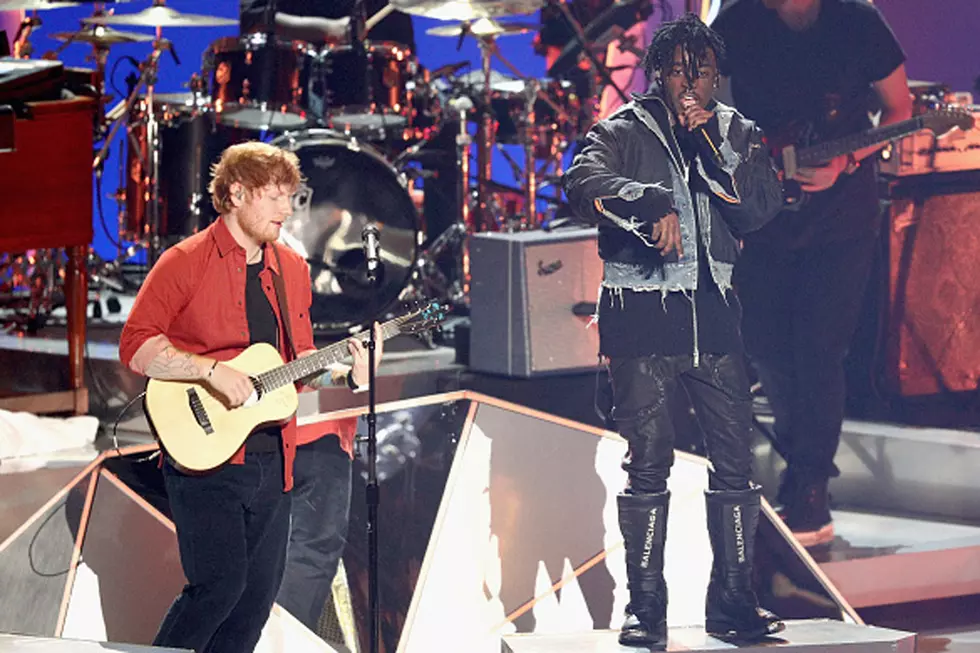 Lil Uzi Vert and Ed Sheeran Perform "XO Tour Lif3″ at the 2017 MTV Video Music Awards
Frederick M. Brown, Getty Images
Lil Uzi Vert is full of surprises. Just days after dropping his long-awaited debut album, the Philly rap-rocker just shocked the audience of the 2017 MTV Video Music Awards tonight (Aug. 28) during Ed Sheeran's opening performance. As Sheeran was rocking the crowd performing "Shape of You," Uzi entered from stage left to deliver a verse of his own over the beat. Ed Sheeran then sang an accoustic version of Uzi's biggest hit "XO Tour Lif3."
After months of anticipation, Uzi released his debut album Luv Is Rage 2 on Friday (Aug 25) featuring Pharrell and The Weeknd. Upon the release of the project, Uzi sat down with Beats 1 Radio's Zane Lowe for a rare interview and said he plans to take his freestyle approach to creating a rock album.
"Everything right now is all about being effortless," Uzi explained to Lowe. "I'm in the mode right now."
And let's not forget that Ed Sheeran definitely held his own performing the melancholy "XO Tour Lif3." The British crooner has shown he's a major hip-hop fan before, so tapping Uzi as his special guest makes perfect sense. Now all that's left is to put remix on all streaming services ASAP.
See Kendrick Lamar, Lil Uzi Vert and More Hit the Red Carpet at 2017 MTV Video Music Awards