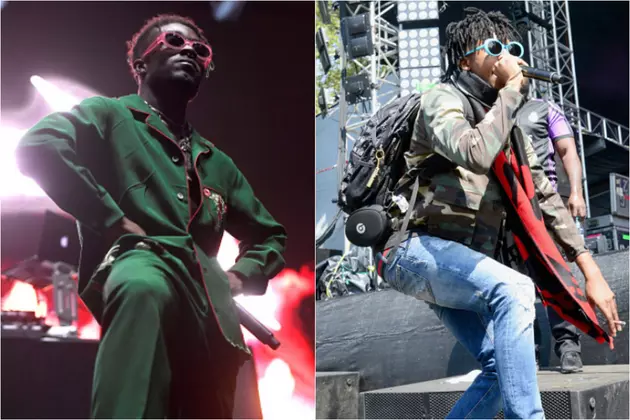 Lil Uzi Vert Calls Playboi Carti's New Project the Best Album He's Ever Heard
Frazer Harrison/Lisa Lake, Getty Images (2)
The Philly rapper recently logged on to social media to sing his praises of his homie's new project. In the video, LUV is smoking a blunt in what looks like a green room setting. "Listen here," he starts. "My brother Carti just dropped the best got damn album that I ever heard."
Hyperbole or not, Uzi's excitement for his friend definitely seems genuine. In the past, Uzi has joked with Carti about the Atlanta rapper being scared to drop his project 'cause it's wack.
Carti's new tape features Vert, A$AP Rocky and Leven Kali, and production from Southside, Hit-Boy, Harry Fraud, Pierre Bourne and others.
Bourne handles most of the production duties on the debut. XXL recently chopped it up with the up-and-coming beat maker who talked about his come up in the game and landing several placements on the project. "[Carti] started hitting me up to come to the studio," he said. "It was weird because it was just that one song, and then we kept doing another song and he just kept adding it to the tape."
Are you on the Carti hype train?
See what Lil Uzi Vert thinks below.
<p style="text-align: center;"><strong>See Behind-the-Scenes Photos of Lil Uzi Vert at the 2016 XXL Freshman Shoot</strong></p>