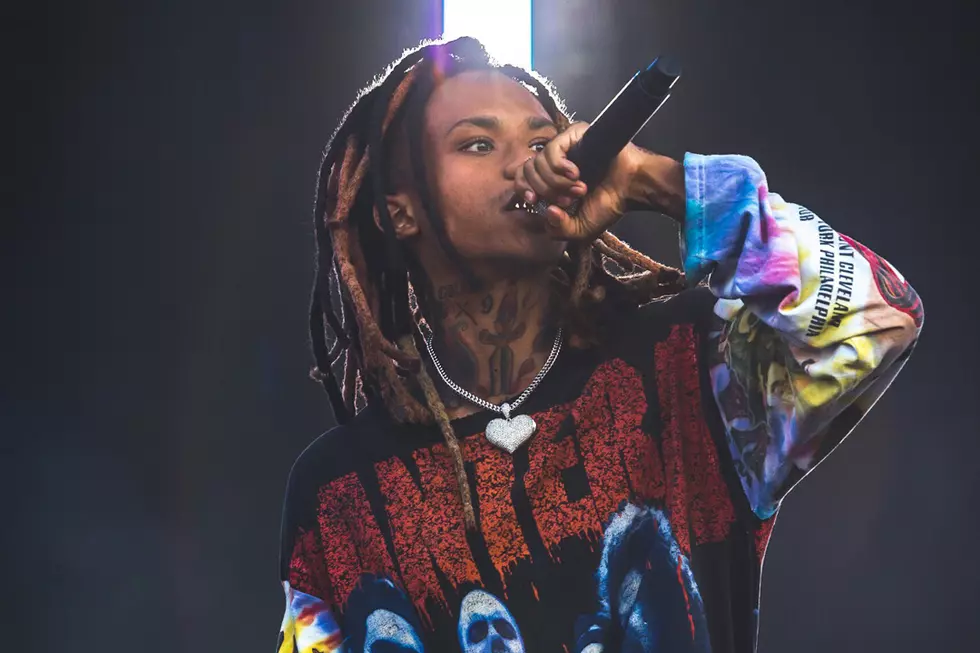 The Break Presents: Lil Gnar
Zeeshan Khan
Some guys have all the talent. In the case of Lil Gnar, he pursued whatever he found interesting. It started with skateboarding at age 13. That first passion led the Atlanta native to his second: clothing. He started his Gnarcotic skating apparel line when he was 18 and began rapping in studios shortly thereafter, after freestyling for fun in his younger years.
"My homie Germ was really rapping, he started takin' it seriously," Gnar tells XXL. "He was like 'Yo, I'ma take the rap shit serious.' And then seeing him do it? I was like 'Oh, that shit possible.'"
Inspired by his friend and skateboarding partner, Gnar tried music on a whim and it all came together quickly. His second song ever, 2017's "Ride With The Fye" (which also featured Germ) blew up, changing his life in the process. As of today, the song has nearly 3 million streams. It's kicked off an ongoing hot streak for Gnar.
"Ride With The Fye" was the moment when Gnar's new identity as a rapper started to really take shape, but he continued to keep up the pace. In early 2018, he dropped Big Bad Gnar Shit, a collab project with the aforementioned Germ. At only five tracks, the collection racked up plays—four out of the five songs broke the million-play mark on SoundCloud.
With everything changing so fast, Gnar had to adjust to his newfound popularity as a rapper. "I wasn't even a known artist—not that I'm saying that I'm putting music out and I'm unknown—I wasn't putting music out publicly 11 months ago," he says. "To go from, 'I'm doing a brand, but I'm just making clothes, nobody knows me damn near,' to 'I'm an artist, I'm signed, I'm doing all this shit, niggas recognize me in the street.'"
Gnar has more recent songs that are blowing up, like May's "Drop Top Benz" featuring Lil Skies, his most successful song yet that is nearing 6 million plays. Gnar's debut mixtape Gnar Lif3 drops on Friday (Sept 28) and will feature ZillaKami, .Idk. and more, along with production from Travis Barker, Taz Taylor, TM88 and other producers.
Learn more about the skateboarding clothing designer slash buzzing rapper on XXL's The Break.
I grew up listening to: "My first CD was actually a [Jimi] Hendrix greatest hits CD, then it was Soulja Boy [SouljaBoyTellEm] and a Bob Marley compilation joint. Those were my first three CDs."
My style's been compared to: "When I started really putting forward the heavy shit, they like, 'Oh, you sound like ZillaKami.' All respect to him, but my shit doesn't sound like his. It's both heavy shit, so I get it, but people will say like the closest artist. I come out with some shit, they be like, 'Oh, he sound like Migos.' Nah, I'm from Atlanta, some shit's gon' sound kinda in the same vein. Some like different, alternative shit, it be like, 'Oh, he sounds like X[XXTentacion].'"
My standout records to date have been: "I say 'Ride With The Fye.' That was like my second song. That shit cracked up off top. There's only one Lil Gnar song before that. That shit is kinda crazy. 'Drop Top Benz,' me and my homie [Lil] Skies did a crazy video to that. 'Samurai Shit,' that shit cranks live. Mosh pits and shit like that."
My most slept-on song: "'FeelTheRage' is a song I got that I really fuck with. I feel like people kinda slept on the complexity of it. Joji is singing on it, my homie Night Lovell comes with the heavy verse, I set the tone. I feel like a lot of people weren't ready for that yet."
Most people don't know: "I'm left-handed."
I'm going to blow up because: "Hard work, that's it."
I'm going to be the next: "Gnar."
Standouts: Big Bad Gnar Shit
"Ride Wit Da Fye" Featuring Germ
"Drop Top Benz" Featuring Lil Skies
See 20 of Your Favorite Rappers Naming Their Favorite Rappers