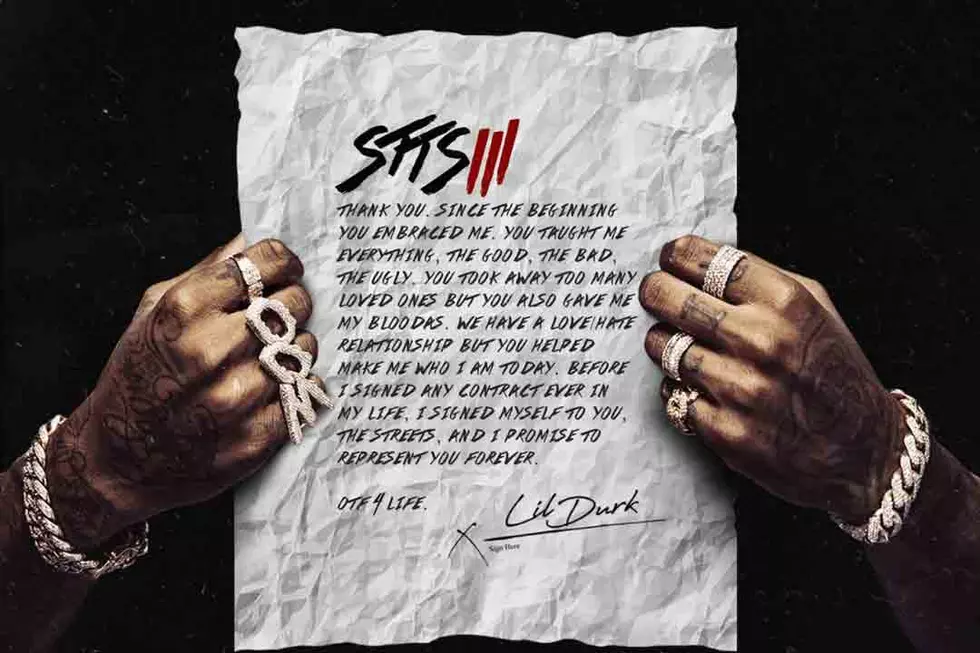 Lil Durk Shares 'Signed to the Streets 3' Album Release Date and Cover
Alamo Records / Interscope
A new Lil Durk drop is right around the corner. Last Friday (Oct. 19), the Chicago rapper celebrated his birthday by revealing both the cover and release date for his forthcoming Signed to the Streets 3 album. He also dropped "Rockstar," which is a new Lil Skies-assisted track set to appear on his new LP.
The cover for STT3, which is set to drop on Nov. 9, includes a contract administered by the streets. The print is large enough that you can actually read everything the contract says.
"Thank you. Since the beginning you embraced me," reads the beginning of the Alamo Records-Interscope artist's contract with the streets. "You taught me everything, the good, the bad, the ugly. You took away too many loved ones but you also gave me bloodas. We have a love/hate relationship but you helped make me to who I am today. Before I signed any contract ever in my life, I signed myself to you. The streets and I promise to represent you forever. OTF 4 life."
Lasting just a little over 2-and-a-half minutes, "Rockstar" is a track that finds both Durk and Skies spitting about the drug-addled lifestyle they've come to lead as rap stars. Or, rather, rock stars.
"They gon' ride still, they made Percs them Advil's/Don't you hate when the gas still/Hate resolved from a nine shell/Take the fans off of lock down, securers call, I'ma press one," Durk spits on the track.
Taking the lyrical baton from Durk was Skies, who spit some hard-body bars about his past and present. "My brother doing life (life), cops never gon' let him free (fuck them)/These niggas not built like we (hell nah)/Broke nigga gon' talk, he cheap (broke)/Me and Durk top dog like Meech (like Meech)," Skies raps.
Check out Durk's new single and album cover for yourself below. When you're done with that, check out what Durk had to say about the album for the fall 2018 issue of XXL Magazine.
Here's the Ultimate Guide to Rappers With Acronyms in Their Name