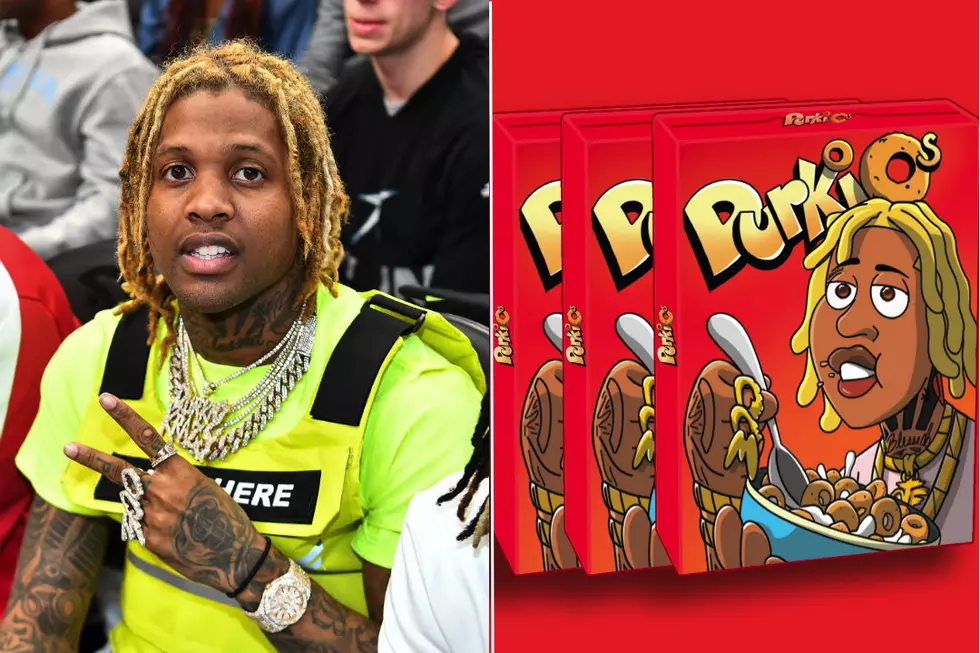 Lil Durk Releases His Own Cereal
Paras Griffin, Getty Images
Lil Durk has teamed up with Miami-based company SoFlo Snacks for the release of his own limited-edition cereal, DurkiO's.
The cereal became available for pre-order on Friday (April 12) via SoFlo's website, and Durk is naturally excited about the venture.
"First rapper with his own cereal this ain't regular ... pre order link drop Friday," he wrote on Instagram earlier this week with a picture of the cereal box. The cartoon image on the box shows Durk sporting his blonde dreads and chain, digging into a bowl of the french vanilla-flavored cereal.
Back in 2015, Cam'Ron teamed up with Virgin Mega USA to release limited-edition "Killa Crunch" cereal boxes in New York City-area bodegas—but the boxes didn't contain any actual cereal. Instead, fans of the Dip Set leader were treated to a t-shirt and $100 cash if they were lucky enough to stumble upon the boxes over the course of three days.
In addition to the release of his cereal, Lil Durk announced his first headlining tour since 2016 on Friday as well. The "Signed To The Streets III Tour" will kick off on Thursday (April 18) in the midwest, and wrap in Providence, R.I. on June 1. Durk's 2018 single "Home Body" will probably go up on the road—as the Gunna and TK Kravitz-assisted track is clearly a fan-favorite, having been certified gold by the RIAA earlier this month.
You can pre-order DurkiO's for yourself here at a retail price of $24.99. The first 300 orders will come with the rapper's signature.
Lil Durk's Signed to The Streets III Tour dates
April 18- Kansas City, Mo. - Uptown Theater
April 20 - Joliet, Ill. - The Forge
April 24 - Baltimore, Md. - Morgan State Stadium
April 25 - Strousburg, Pa. - Sherman Theater
April 26- Farmingdale, N.Y,, - HBK's Haus of Vibes @ Cirque Li
May 10-Miami, FL - Rolling Loud Festival @ Hard Rock Stadium (SOLD OUT)
May 11- Des Moines, Ia.- Val Air Ballroom
May 16 - Sauget, Ill. - Pops
May 18 - Columbus, Ohio - Newport Music Hall
May 19 - Indianapolis, Ins. - The Citadel Music Hall
May 23 - Greensboro, N.C.- Venue TBA
May 24 - Charlotte, N.C. - Venue TBA
May 25 - New Orleans, La. - Joy Theater
May 31 - Westchester, N.Y. - Slumped Fest @ Westchester County Center
June 1 - Providence, Ri. - Venue TBA
See Photos of Lil Durk's Different Looks Over the Years