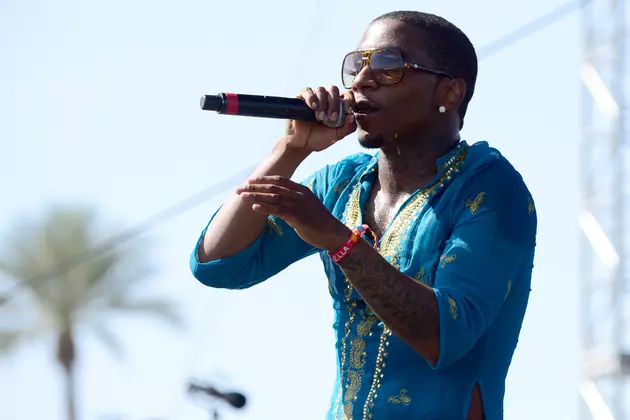 20 of Lil B's Best Sports Moments
Frazer Harrison, Getty Images
Finding a second lease on life when you're an entertainer is not an easy task, with many former stars fading into obscurity after their 15 minutes of fame are up. This appeared to be the case for Lil B at one point in his career, which makes his staying power even more of a marvel, as he is one of the more improbable stars in rap, for a number of reasons. Beginning his career as a member of the Bay Area rap group The Pack, Lil B and his crew would hit it big when their single "Vans" became one of the more popular singles released in 2006, but the group would be dropped from Jive Records after their debut album, Based Boys, would be deemed a commercial failure.
Many may have felt that would be the end of Lil B's relevance, but they would be sadly mistaken, as the rapper would rebrand himself as a solo artist and gradually become a cult-like figure in rap with his quirky sensibilities. The music, visuals and his social media presence would play a big part in reviving his name and has kept him afloat for years. His popularity has afforded him the chance to speak at universities, but one other aspect that has endeared him to the public at large is his love for athletics and his willingness to stir the pot with everything from bold predictions to putting curses on some of the biggest stars in sports.
First making waves for his beef with NBA player Kevin Durant, which would garner headlines and put him on the map in the world of sports, Lil B has since proved himself to be one of the more beloved rappers among sports fans, athletes, analysts and anyone who enjoys a good hot take and a little humor in their life. For the better part of this decade, Lil B has found himself at the center of a multitude of conversations involving sports—from his famed curse to his tryouts for teams. He's even found himself a part of some of the more intriguing storylines that have occurred in recent years.
Here, XXL puts together a list of Lil B's greatest sports-related moments to celebrate the BasedGod's competitive spirit and love for athletics.
Lil B Compares Rap and Hockey

Oct. 8, 2009

Basketball may be the sport that most people connect to Lil B, but the Based God is no one-trick pony, as we found out on Oct. 8, 2009. During an exchange with another Twitter user, Lil B would make a comparison of rap and hockey and how the two relate to each other, with the former Pack member writing, "rap and hockey are similar because u can get hurt. ice is one of the main things that keep the game going and its a team sport." We have yet to find any exploits of Lil B participating in an actual hockey game, but the tweet speaks to the depth of Lil B's relationship with sports.

Puts a Curse On Kevin Durant

May 25, 2011

In May 2011, NBA player and avid rap fan Kevin Durant sounded off about his opinion of Lil B's music, appraising it as "wack" and questioning why anyone would find it entertaining. Opinions like this are aired quite often on social media, but instead of responding with insults of his own, Lil B would simply put a "curse" on Durant, vowing that the NBA player would never win an NBA title for disrespecting the BasedGod. While Durant would shrug off the notion that he was cursed and not oblige Lil B's request to play him in a game of one-on-one, Durant has yet to win the NBA Finals and earn his first championship ring, which could be looked at as a mere coincidence or the powers of the BasedGod in action.

Tries Out for Santa Cruz Warriors

Oct. 14, 2012

Countless rappers have professed their love for the sport of basketball and boasted about their skills on the court, but few have had the gall to attempt to make a professional league. Lil B, being the free spirit that he is, actually made a move toward making his hoop dreams come true by trying out for the Santa Cruz Warriors, an NBA D-League squad affiliated with the Golden State Warriors. Although none of the footage from Lil B's actual tryout was released and he failed to get a call, he did conduct a brief interview with a local news station about the experience, making for another historic feat for the BasedGod.

Releases Kevin Durant Diss Track

March 8, 2014

Lil B's crusade against Kevin Durant got especially nasty in March 2014, when the rapper released a diss track disparaging the All-Star and NBA MVP on the eve of the 2014 NBA Playoffs. Titled "F*ck KD," the freestyle, recorded over the beat to DJ Khaled's "Brown Paper Bag," saw Lil B repeatedly chanting "fuck Kevin Durant" on the hook, and reiterating that Durant would never win an NBA title before making amends for his comments about the BasedGod's music.

Releases "Gotta Make the NBA" Video

April 8, 2014

In 2014, Lil B released a music video for his song "Gotta Make the NBA," in which he chronicles his pursuit of making an NBA roster. Beginning hilarious clips of him playing poorly on the court and working to improve his skills, Lil B shows a modicum of athleticism in the "Gotta Make the NBA" video, which finds him in his safe space, within the confines of the sidelines.

Gets Challenged by Jaylen Brown to a Game of One-on-One

May 23, 2015

Lil B is usually the one who issues challenges to elite basketball players to a game of basketball, but current Boston Celtics forward Jaylen Brown turned the tables on the rapper after committing to play for the California Bears as a high school senior. Sending a tweet out to the rapper requesting they link on the ball court, Brown would receive an answer, as well as Lil B's blessing, within days, which could be a factor in the Celt having had such as successful rookie campaign.

Puts BasedGod Curse on James Harden

June 2015

When James Harden performed Lil B's cooking dance during a playoff matchup against the Golden State Warriors, the rapper was flattered, but wanted acknowledgement from Harden for being the creator of the dance. First broaching the subject on Twitter, Lil B would urge Harden to clear the air about the dance, but would be blown off by Harden, who claimed he was unaware of who Lil B was when questioned by TMZ about the issue in June 2015. That would be the straw that would break the camel's back, as Lil B would reluctantly resort to placing his BasedGod curse on the Houston Rockets player.

Appears on ESPN SportsNation

June 15, 2015

Making his ESPN SportsNation debut in 2013, Lil B would return to the show on June 15, 2015 for a guest appearance that is among the more unforgettable moments in his career. Engaging in a game of "Cursed or Not Cursed," during which he gave a status update on which NBA players are not in favor with the BasedGod, Lil B's take on superstars like James Harden and rooks like D'Angelo Russell were appreciated, however, many viewers' focus was on his peculiar outfit, which was more fitting for an elderly woman than a modern day rap star.

Lil B Cooking Dance Used by Atlanta Braves

July 6, 2015

On July 3, 2015, Atlanta Braves player Cameron Maybin was captured on camera doing Lil B's cooking dance in the team dugout, which has been a bad decision for other athletes, particularly in the NBA, who have fallen out of favor with Lil B as a result of it. Lil B would not take Maybin or the Braves to task for his actions, but the Braves, who probably were aware of the BasedGod curse that has wreaked havoc on Kevin Durant and James Harden, took the initiative to thank Lil B for allowing them to use the cooking dance. Being the man of the people that he is, Lil B would kindly thank the Braves for acknowledging him and giving proper credit where it was due, and the Braves would not be subjected to the wrath of the Based God.

Gets Invited to Try Out for Delaware 87ers

Aug. 26, 2015

Lil B's basketball aspirations have been well-documented throughout his career, so when the Philadelphia 76ers D-League affiliate, the Delaware 87ers, extended an invite to him via Twitter, it was no surprise that the Bay Area native was eager to pursue the opportunity. The tryout wouldn't manifest into a roster spot for Lil B, but the invite is another example of his love affair with athletics.

Gets Invited to University of Florida Football Game

Oct. 1, 2015

Sometimes a simple follow on Twitter can unlock doors unforeseen, as both the University of Florida and Lil B were reminded of in October 2015. The university, which followed Lil B on Twitter and received a follow-back from the BasedGod, reached out to Lil B with a tweet thanking him for the love shown, with the rapper reciprocating the good energy. This prompted the Twitter account for the Florida Gators, the University of Florida's football team, to extend an invite to Lil B to attend a home football game at the University.

Forgives the Texas Longhorns

Oct. 5, 2015

As more athletes become aware of the BasedGod curse, more players, teams, and organizations have begun to preemptively show reverence and respect to Lil B out of fear of being subjected to a curse. Bryce Cottrell, a member of the Texas Longhorns football team, one of the more storied programs in college athletics, would extend an olive branch to Lil B following a rough stretch for his squad, despite the BasedGod never officially cursing the team or giving any indication that he had. However, when Cottrell reached out via Twitter requesting mercy on the part of Lil B, the rapper responded kindly, professing his love for both Cottrell and the Longhorns, thus making them exempt from the wrath of a curse.

Appears on NFL Now

Nov. 23, 2015

On Nov. 23, 2015, Lil B appeared on NFL Now to give his thoughts on the NFL and more. One of the more interesting tidbits was the rapper's response to who his favorite football team was, with him noting that although he grew up a fan of the Oakland Raiders, he counts a number of teams, even rivals of the Raiders, among his favorite squads. Also speaking on his wish to spread positivity and having that extend throughout the NFL, Lil B adds another remarkable sports-related moment to the laundry list of his career highlights.

Receives a Cal Berkeley Football Jersey

April 17, 2016

A native of the Bay Area, Lil B is a big supporter of all of the local sports teams, professional, collegiate and otherwise, but among his faves are the Cal Berkeley football squad. In April 2016, the team surprised Lil B by presenting him with an original Cal Berkeley jersey, made exclusively for him, a moment that Lil B captured and shared via social media, and reflects how much of a popular personality he's become in the sports world.

Takes Credit for The Oklahoma City Thunder Playoff Loss

May 31, 2016

Things were looking pretty good for Kevin Durant and the Oklahoma City Thunder after the first four games in their Western Conference playoff match-up with the Golden State Warriors during the 2016 NBA Playoffs, but one person who didn't believe Durant and company would ultimately emerge as the victors was Lil B. A Golden State Warriors fan himself, Lil B predicted that his hometown team would come back and win the series despite the odds, a premonition that would prove true, leading Lil B to remind sports fans—and Durant himself—that the Based God curse is very real and was in effect during Kevin Durant's final games played in Oklahoma.

Gets a Response From D'Angelo Russell

June 9, 2016

Most NBA players who have been called out by Lil B have opted not to respond or entertain the BasedGod curse, but one baller who took the time to issue a response to Lil B's appraisal is Los Angeles Lakers point guard D'Angelo Russell. Hopping on Twitter after getting wind of Lil B's opinion of him and writing "Dude Somebody Nobody Knows!," Russell would later delete the tweet. Fortunately, Lil B would later lift the curse off of D'Angelo Russell, putting him in the clear, for the time being at least.

Lifts Curse on Kevin Durant

July 4, 2016

After more than five years of being subject to the BasedGod curse, Kevin Durant was given Lil B's blessing after joining the Golden State Warriors. The rapper would credit this as the reason why he lifted the curse and welcomed Kevin Durant to the Bay Area. First sending a simple tweet acknowledging KD's decision and breaking the news, Lil B would later expound on the decision in an open letter explaining his actions. Claiming that he had no ill will towards Kevin Durant and felt there was no need for an apology on Durant's part, Lil B ended the one-sided feud once and for all, a landmark moment for sports and rap fans alike who had been following the situation.

Gives the Toronto Blue Jays His Blessing

Oct. 18, 2016

Toronto Mayor Norm Kelly has been one of the more high-profile politicians in the hip-hop community, putting himself in the middle of Drake's beef with Meek Mill and becoming a bit of a fan favorite for his antics on social media. But on Oct. 17, 2016, Mayor Kelly requested the help of another rapper, Lil B, to garner any good vibes he could for his city's MLB team, the Toronto Blue Jays, who were in the midst of a post-season series against the Cleveland Indians. Although it would take Lil B a day to respond to Kelly, he was gracious in his support and gave his blessing to the Blue Jays, who would go on to come back and win the series, another testament to the power of having faith in the BasedGod.

Warns Shaquille O'Neal About BasedGod Curse

Feb. 24, 2017

In February 2017, a long-running beef between Hall of Fame basketball legend Shaquille O'Neal and NBA player JaVale McGee turned nasty, with O'Neal going as far as threatening McGee with physical harm. Being that McGee is currently a member of the Golden State Warriors, Lil B, who is an avid fan and support of the team, felt the need to come to the defense of McGee, and went on Twitter to send a veiled threat to the aggressor. Insinuating that Shaq could become subject to the BasedGod if he continues his antics, Lil B proves that although he is all about peace, when it comes to the honor of his squad, he is not one to be trifled with.

Offers to Take the BasedGod Curse Off James Harden

May 12, 2017

First placing his BasedGod curse on James Harden in 2015, due to his displeasure with the Houston Rocket using his cooking dance during Harden's Western Conference matchup against the Golden State Warriors, Lil B appeared to have a change of heart following Harden's dismal performance against the San Antonio Spurs that helped lead to the Rockets' early playoff exit.

"I apologize to James harden I'm ready to talk and end the curse... it's time to talk and be the leader everyone believes you are," Lil B tweeted, opening up the door for a possible conversation or sit-down between the two to hash out their differences. This was also a moment for Lil B to impart wisdom on Harden as he attempts to bounce back from an embarrassing performance.