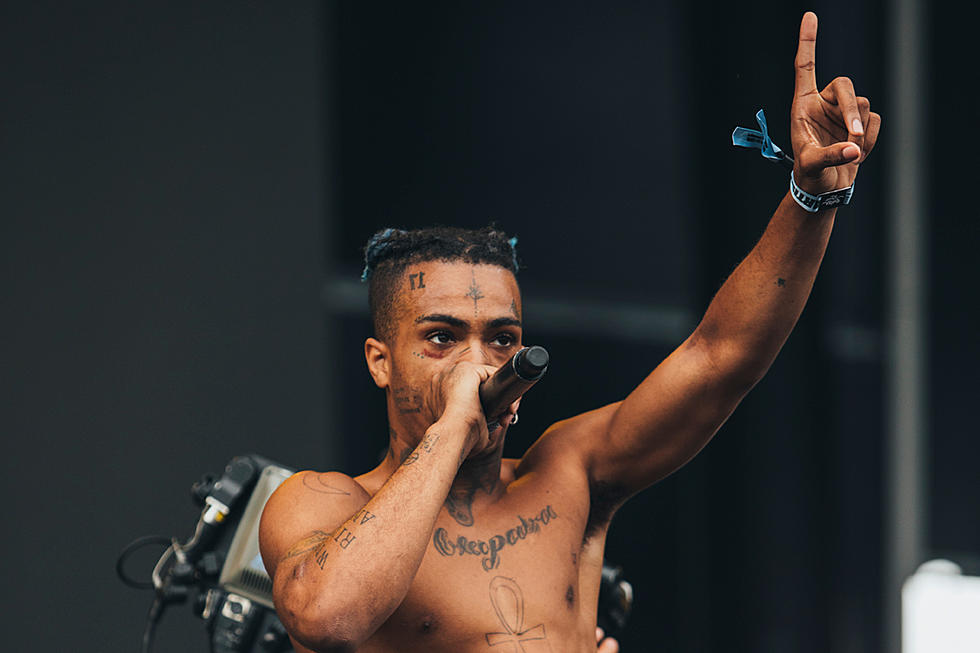 The 30 Best XXXTentacion Songs, Ranked
@theinfamousjc
At the time of his tragic death last summer, XXXTentacion was already on the road to becoming a certified superstar.
With malleable vocals, a penchant for experimentation and an undeniably punk aesthetic, the rapper earned a legion of fans before he even turned 20. A listen to his discography might make the term "rapper" seem just a bit limiting for an artist who probably liked The Fray as much as he liked Lil Wayne.
"People still use the term 'rapper' when they're talking about X, and I just think that's outdated 'cause obviously he's so much more than that," X's producer John Cunningham told XXL when speaking about the making of X's ? album last year. "I feel like for us, the only time genre comes up is talking about good and bad. You know, it really doesn't matter."
X flaunted his genre-fluid stylings across several EPs, two albums and a few compilation projects. On "Look At Me!," he attacks a spastic beat and renders lo-fi trap in all of its unpolished glory. Meanwhile, the acoustic "Revenge" sounds more like a Modest Mouse deep cut than a new single from a South Florida SoundCloud rapper.
Through that versatility, X was able to channel feelings like rage, depression and more in whatever musical medium works best for the occasion. For a song like "Save Me," X tackles sparse guitar as he belts out a desperate cry for help. The lack of hard percussion or a pulsating beat gives space for his words to sink in and his voice to linger. On the other hand, there's the emo-leaning, teen pop tune "Sad!," which lets X weave in numbness in a song that's essentially about suicide and broken love.
Today, one day before the originally intended release of the ? album deluxe edition, XXL takes a look at all of X's many styles to rank his 30 best songs. Check out the full spectrum of X releases for yourself below.
30

"H20" (Featuring Ski Mask The Slump God)

Teenage antics from X and Ski. "H20" has a playful multi-part chorus and hyper-speed flows from both Members Only rappers. It's probably best enjoyed live, as its energetic beat and jumpy deliveries are meant for shouting more than anything else.

29

"Depression & Obsession"

17

For a song called "Depression & Obsession," X sounds mighty casual as he hums over supple strings and reflects on toxic romance. "I ate her, inside and out, I feel my stomach turnin'," he sings on a song where he once again sounds all too comfortable with his own pain.

28

"What in XXXTarnation" (Featuring Ski Mask The Slump God)

One thing about X and Ski Mask collabs is that you can tell they always have a good time. On "What in XXXTarnation," the two deliver threats even as they use over-the-top animated deliveries. The track feels a lot like the rap version of a fart joke, which was very much in X's wheelhouse when he wanted to let loose. Ski Mask's signature "Water" adlibs are also a nice touch.

27

"Off the Wall!" (Featuring Ski Mask The Slump God)

XXXTentacion Presents: Members Only, Vol. 3

XXX and Ski Mask showcase their status as two of South Florida's most rowdy rascals on the ultra zany "Off the Wall!" X's collabs with Ski Mask The Slump God tend to include rapid-fire flows and animated deliveries from the two rappers; this is one of the more entertaining, even if it's a little all over the place. A lot of times with X, it feels like that's the point.

26

Over solemn piano keys, X reflects on some of his darkest, loneliest moments for a somber cut from his 17 album. He could be referring to his July 2016 arrest for aggravated robbery and assault with a deadly weapon, but its unclear. The pain isn't.

25

"Royalty" (Featuring Vybz Kartel, Stefflon Don and Ky-Mani Marley)

Bad Vibes Forever

X leans hard on his Jamaican roots with the posthumously released "Royalty," a track that merges his talents with those of Vybz Kartel, Stefflon Don and Ky-Mani Marley.

24

"Whoa (Mind in Awe)"

Skins

X doesn't say much on this one, but he delivers a sweet melody over a bed of light bells for one of the best songs from his posthumously released Skins LP.

23

Much of Skins is marred by a sense of incompleteness, as it was released posthumously without the rapper's final input. Still, X's lithe, emotive vocals with some swirling synths go a long way to make this one perhaps his best posthumous release. The anime-inspired visual for the track is pretty dope, too.

22

"Arms Around You" (With Lil Pump, Maluma and Swae Lee)

The grouping of artists on this Latin-infused pop release from X, Lil Pump, Maluma and Swae Lee feels like a starter kit for a crossover hit. Yet it slaps, as X holds down hook duties. "Te amo, mami, let me hold you/Got my arms right around you, girl, oi/Good lovin', arms all around you/To make sure no one could harm you/Damn, lil mami, let me have you, oi," X croons on a song that feels like a typical Hot 100-bound single.

21

"Before I Close My Eyes"

?

For this one, X interpolates a traditional children's bedtime prayer and lays bare his fear of it already being too late. He doesn't specify what it's too late for, but you can hear the hope and regret in the tone of his voice.

20

"Yung Bratz" is a track that, with its blown-out bass, raucous screaming and cartoonish vocal inflections, sounds exactly like its song title. The track acts as a good snapshot of X at his rawest.

19

The third in the song series, "Alone, Part 3" is a song that deals with the perceived betrayal of an ex-lover and the pain of being in a space where you "can't seem to find someone's shoulder" to lean on. "I dug my nails into my arms/She turned and laughed at all my scars," X softly sings on a song that emits loneliness and insecurity in equal measure.

18

"Looking for a Star"

Revenge

X replaces blown-out bass and screamo with saccharine electropop for a Diplo-produced song that's the exact opposite of "Look At Me!" If you'd only listened to a few X songs before this one, you might have a hard time believing it's the same artist who made tracks like "Yung Bratz" or "What in XXXTarnation." X makes a smooth transition for a song that highlights his vocal malleability and the potential to become a crossover star.

17

Fans who were new to X got a telling glimpse of his sonic versatility when he released "Revenge," an acoustic ode to his dead friends. More folk than punk and lightyears away from anything resembling rap, the song features sullen vocals and at least a few Instagram-worthy captions: "Well broken hearts break bones, so break up fast, and I don't wanna let it go, so in my grave i'll rot."

16

"I Don't Even Speak Spanish Lol" (Featuring Judah, Carlos Andrez and Rio Santana)

?

X plays hopscotch with musical genres on his ? album, jumping from alt-R&B to boom-bap to rock. Yet you get the sense that even he knew "I Don't Even Speak Spanish Lol"—with its literal joke of a title—was completely random. Yet his soft vocals blend with the Latin-inflected beat and make for a summer-ready tune you didn't realize you needed from X.

15

After 17, glimpses of X's lighthearted side felt more scarce. On "Going Down," he revives the quirky vocal delivery he'd used with Ski Mask in the past and lets loose a few bars about thick chicks (there's a notable Lil Yachty name-drop, too). The upbeat instrumental and a swerving hook make this one go.

14

"Pain = Bestfriend" (Featuring Travis Barker)

?

At the beginning of "Pain = Bestfriend," a quieter, more somber X sounds like he's surrendering to his pain as he sings over tranquil guitar strums. At the end of the track, though, Travis Barker's drums go crazy, somber singing morphs into guttural screaming and X is bear-hugging it out with his own suffering, the one thing he's sure will never leave him.

13

"A Ghetto Christmas Carol"

"A Ghetto Christmas Carol"

X serves up his own version of a Christmas tune with "A Ghetto Christmas Carol," a hedonistic track that sounds more like Halloween seance than the stuff of carolers. X laces the beat with winding yelps as he belts out an ode to thick chicks, flossy whips and money. "It's a vibe, yeah." Indeed it is.

12

X usually calls more for distance than a shoulder to lean on, but on "Save Me," a track with stripped-down guitar strums and desperate vocals, he calls out from "the dark side" to see if someone will join him. "Does anybody here wanna be my friend? (My friend)/Tell me when the fuck is it all gon' end? (End)/Voices in my head/Telling me I'm gonna end up dead (Dead)," X cries out.

11

X lets loose his emotions on another raging, guitar-fueled ballad about depression. His songs about the feeling usually evoke numbness, but for this one, he sounds like he's being swallowed by his emotions instead of indifference: "And every single year/I'm drowning in my tears, I'm drowning in my tears again."

10

"Changes" (Featuring PnB Rock)

?

XXXTentacion and PnB Rock channel heartbreak over sentimental keys. The song is about as straightforward as it gets lyrically, but X and PnB—as well as the dreamy piano—sound great. The song has been certified two-times platinum since it dropped last year.

9

Animated and fun, "Moonlight" is one of the best songs from X's ? album. He flexes nice vocals and some free-associative bars over an eccentric beat with quirky synths. The video for the song was released four months after his death. It's the last music video that he filmed.

8

For an artist that embodied despair, "Hope" is a refreshingly optimistic track from the rapper, who dedicated the song to survivors of a February 2019 Parkland, Fla. school shooting. X's usual suggestions that things aren't okay still slide into the track, but the hook and his emotive bursts of singing—more like cries—manage to make the song feel like a cathartic release for someone who's found a way to look toward a better future.

7

"R.I.P. Roach" (With Ski Mask The Slump God)

Drown in Designer

Originally released on his frequent collaborator Ski Mask The Slump God's Drown in Designer mixtape in 2016, "R.I.P. Roach" marries X's screamo leanings and knack for mayhem with Ski Mask's laidback style and quirky punchlines. A screaming X evokes mania and danger with his opening bars: "Cocaine for my breakfast, hold that pistol ambidextrous."

Meanwhile, Ski goes completely off topic, name-dropping Kujo and flaunting his jewelry. It sounds like it shouldn't go together with X's verse, but it works because it feels like a reprieve from X's rage.

"R.I.P. Roach" is the peak of X and Ski Mask's collabs, as the two had a falling out in 2017 and appeared to have stopped recording new material together. The two performed the track at 2018 Rolling Loud Miami about a month before X was shot and killed.

6

"Infinity (888)" (Featuring Joey Bada$$)

?

Whether it was folk, EDM, boom-bap or anything in between, X could do it all. "Infinity (888)" is his best attempt at peak East Coast hip-hop. For the track, he tapped Brooklyn's own Joey Bada$$, who knows his way around a jazzy beat. Feeding off an energetic verse from Joey, X cuts through the saxophone with an unpredictable rhyme scheme. X had previously dabbled in boom-bap ("Slipknot"), but "Infinity (888)" is an example of one of his most technically sound verses—and Bada$$ is a perfect partner. Between this and "King's Dead (Freestyle)" (omitted from consideration here as it's not an original song), you get the sense that the X joint project Joey spoke on would've been fire.

5

"Everybody Dies in Their Nightmares"

17

Another Potsu-produced gem, "Everybody Dies in Their Nightmares" finds X once again reflecting on his suicidal thoughts. This time, he spits rapid-fire bars that mirror racing thoughts on an instrumental that feels like a quiet space to think them. X's monotonous delivery underscores his underlying acceptance of his own doom. "Tired of feelin' like I'm trapped in my damn mind/Tired of feelin' like I'm wrapped in a damn lie/Tired of feelin' like my life is a damn game/Nigga really wanna die in the night time," X raps.

4

"Fuck Love" (Featuring Trippie Redd)

17

It was only a matter of time before XXXTentacion and Trippie Redd—two leaders of hip-hop's emo scene—linked up. And when they did, it was every bit as dope as fans expected. For "Fuck Love," the two belt out pained lyrics about heartbreak over an anthemic alt-R&B track with some of the most replay value in X's catalog.

3

Fueled by melancholic guitar licks and XXXTentacion's sullen vocals, "Jocelyn Flores" is the rapper's lullaby to the lonely. The beat is a tweaked version of Potsu's "I'm Closing My Eyes," a song with whisper-like Shiloh vocals that evoke longing as they melt into subdued percussion. The song, which is named after X's friend who committed suicide just hours after spending time with the rapper in May 2017, vacillates between what X wishes could be and what he knows is the reality of a life marred by trauma. The split is signified by the rapper's switch from singing to rapping. After crooning on the forlorn beat, X abruptly cuts into the track with a peek into his own suicidal thoughts: "I'm in pain, wanna put 10 shots in my brain, trippin' 'bout some things can't change," he raps.

2

With its haunting Mala sample, warped bass and some twitchy rapping, XXXTentacion's breakout single "Look At Me!" demands you to follow its instructional title. The Ronny J and Jimmy Duval-produced song, which was released at the end of 2015, finds X spitting a pulsating verse with spastic vocal inflections that mirror the blown-out instrumental he's rapping over. He combines that panicky, anxiety-laden delivery with lyrics that manage to be nearly as funny as they are gruesome—at one point, X compares himself to High School Musical star Corbin Bleu.

It's not his most commercially successful song, but it's the one that put him on the path to stardom. Aiding its rise in popularity was a belief that Drake had used his flow for his own 2016 track, "KMT." Between 2015 and 2017, X was a little-known alternative rapper resting below the surface of South Florida's SoundCloud revolution. A little over a year after dropping "Look At Me!" he had the attention he'd asked for.

1

X's scattered style and frenetic recording habits makes his discography feel like an electric, but open-ended collection of sketches meant to be taken as they were; much of its shine was its lack of polish. Released just months before his passing, "Sad!" is a song that finds X working within a neater, more conventional song structure for an effort that ultimately crystallized his potential for commercial success.

On its surface, "Sad!" is a synthy, emo-teen pop hit fueled by X's lithe vocals and some casually depressing lyrics. Beneath that, though, you hear a mix of insecurity and—knowing or unknowing—hints of an abusive relationship. While troubling—he suggests he'll kill himself if his partner decides to leave him—the song meshes pop sensibilities with damaged logic and emotional honesty in a seamless manner with a smooth vocal style that could have propelled him to Billboard chart dominance.

While the song had been a huge success before he passed, it reached a new level after his death, breaking Taylor Swift's single-day Spotify streaming record and landing at No. 1 on the Billboard Hot 100.