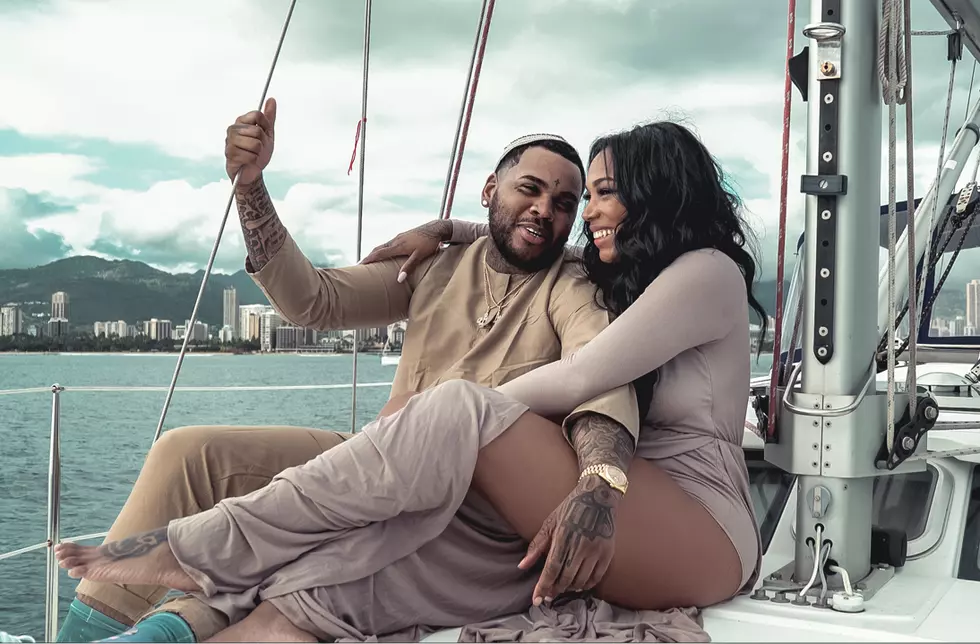 Kevin Gates' Wife, Dreka, Helps the Rapper Tell His Life Story in "Had To" Video
Shot By Spencer
Last October, nine months after Kevin Gates dropped Islah, his platinum-selling debut album, he was sentenced to 180 days in jail for battery after kicking a female fan in the chest during a show in Florida. This past March, when Gates was scheduled to be released, he was held and then sentenced for an additional 30 months in jail for a gun charge in Cook County, Ill., which stemmed from a 2013 incident. Now the rapper won't get a chance at freedom until he's scheduled for release in the summer of 2018.
Up until Islah, Gates gradually built himself a cult-like following because of his plethora of music and his honest, heartfelt records. Everything changed for Gates in 2013, after dropping The Luca Brasi Story. The mixtape began to circulate in the South and with the help of the internet, fans began to discover the 6-foot, 3-inch street poet. From there, Gates, born Kevin Gilyard, began to go on an absolutely insane mixtape run. He ended 2013 with Stranger Than Fiction, dropped By Any Means and Luca Brasi 2 in 2014, and put out Murder for Hire in 2015.
In between all that, Gates made the 2014 XXL Freshman Class, his single "I Don't Get Tired" went certified gold and became his first single to be on the Billboard Hot 100. Oh yeah, he also created an energy drink, because, why not.
Gates was on the cusp of superstardom after Islah, but the arrest and jail time has put a pause on his ascent. Still, Kevin's name has remained afloat while he's behind bars because of his wife, Dreka Gates, who has helped to keep his business and music going. For years, she has been by Kevin's side and has helped put together every project that he has released. She understands what Kevin likes and knows what music resonates with his fans. The process for picking through Gates' music isn't hard for her.
"It's all about having a balance. Kevin makes so much music," Dreka tells XXL. "We'll pick things that he recorded years ago because at that time when he recorded it, it was ahead of his time and the fans probably wouldn't expect it. And it's all about a vibe. You have to have something for the ladies, you have to have something for the day one fans to go out and get the project, the street stuff, it's just about capturing that vibe. It's always fun because we get to ride around and listen to music. It's always a good time with us."
Along with Dreka, Jeff Vaughn, Vice President of Artist Partner Group, helps put together Gates' projects. Together they put out the Baton Rouge native's By Any Means 2, a 14-track mixtape that was released in September. The project took about a month to put together. Dreka wanted to keep the tape centered around the theme of Gates outgrowing certain individuals in his life.
"Well, of course, if you noticed, all the songs on the project have the same kind of vibe," she explains. "It hurts to let go of people but you got to do it. He kind of recorded those songs around the same time. It all just worked together. It's really not that hard putting Kevin's project together. The hardest part is that you have so much music to choose from and I swear to you I'm not just saying that because of my personal relationship with him. There's so much good music to pick from. So this project, we just stayed with the same kind of vibe, with him letting go of people and cutting ties and moving on."
A standout track off the tape is "Had To." The video for the record is a poignant look at the moments that helped shape Kevin Gates' life over the last nine years. In the visual, fans get to see Kevin selling his first mixtape, getting shot, getting his signature gun tattoo of his hand done and so much more.
"There was so many things that has happened since I've been a part of his life for the past 14 years," Dreka shares. "Everything that happened that was a part of the video, it triggered some sort of change. Everything all played a role to the person he is today."
Speaking from her home in Louisiana, Dreka tells XXL the story behind Kevin Gates' "Had To" video, shares when fans can expect new music from him and gives an update on how the rapper is doing in prison.
XXL: How did this idea of the video come about?
Dreka Gates: Basically it was Kevin's idea. So we had to get a little creative with the visuals and everything [since he was locked up]. POV is something that we never done before and we just thought it was a really cool idea. Just going through some pivotal moments and events that occurred in his life.
How do you actually get Kevin's input from jail?
He calls whenever and I'll run stuff by him and he'll say, "Yay" or "Nay" or "Make sure you get this in there." He'll put in his two cents because there's so much he can do. But that's pretty much how it all goes.
What was it like to relive some of these moments in the video?
I think it was cool the fact we were able to go back and reenact these things. Especially like him getting his hands tattooed. I actually wasn't there, I was on FaceTime but in the video, you'll see me actually there with him. But I was on FaceTime when he was getting his hands done. The part when he got shot, that kind of made my heart drop because it was like, Oh my God.
Describe Kevin Gates when he put out his first mixtape, "Pick of Da Litter"
He was over the hill. Before this, he was recording literally in the closet in his grandmother's room. That was like his first official mixtape where he recorded in the studio and kind of did things the professional way. He was really excited about that.
A huge moment was when he dropped The Luca Brasi Story. How was that time in his life?

That was a pivotal moment when we left our situation and it was our first project outside of that situation. The fans loved it and they ate it up.
After that release, the following year was pretty impactful for him.

In 2014, he has just got out of jail, we had Islah and we just had Khaza [our son]. He was born in May of that year. It was so funny, we were actually going to this jewelry store in the mall in Atlanta and he was going to get some jewelry for himself. He was like, "Look at the rings. Tell me if you see anything that you like" and I did. Next thing I know, he's down on one knee and asking me to marry him. That was really crazy and totally unexpected.
Kevin is such a family man. People really don't see that a lot.
For him growing up, he didn't really have that so his entire life he just wanted his own family. He is very much so a family man. Anytime he gets to spend time with his kids, he does. Anytime he gets to spend time with me, he takes advantage of it. He loves being around us and being with us.
When Islah dropped, what do you think was going through his mind? Also, what was his reaction when it went platinum?
Man, dropping the Islah album was huge to us because it was his first real studio album. Everything in the past was a mixtape, even though it was all original music, but Islah was a very exciting moment for both of us. Then when it went platinum, it's even better because he said he did not want to drop an album until he knew it was going to go platinum. Islah just so happened to go platinum so it was amazing.
Whenever we went into the reception, everyone was talking about how he was smiling from ear to ear. When anyone asks him now he says that the wedding day was the best day of his life. And it was like a big ass party. It was a lot of fun.
How was it going to the Mecca in September 2016?
That is an experience unlike any other. When I talk to him now he always talks about going back and going back every year. I was fortunate to go back this year but he wasn't able to. It's an experience like no other. I know a lot of people who haven't been there. When you go over there you'll see people of all different races and backgrounds. You see people from all walks of life there. You can't tell who's loaded with money or living in a cardboard box because everyone is the same. It was a beautiful experience and definitely life-changing from him and I.
I know he records all the time. Will this be the only project you put together for him to release before he gets out of jail?
I don't know. I'd love for him to come home and make some new stuff and release that. We have music that are unreleased and are great songs but the topics that he talked about in those songs are no longer the thing for him. So I think that he prefers to come home and make a bunch of stuff and drop it. But you never know.
He's doing great and he told me something I was really happy to hear. He said, "I'm finally happy with myself and who I am." That just made me really, really happy because he always struggled with that. He was the one that got picked on and that's kind of why he ended up going down the path that he did as a teenager. But, he's in a great space right now and I can't wait for him to come home so the rest of the world can see the guy that he's become. And just seeing him continue to grow.
Here Are the Best Projects Released From 104 Past and Present XXL Freshmen