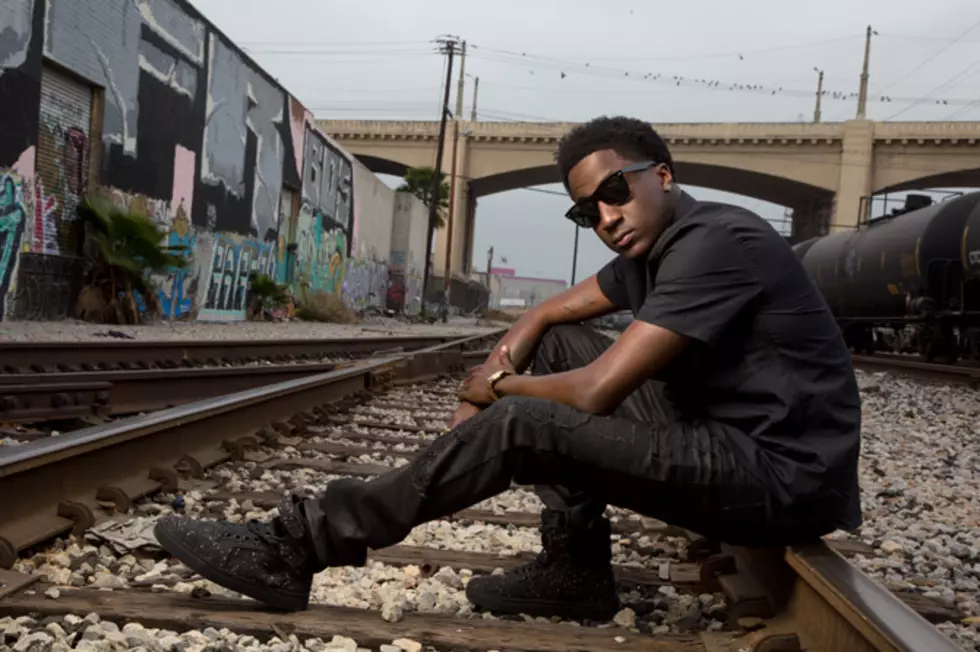 K Camp Discusses His New Single, Making Catchy Hooks And The Criticism He Gets For His Content
Photography By: Travis Shinn
Photography By: Travis Shinn
K Camp has been on a roll since he signed to Interscope in March. Shortly after inking his deal, the Atlanta rapper put out his In Due Time EP that featured singles "Cut Her Off" and "Money Baby." Those two singles set the stage for his new offering, "Blessing," which is loosely based on the relationship with his ex-girlfriend. It's a welcomed change from K Camp's smashes and shows he isn't just a rapper who makes hits for the strip club.
During his press run in NYC for the official video release of "Blessing," the Show & Prove alum stopped by XXL to speak on what "Slum" really means, the concept of his latest single, on making catchy hooks so easily, and if criticisms of putting women down in "Cut Her Off" affected him at all.—Eric Diep
"I got too many f***in' records. Honestly, my vault is stupid."
K Camp: Slum, we really started from the bottom. We turn nothing into something. That's just our whole crew. Everybody got a title. That's Strong Arm Slum. We got King Slum. We got Creep Slum. Everybody got their own title. We all in there. That's our click and we just running with it. We started this on the road. We started during the In Due Time Tour. It happened on the road. We can't really talk about that how the name really came, but it just happened on the road. This is probably nine months ago that we started the Slum shit.
It was a dope ass video. Dope ass concept. We wanted to make something that touched people [and] to give a song a bigger meaning. I think the song came out cold. My Twitter—those folks are really tweeting like it happened. Like, that shit happened to them and they are inspired. I appreciate it for the message. We did a good job with that shit.
I made "Blessing" off my ex. It was just one of them days I was in that zone and I felt like making a record for my girl. Shit, I just premiered it on 106 & Park and that's dope to me. Back then, she was cool, but it is what it is.
You make the best music when you are going off emotion and feeling. It mean more. It worked. I got famous on her. She couldn't handle the shit. The video was similar, but she didn't die. But it is kind of similar. Anytime I get one of them women feelings as far as inspiration, I always want to get in the booth. 'Cause the shit always come out crazy. Everytime I feel something, I gotta record. That shit is just the best. That's when the best music comes, honestly.
I've been doing the hooks for so long. I was in a group called H.B.C. back in the day when I was in high school. And every time we get in the booth, I was the only one writing the hooks. Niggas didn't even think about writing the hooks. They getting ready to lay their verses down, and I lay the hook down and then everybody write their verse. That's how we do the songs and shit. Like with the hooks, I've been like practicing [for] years and years. Now, it just has become clockwork. I just get in the booth and say some shit and it worked.
I got too many fuckin' records. Honestly, my vault is stupid. We was going through records last week 'cause we about to start working on the album. We were looking at the records we were gonna put. Just get the direction and I could drop like three, four albums right now. I've been recording for years. I got so much music backed up. I couldn't put shit out at that time 'cause it wasn't right. Everything I had is just either we are gonna give 'em away on some behind the scenes shit, or we gonna goddamn drop it. It's unlimited right now. And I'm only getting better. We are about to get in the studio when I get back home. It's only gonna grow from here.
Man, I don't give a damn. I'll still cut them off. That shit real life. It ain't nothing to cut that bitch off, but at the same time they blessings though. [Laughs] Nah, I'm no womanizer. I love them to death. They can say what they want.
On branching out musically:
That's why I dropped In Due Time. Coming up in Atlanta, Atlanta is known for the clubs and shit. Strip-clubs and all of that shit. When I was coming up, people thought I was a club artist. I already knew what the hell is going on with me. I knew what type of music I was making outside of that shit. When I dropped In Due Time, I wanted folks to see the range like "Damn Right" and "Blessing" and "Think About It" with CyHi. When I drop that shit now, niggas is like, "OK, this nigga can really …" You know what I am saying? Do what we do.
But when we had "Money Baby," that was the first single. I didn't want "Cut Her Off" to be my single. I didn't know "Cut Her Off" would take off like it did, but I knew what the message and what folks were gonna think. "Oh yeah, this is another club motherfucker." 'Cause "Money Baby," "Cut Her Off." I knew what folks were gonna say. The fact that we dropped "Blessing" as the third one, it's perfect. Now, they know it's the real deal. That's all I want from it. Folks don't go as hard as I am. No muthafucker can say I am a one-hit wonder with just "Money Baby." Not knowing that I was on "Do It" before that with Mykko Montana back then that hit the charts. "Turn Up For A Check" with Gotti. "Off The Floor" with Wale. "Turn Up The Night" with B.o.B. All them shits are going crazy right now.