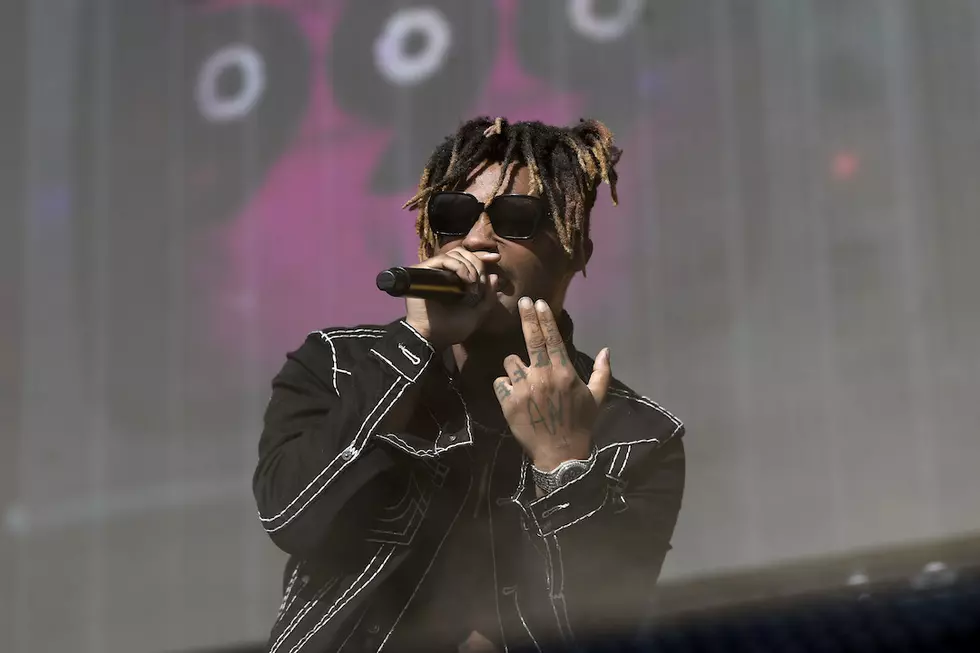 Juice Wrld Suffered Seizure While Federal Agents Searched Luggage for Drugs, Guns: Report
Bryan Steffy, Getty Images
A new report from TMZ sheds more light on how Juice Wrld and his crew were met by federal authorities in Chicago on the morning he died. According to the celebrity news site, the pilot of the private jet that the Chicago rapper and his entourage were flying on alerted authorities that the crew had guns onboard.
More details surrounding Juice Wrld's final moments are being revealed.
According to a report the Chicago Tribune published on Monday (Dec. 9), the previously reported seizure the young rapper suffered at Chicago's Midway Airport happened as police and federal agents were searching through all of the luggage that arrived with him and his entourage on a private plane.
The report states that police suspected they'd find contraband in the form of "weapons and narcotics" and were awaiting the rapper's arrival from Los Angeles. When the aircraft landed and the 10 occupants exited, a drug-sniffing dog was let loose in the aircraft and indicated a "positive alert" for two of the luggage bags on the plane, which contained 70 pounds of marijuana in vacuum-sealed bags, weapons and more drugs.
Shortly afterward, Juice began convulsing and medical help was summoned. When authorities inquired if the rapper had ingested in any drugs or had any medical issues, Juice Wrld's girlfriend reportedly notified them the rapper "takes Percocet and has a drug problem." Two doses of Narcan were reportedly administered to Juice. Narcan is an emergency treatment that is administered when a victim is suspected of overdosing on opioids.
The report states that Juice "woke up but was incoherent" following the Narcan treatment and that he was pronounced dead just an hour later after being transported by paramedics to Advocate Christ Medical Center in Oak Lawn, Ill.
As for the search, police and federal agents reportedly recovered 41 "vacuum-sealed" bags of marijuana, six bottles of prescription codeine cough syrup, two 9 mm pistols, a .40-caliber pistol, a high-capacity ammunition magazine and metal-piercing bullets. Two of Juice's security guards, later identified as Chris Long and Henry Dean, were arrested and released for gun violations.
According to authorities, Long was charged with unlawful possession of a firearm. Dean's charges include carrying a concealed firearm at an airport and possessing a high-capacity magazine and metal-piercing bullets. Though they both had valid conceal-and-carry permits, they were not authorized to bring their firearms into an airport. Long, who also serves as a photographer for Juice, denied that the weapon belonged to him.
XXL has reached out to Juice Wrld's camp for comment.
See Every XXL Freshman Who's Been Nominated For a Grammy