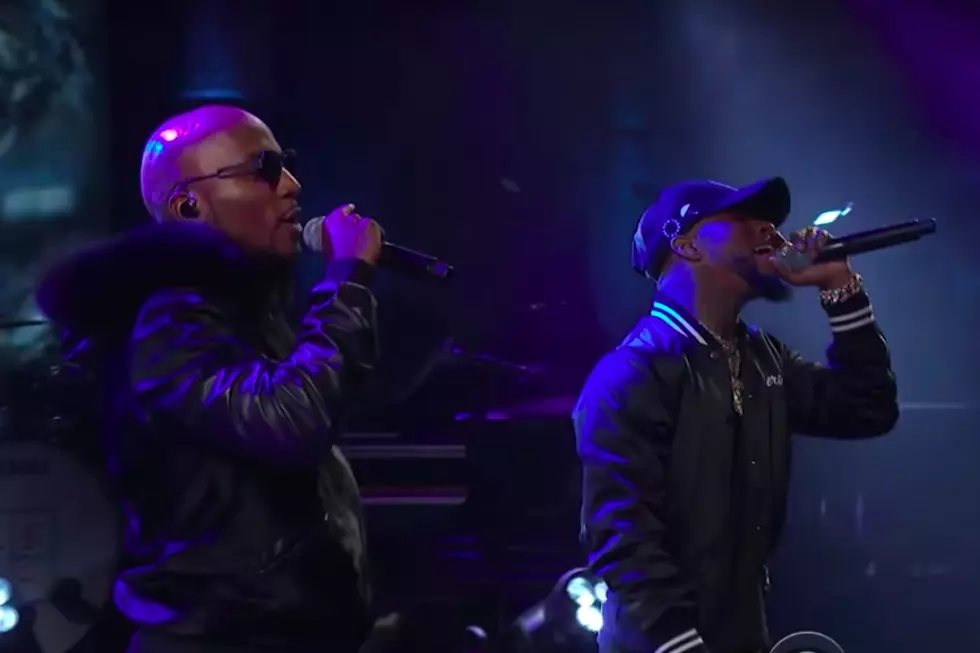 Jeezy Performs New Song "Like Them" With Tory Lanez on 'The Late Show'
The Late Show with Stephen Colbert via YouTube
With just one more day to go before fans get to hear Jeezy's new Pressure album, the Atlanta rapper debuts a new song with Tory Lanez called "Like Them."
The two hip-hop stars hit The Late Show with Stephen Colbert stage to perform the new track, which features some romantic bars from the Snowman, and some sensual vocals from Lanez. The new track caters straight to the ladies with the veteran MC spitting some gushing lyrics about his ambitious leading lady.
"Shorty's a rider, she know I'm a roller/Lend me ya ear baby," he rhymes. "She got plenty of ambition, what's not to love?/I got her if she need anything, yea that's my thug."
The hip-hop community is buzzing about Jeezy's upcoming project, which drops tomorrow (Dec. 15). One song on the tracklist called "American Dream" features verses from J. Cole and Kendrick Lamar; the hype for the song is real. He recently previewed the new record for fans and attendees at his listening party in New York City earlier this week.
The longtime entertainer is also slated to hit the road for his Cold Summer Tour with Tee Grizzley starting next year.
Watch Jeezy and Tory Lanez perform their new song "Like Them" on The Late Show with Stephen Colbert.
See New Music Releases for December 2017