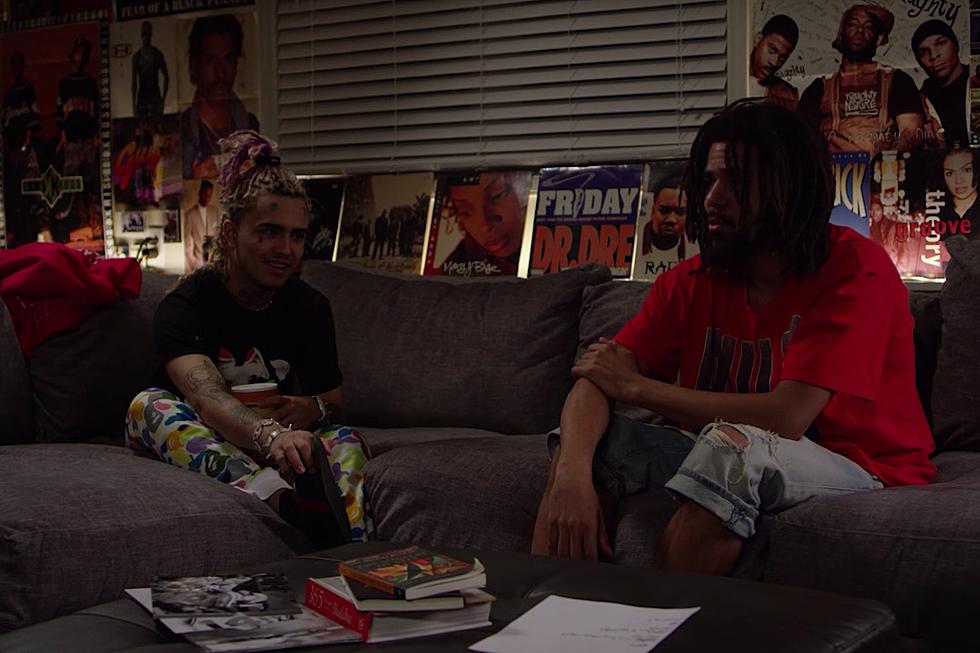 Watch J. Cole and Lil Pump Interview Each Other
J. Cole via YouTube
After building anticipation over the last week with a preview of the interaction, J. Cole finally releases the video of him and Lil Pump interviewing each other today (May 25). The conversation took place and was filmed at Cole's The Sheltuh studio in North Carolina and features the two sitting on a couch, surrounded by tons of music memorabilia.
The two start the interview off on a positive note as they dap each other up, with Cole and Pump both acknowledging that people will be surprised to see them together and why their fans might question them having a conversation. The KOD rapper kicks things off by telling the story of how he and Pump addressed the tensions between them and what led them to patch up their beef. He even expresses how he originally thought Pump might be trolling him with their initial phone call.
"We ended up speaking on the phone," he reveals. "Somebody called my phone and you was there with them. I ain't gonna lie, I thought you was trying to set me up or some shit. I was like, 'Yo, he's 17 and a massive troll.' I think you wanted to FaceTime right?...Cause my album had just dropped like a week before that, so I thought if I FaceTimed you, I thought you'd just screenshot that shit and go right to Twitter and keep running with it more."
Cole remarks that the "Gucci Gang" entertainer is smart, which he doesn't believe is shown through his music and social media presence.
"When I spoke to you on the phone, I was like, 'Yo, he is smart.' I could tell just from talking to you on the phone. You smarter than what people know, what people might give you credit for and I think you smarter than what you put out there...when we met at Rolling Loud, it confirmed it."
While Cole admits that they didn't plan on any particular structure to the interview, Pump asks the Fayetteville native how he started rapping, which Cole says came from the death of Tupac Shakur in 1996, who was one of his favorite rappers.
"Pac got killed in like 96. I was such a big Pac fan. I was in sixth grade and I felt like inspired like, 'Man, I'm supposed to say something.' I wrote a whole rap that was talking about his influence and effect. He was my first favorite rapper."
Pump dives into how he got his start with rapping, revealing that he only started maybe two years ago, which is met with complete shock from Cole.
"Me? Probably like a year and a half ago. Like two," Pump confesses.
"Wait a year and a half or two years ago?" Cole says. "Nah, bruh. What? That's crazy."
"Yeah, in like 2016...I'd just be freestyling next to Smokepurpp," he says. "Me and him would be freestyling and shit in the car, smoking a blunt. He's like, 'You should start rapping.' I just started doing it."
Around the 33-minute mark, Cole asks Pump about the "Fuck J. Cole" movement that started on social media from his and Smokepurpp's accounts.
"So basically...I don't know," he says. "I was sitting in like a room one day and I saw in my comments like, 'Fuck J. Cole. Fuck J. Cole,'...and that was it."
Pump admits he doesn't know where the comments came from or why, but he does say he understands now.
"But now, I kind of get it because we make different type of music. So people like...They'll feel some type of way like 'Fuck this. Fuck that.' I started doing it and people were just like, 'Fuck it.'"
The two also discuss Pump getting kicked out of school in seventh grade, his family life, how they both came into their music careers, as well as when Pump started smoking. They continue to discuss their music tastes, Pump's love for Chief Keef and the impact of drugs.
Watch J. Cole and Lil Pump interviewing each other at The Sheltuh in the video below.