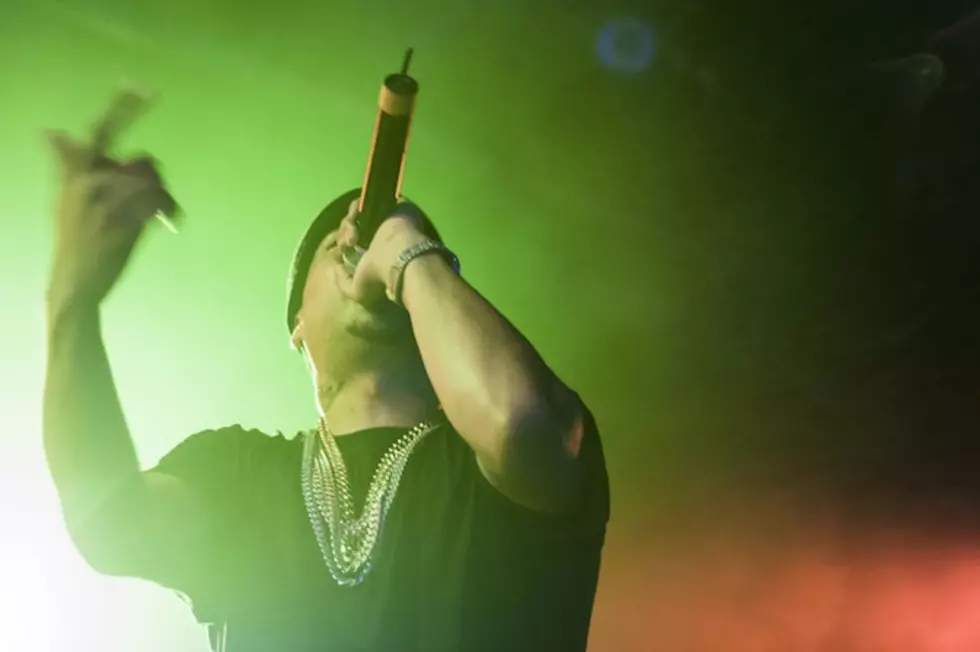 French Montana, Action Bronson And The LOX Bring Out The Guests At NYC Show
Photo: Nancy Musinguzi
It might be impossible to name everyone who was on stage at Best Buy Theater for the final stop on the Hot 97 and Metro PCS 5 Boro Tour. The New York hip-hop showcase attempted to pack artists from all five NYC boroughs, check-ins with Hot 97 personalities like Peter Rosenberg, Cipha Sounds, and Ebro Darden (including a DJ set by Funkmaster Flex), and so many guests that by the time Swizz Beatz showed up it barely registered.
Bodega Bamz came out hungry, leaving it all on stage even though he went on early to a less than full crowd. No matter—everyone who was there was hooked, especially after he killed it on "P.A.P.I."
Representing Queens, Action Bronson nailed his selections from Blue Chips 2 (especially 1980s freestyle epic "Contemporary Man"). Bronsoliño was not without guests, showing off the newly freed Big Body Bes and even bringing out Party Supplies' Justin Nealis to play guitar on set closer "Amadu Diablo." Blue Chips 2 marked the first time I'd seen the same tour twice, and even though Bronson's manic stage show is actually pretty consistent (minus throwing someone into the crowd, which sadly I have yet to see), he might have been even better the second time.
The LOX came to play, veterans who knew they had nothing to prove and still brought it anyway. It took Jadakiss, Sheek Louch, and Styles P a minute to warm up, but after a couple of songs they tore the house down for a set so packed it was hard to know when who was coming out. Raekwon and Ghostface came and went without saying a word about the surprise new Wu album or, sadly, performing together. Tyler Woods performed "Faded" off The LOX's new Trinity EP. Swizz Beatz came and went. Jadakiss asked us to follow him on Twitter—he follows back—and it wasn't corny at all. The LOX are just OG professionals trying to stay on their grind in 2014.
The LOX were such fun headliners that it was easy to forget that they weren't even actually the headlining act. That honor went to French Montana, who was a little low-energy, especially right after the insanity of The LOX, though the Coke Boy got the rest of the crowd moving all the same. Lil Durk and Chinx put in the last couple of welcome guest appearances, though the crowd was chanting so many of the words—a testament to his ability to influence the lexicon—that French didn't even really need to be there. When the lights finally came up, it wasn't clear if the audience was exhausted, or amped; probably both. New York City, represent represent. —Eric Thurm