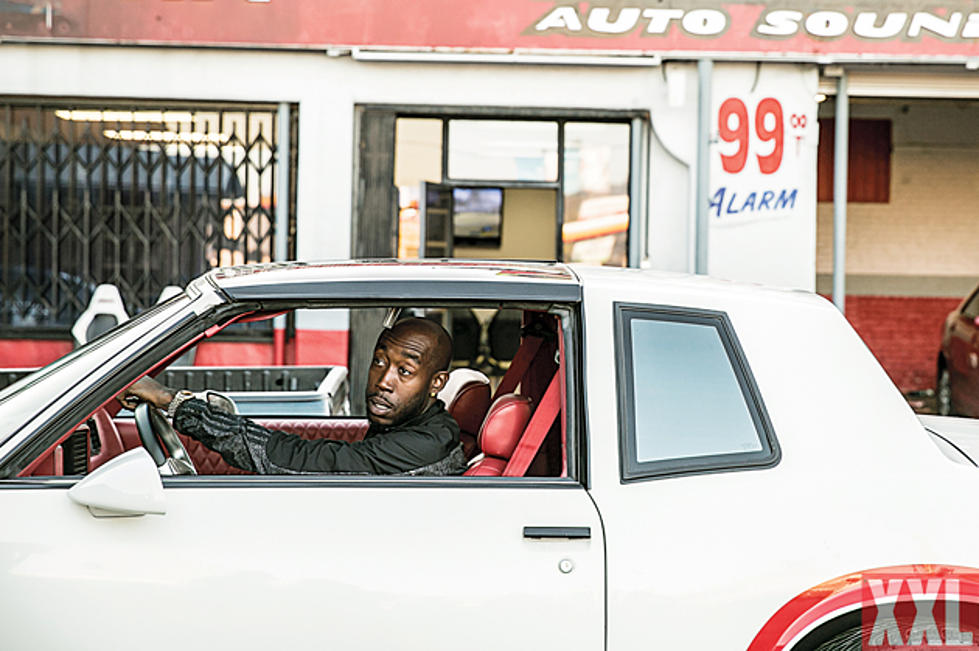 Freddie Gibbs Explains Why He Works So Well With Producer Madlib
Kathy Flynn for XXL
The road back to making music has been a long, strenuous journey for Freddie Gibbs. In 2014, the rapper released, which some may consider, his best project of his career. He linked up with legendary producer Madlib to collaborate for their album Piñata. The project was critically acclaimed and universally regarded as one of the top albums of that year. The following year, Gibbs dropped Shadow of a Doubt, another highly-respected effort propelling him to a new level of popularity.
Then hell happened. At the height of his career last summer, on June 2, 2016, the Gary, Ind. native was arrested by French police outside the Hôtel de Brienne. He was taken into custody before a performance at Rex Club in Toulouse, France, during the European leg of his Shadow of a Doubt tour. Gibbs was later charged with sexual abuse and began a taxing battle for his freedom. His ordeal was documented by XXL magazine in the 2017 spring issue, in which Gibbs gives chilling details about what he experienced in a trial he will never forget.
"I was definitely public enemy No. 1 in Europe when this case was going down," he said. "People eat what they serve. It was crazy. It was a heart-breaking situation to be accused of something like that. It's a scar on my name. Even beating the case still, I still got to fight to let people know this isn't part of my character. I had nothing at all to do with this."
Over three months after his arrest, 37 days in jail and another 90 days stuck in two foreign countries and a four-hour trial, the Vienna regional court acquitted Gibbs of all charges on Sept. 30, 2016. When he got back home, the rapper stayed away from music and focused on his family.
He didn't make his return to music officially until this past March, when he dropped "Crushed Glass" and announced his newest project You Only Live 2wice. He gradually released more new music, following up "Crushed Glass" with "NO PRBLMS Freestyle" and "Alexys" and finally dropped You Only Live 2wice. Gibbs was celebrated for his rap resurrection. Now fans are all but clamoring about Bandana, his follow-up to Piñata. There's no release date on the highly anticipated album but hopefully it comes out sooner than later.
While showing off his custom 1985 Monte Carlo SS in California, Freddie Gibbs talks to us about why he stepped away from music, writing rhymes and scripts in jail, how he feels his project inspired the film Moonlight and why he works so well with producer Madlib.
XXL: Musically, who have you been working with?
Freddie Gibbs: I just been working with my normal producers that I've worked with on Shadow of a Doubt. Pops, Superville, my guy Blair Norf, I've been working with Kaytranada. I'm with my executive producer Sid every day. All the music goes through his hands first. He's pretty much the brain behind the technical and musical side of things. Somebody makes a beat and he'll change it, he'll do whatever he has to do to make everything fit into place. I've been working with him for years. Me and Sid we just get in here and cook. Whatever direction Sid wants to go in, we'll go.
What does the title You Only Live 2wice mean?
When I was over there in Europe, I was doing a lot of reading, just trying to find myself from a spiritual standpoint and I just saw a direction I wanted to go in with the music and art and all of that. And I just said I'm just going to stay in that lane and it had to be something that was relative to what I was going through. I was reading a lot of things on the internet and about my bail and I feel like a lot of people buried me alive. I had to like resurrect myself so to speak so that's why I called it You Only Live 2wice.
How often were you writing songs in jail?
All of my new stuff I wrote it over there pretty much. You Only Live 2wice, I wrote it over there and when I got here I just picked the beats. I even did the whole new Madlib album over there. I've been doing a lot of writing and not just writing raps. I've been writing scripts and things of that nature. I'm locked and loaded right now.
What does a Freddie Gibbs' movie look like?
You've seen "Thuggin"? That's what it looks like [laughs]. I feel like, shout out to the people that did Moonlight, I feel like that's shot like "Thuggin." The director, I feel like he is a fan of the music, I know for sure he's a Madlib fan. I feel like I influence more than just rap. I feel like I influence some Oscar award-winning films. I think that you got to give credit where credit is do.
Piñata definitely could have been used as the soundtrack to Moonlight.
Maybe they might come to us and want this Bandana album, you never know.
Why do you think you and Madlib work so well together?
I think that with me and Madlib, I was never afraid to really experiment with his tracks and things. It's a lot of dirty samples and a lot of loops and a lot of shit you really can't figure out. We get in here. When I first started the Piñata project, I was with my boy Josh and we were like, We got to put this shit together like a puzzle. Now me, Sid and my manager Lambo we do the same thing. We carried it on. We picked the loops that we want, pick the sounds that we want and then we just constructed into something I could lay my vocals to.
I feel like with a lot of Madlib's beats, they are made for storytelling. I feel like when I'm working on stuff with him I can really get into the storytelling aspect mode of my flow. I could rap about other shit all day, really the same type of street topics but really in a different way. Just doing it in a different way on that album as opposed to Shadow of a Doubt—different production, different cadence, just being an overall great rapper and not subjecting myself to being in a box. I might bump some J Dilla shit and then when I am about to work out, I'll throw on some Future shit. I like good music whichever lane it comes out of, as long as it's dope that is all that matters with me.
I'm assuming the Bandana album with Madlib comes after You Only Live 2wice?
What books were you reading in jail?
I read and still reading A Message to a Black Man by Honorable Elijah Muhammad. I love that book. I read George L. Jackson's Soledad Brother. I read that like three or four times. I read like seven books but I forgot.