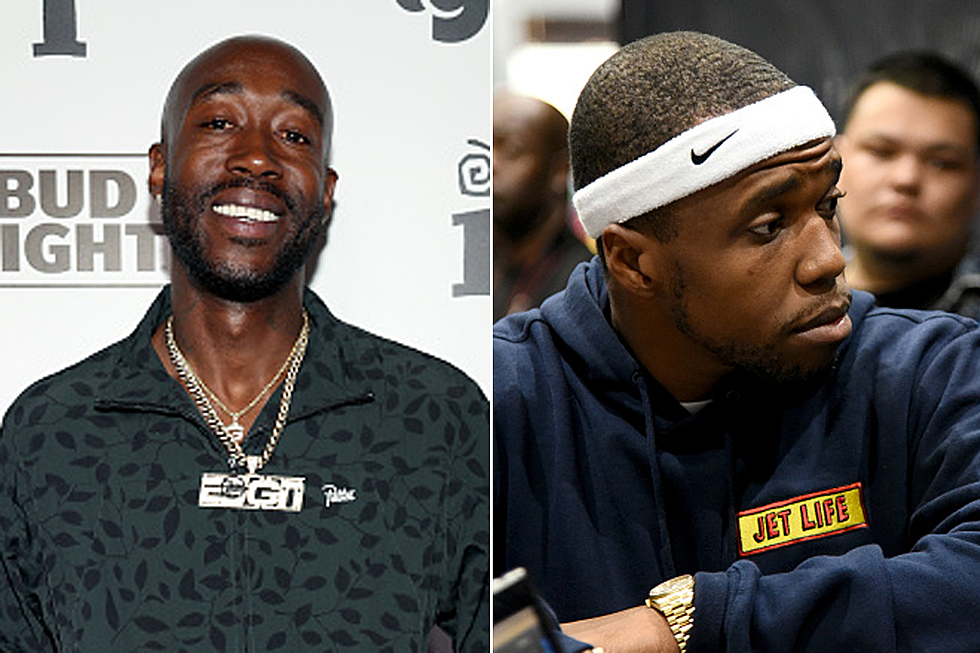 Freddie Gibbs and Currensy's 'Fetti' Album Tracklist Revealed
Cassidy Sparrow/Brandon Williams, Getty Images (2)
The release of the Freddie Gibbs and Curren$y's tag-team album, Fetti, quickly approaches. On Wednesday (Oct. 24), Gibbs shared the tracklist for the upcoming project.
The former XXL Freshmen will deliver nine songs in total on the joint LP. There don't appear to be any guest features but there are some interesting titles like "Now & Later Gators," "Tapatio" and "Bundy & Sincere." The tracklist even comes with a certification of authenticity. "We certify the authenticity of this item and confirm that is has been subjected to the most exacting quality control," it reads. "It's high quality is a symbol of the fine reputation of the artists and trademark."
It has been nearly two years since they announced the forthcoming project back in 2017. "Called my homie Gibbs and told him it's time lets put the EP together," Spitta captioned a video of Gibbs skiing. "Homie hit the slopes and sent me this hahaha clearly its a green light haha.... 'fetti' the EP coming in 17" .... Spitta and Gibbs that pistol to ya ribs."
It took a little longer than expected, but, on Halloween, fans' sweet tooth should be satisfied. Curren$y is coming off the release of his Fire in the Clouds LP, while Freddie Gibbs released his Freddie project in June.
Check out the tracklist for Freddie Gibbs and Curren$y's new Fetti album below.
Freddie Gibbs and Curren$y's Fetti Album Tracklist
1. "Location Remote"
2. "The Blow"
3. "New Thangs"
4. "Saturday Night Special"
5. "Now & Later Gators"
6. "No Window Tints"
7. "Willie Lloyd"
8. "Tapatito"
9. "Bundy & Sincere"
See 63 Hip-Hop Artists Who've Gone Gold in 2018