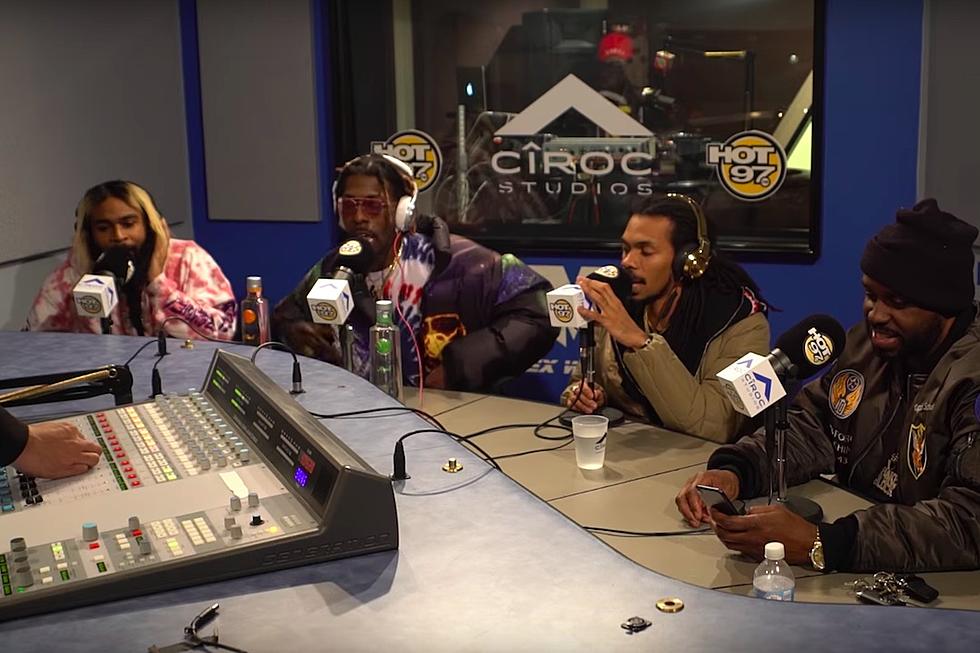 Flatbush Zombies Flaunt Their Versatile Flows in New Funkmaster Flex Freestyle
Hot 97 via YouTube
We're just a couple of days away from getting to hear Flatbush Zombies' anticipated Vacation in Hell album, and they're making sure to give fans as much of a taste of what's to come as possible. The Brooklyn rap group stops by Funkmaster Flex's radio show on Hot 97, where they spit a mean joint freestyle over some familiar beats.
Meechy Darko kicks things off for the collective, rapping over Nas' "Oochie Wally" instrumental, which is a fairly common beat used for today's freestyles, to call out other spitters in the game who lie in their rhymes.
"All these new wave niggas lying when they rapping/When they really just be talking about some shit that never happened," he spits. "Same niggas rapping 'bout same whips, same fashion/And bitches tryna get real love with fake asses."
Next up is Erick Arc Elliott, who rhymes over Pharoahe Monch's famous "Simon Says" instrumental, which is another favorite for freestyle spitters. Erick continues the narrative to call out rappers who portray themselves in a false narrative, using those who compare to Tupac as an example.
"Just cause you got streams don't make your song hot/Just cause you got a nose ring don't make your boy Pac," he spits.
Last up is Zombie Juice, who spits some innovative bars regarding police brutality over the "Dipset Anthem" beat. "All these cops killing niggas, man, that shit is out of line/They control us by the masses, but we living like we blind," he raps.
Check out Flatbush Zombies spitting a new freestyle on Funkmaster Flex's radio show in the video below.
See New Music Releases for April 2018