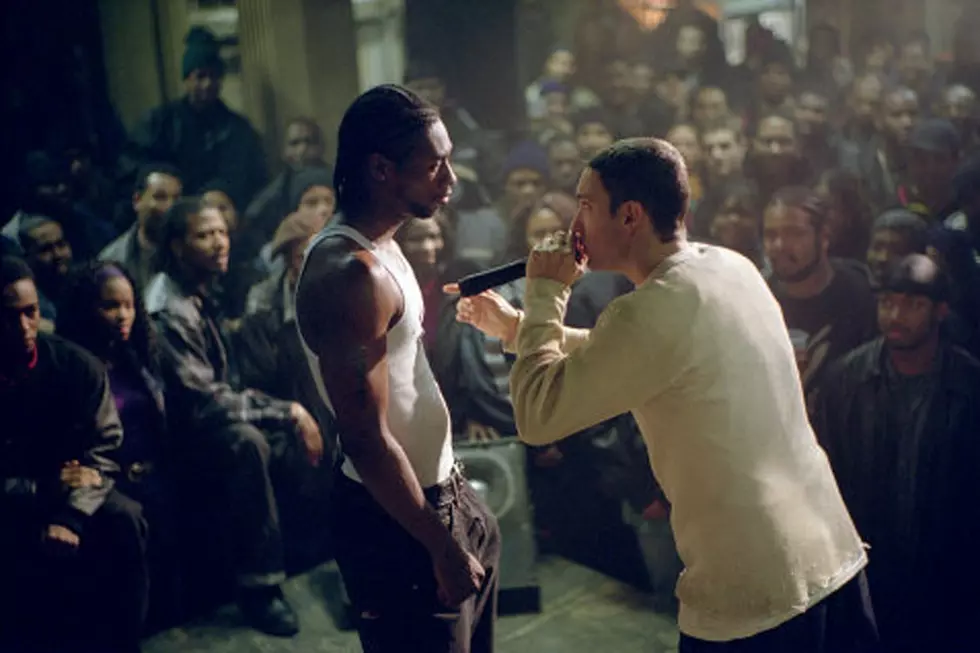 10 of Eminem's Most Brutal Diss Songs
Universal Pictures
Eminem's battle rap roots have become a large part of his music-making identity. No one can deny that Em is as cutthroat as they come when it comes to bars, delivery and sinister messaging. These traits were essential for a young Marshall Mathers as he rose through the ranks of Detroit's rap scene, battling at the Hip-Hop Shop on D-Town's West 7 Mile (a fictionalized version of his story is depicted in the 2002 blockbuster film, 8 Mile).
Hollywood dramatizations aside, Em's abrasive attitude and lyrical sparring skills came in handy over the years when he's gone toe-to-toe with his musical peers. Em would have no reservations dissing another artist in a song or responding to a diss track with the same ferocity. While he crafted some pretty clever diss songs going at pop stars like Mariah Carey and Christina Aguilera, his best battle-oriented diss tracks emerged when he was sparing with fellow rappers who he loathed or family members that he once loved.
XXL sifted through Eminem's scathing diss records to highlight the best of his catalog.
"Marshall Mathers" (2000)

Eminem

Eminem's eponymous track from 2000 is chocked full of disses at a variety of people, from *NSYNC to Britney Spears. But Insane Clown Posse and Vanilla Ice are burnt the worst. In the second verse, he gets at Vanilla Ice for copying his hair and clowns ICP for repping Detroit as an outsider.

"Quitter" (2000)

Eminem Featuring D12

Em had issues with House of Pain rapper Everlast and made it known early on in his career. According to Em, Everlast started the beef but "Quitter" nipped it in the bud. Over a sample of Tupac Shakur's "Hit Em Up," he unloads more than six minutes of scathing bars. D12 even hops onto the end of the song to throw some final punches.

The verses are filled with all kinds of insults, slurs and threats but the chorus is super-catchy: "You just a Quitter and you bitter cause I came along/And the days of House of Pain are gone/And if you talk about my little girl in a song again/I'ma kill you, I'ma kill you."

Limp Bizkit caught heat from Em on diss track "Girls," which appears on D12's debut album Devil's Night and has become an memorable diss track for its relentlessness.

According to Em, Fred Durst wanted to side with Everlast in the beef with Eminem, which obviously didn't sit well with Marshall. After declaring, "I'm on some fuckin'-you-up shit when I see you," Em calmly delivers lines like, "I never had no beef with you corny son of a bitches/But now the shit is broke and you can't do nothin' to fix it/So I'm tellin' you right now, motherfuck a Limp Bizkit." The track silenced Fred and the rest of Limp Bizkit.

"Cleanin Out My Closet" (2002)

Eminem

"Cleanin Out My Closet" is one of the most notable songs of the 21st century. Eminem leaves the rap game alone on this one and focuses on his mother, responding to the Set The Record Straight CD that she released with ID-X.

The song's closing verse is jam-packed with animosity, as Em portrays his mother as a pill popper, an abuser and an opportunist.

One of Eminem's biggest beefs was with The Source magazine and its founder, Benzino, who was a rapper in his own right and a member of the Boston-based crew Made Men. After Benzino called Em out on "Pull You Skirt Up" for hip-hop's racial double standard—alleging that he'd be far less successful if he weren't White—the Detroit rapper fired back by going to war with both 'Zino and his magazine.

With no chorus, melody or real song structure, "The Sauce" addresses all of Benzino's shots and retaliates with some of his own. It's a full-on takedown of The Source, calling out backdoor politics and questionable journalism ethics before Em digs into Benzino.

"Every issue there's an eight-page Made Men spread/Will somebody please tell whoever braids his head/That I am not afraid of this fuckin' waste of lead/On my pencil, for me to write some shit this simple/So listen closely, as I break it down and proceed/This old G's about to get smoked like rolled weed."

"Nail In The Coffin" (2002)

Eminem

Eminem didn't stop his lyrical assault on Benzino with "The Sauce." He kept the ether coming with "Nail In The Coffin," which more directly targets his antagonist.

On this diss track, Em goes for the jugular. He sets off the bar brigade with, "I would never claim to be no, Ray Benzino/An 83-year-old fake Pacino." Eminem doesn't let up until the the five minutes are up, twisting the knife with an outro that shouts out the publication you're currently reading, then a rival of Benzino's The Source.

"Hail Mary" (2003)

Eminem Featuring 50 Cent and Busta Rhymes

Ja Rule dissed 50, Eminem and Busta Rhymes on his remake of Tupac Shakur's "Pain," and consequently, the trio shot back with a remake of that rapper's song "Hail Mary," which was revered as one the hardest-hitting diss tracks of all time.

Em completely mocked Ja with lines like, "Now all of a sudden I'm a fucking madman who screams/Like I'm Pac but I'm not, enemies, Hennessy/Acting like I'm great, but I'm fake, I'm crazy" provide the perfect alley-oop for 50 and Busta to shatter his street cred.

"Can I Bitch" (2003)

Eminem

Canibus had been catching stray shots from Eminem since 2002, but on "Can I Bitch" Em unloads a full clip of disses aimed right at his rival.

"Hey, mister, would you care to bear witness to/The ass whippin' I'm about to administer/To this ass kissin' little vaginal blister?/Stanibus, little Marshall Mathers' sister." It was the final blow in Em's back-and-forth clash with a fading star.

"Not Alike" (2018)

Eminem Featuring Royce Da 5'9

Em had kept fairly quiet over the 2010s until his recent call outs on surprise album Kamikaze. Alongside Royce 5'9" and over a sample of BlocBoy JB's "Look Alive," Em takes aim at Machine Gun Kelly, who had been taking subliminal shots at Em for the past few years (and made an inappropriate comment about Em's daughter Hailie on Twitter).

Em's verse sprays all over the place but is centered primarily around, "If you wanna come at me with a sub, Machine Gun/And I'm talkin' to you, but you already know who the fuck you are, Kelly/I don't use sublims and sure as fuck don't sneak diss."

This sparked a response from MGK in the form of "Rap Devil," officially igniting a full-on feud.

After MGK responded to "Not Alike" with "Rap Devil," Em promptly clapped back with "Killshot." The track pulls apart MGK's past, present and alleged failing future with lines like, "But I'm 45 and I'm still outselling you/By 29, I had three albums that had blew."

The most jaw-dropping line in the song mentions MGK's label boss Diddy: "Killshot, I will not fail, I'm with the Doc still/But this idiot's boss pops pills and tells him he's got skills/But, Kells, the day you put out a hit's the day Diddy admits/That he put the hit out that got Pac killed."