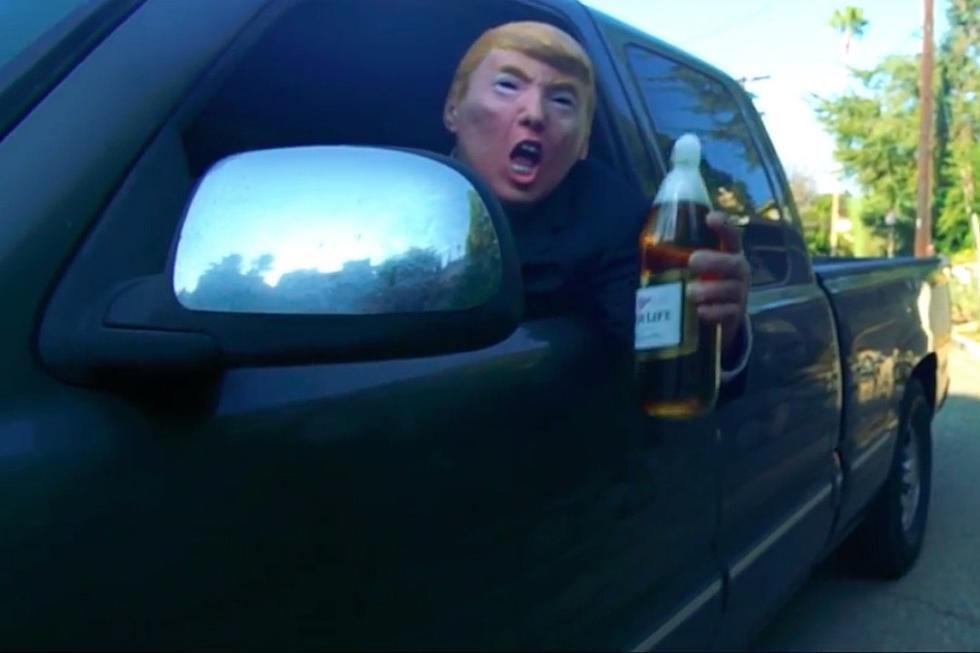 Emilio Rojas Drops "I Hate Donald Trump" Video
YouTube
In case you didn't know, Donald Trump isn't too popular within the rap community. In fact, he's been so unpopular that countless rappers have hurled insults his way, and a few have even made diss songs directed at the GOP's presidential candidate. One of those rappers is Emilio Rojas, who just dropped a hilarious new visual for his recently released single, "I Hate Donald Trump."
The video, directed by Tyler Salem aka TS for CCCXI Creative Studios, features a man wearing an obnoxiously unrealistic mask of the track's namesake along with excerpts from the boistrous, newly minted politician's more controversial speeches and interviews. Rojas pulls no punches when it comes to criticizing the man who could very well be the U.S.'s next president.
In one part of the video, fake Trump seemingly barks orders at migrant workers taking care of his lawn. In another part of the video, we see a reckless fake Trump gripping a 40 as he cruises down the street. Rojas' message is pretty blatant: Trump is a racist goon who's no different from the seemingly lower level bigots that preceded him. Those aren't the nicest words, but a lot of folks would agree with him.
Speaking of Trump, Jeezy recently made a very intriguing comparison between the outspoken presidential hopeful and Tupac Shakur. Jeezy says Trump's penchant for making incendiary remarks would help him make a killing in the rap game. "When I look at the election right now and all the bullshit that's going on, you can't help but laugh," Jeezy said during an appearance on the Tax Season podcast. "You got Donald Trump – and I tell niggas, that nigga's cold. If he was a rapper right now, he'd be 2Pac. If you put that album out right now, it'd be diamond. He hot."
Watch Emilio Rojas' take on Trump above.
20 of Your Favorite Rappers Naming Their Favorite Rappers