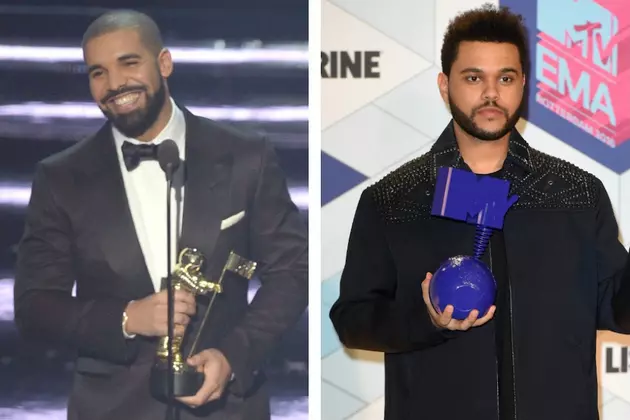 Drake and The Weeknd Perform "Crew Love" Together for First Time in Years
Anthony Harvey/Jason Kempin, Getty Images (2)
The Weeknd recently brought out Drake at the Toronto stop of his Starboy: Legend of the Fall Tour, and fans were treated to something they haven't seen in years: Aubrey and Able performing their duet, "Crew Love," live.
The XO leader starts the song off, crooning the track's intro as a packed crowd hangs on to every word. The tension builds as Drake's verse approaches and the place erupts when the 6 God pops up on the stage rapping. The crowd is going so crazy you can barely hear him spit.
For his solo act, Drizzy had Air Canada Centre turnt TF up as well, performing bangers like "Gyalchester" and "Fake Love," off his latest project, More Life, and his Future-assisted hit, "Jumpman."
The fans were definitely loving the crew.
Drake is coming off a record-setting night at the 2017 Billboard Music Awards, where he took home 13 trophies including Top Rap Artist, Top Rap Album, Top Rap Tour, Top R&B Song, Top R&B Collaboration, Top Hot 100 Artist, Top Billboard 200 Artist, Top Streaming Song (Audio), Top Song Sales Artist, Top Streaming Songs Artist, Top Male Artist and Top Billboard 200 Album.
Adding to his Billboard lore, it was recently revealed that Drizzy has been on the Billboard Hot 100 in some form or fashion for the last eight years straight. Winning isn't the word.
Check out footage from Drake and Weeknd performing "Crew Love" below.
See Photos of Drake's Different Looks Over the Years