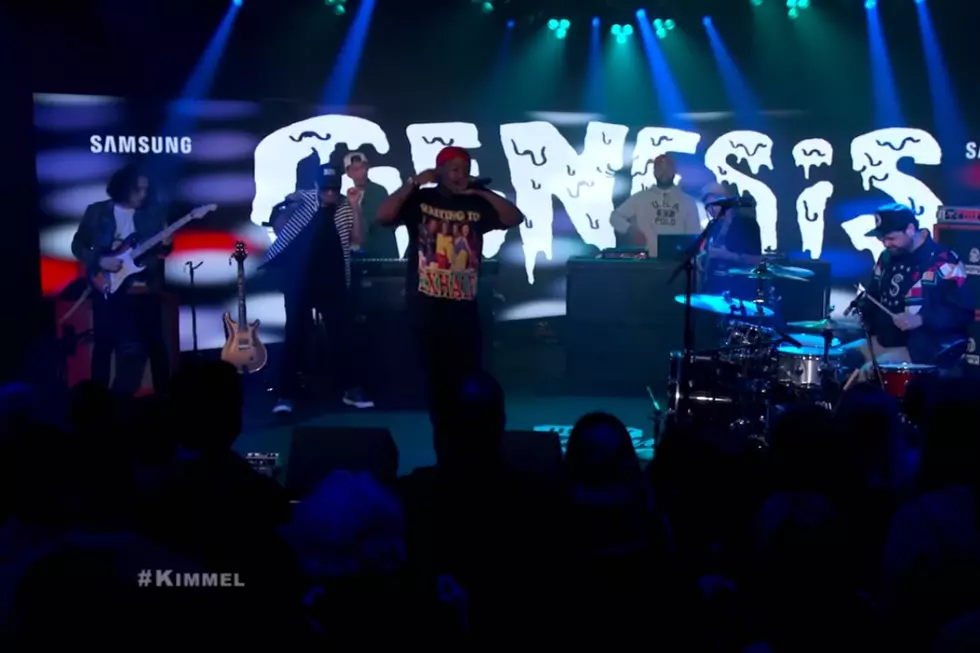 Domo Genesis Performs "Dapper" With Anderson .Paak
YouTube
Rocking a backwards red brim, a Waiting to Exhale t-shirt and joggers, Domo displayed his charisma and stage presence in front of a diverse crowd of fans. The 25-year-old MC spits, "Baby we can dance if you like/Shake that pretty ass on the flash of the light/Off of one glass, can only imagine the hype/Trying to figure out if I'm being in your plans for the night/Cause I ain't felt this good in weeks/Got a fresh cut now I'm looking for the freaks/Fresh car wash, so don't put your hand on the Jeep/Use your etiquette, can't bring sand to the beach."
He continues on the Garcia Bros-produced instrumental, "All around the world they keep running/Shawty wanna hold my hand, it ain't nothing/Mariah said if it's worth time, then say something/And they tell me I'm out of my mind, I ain't budging/Sorry if I'm so overzealous/Cause I haven't felt no energy like you on this planet/So yeah, put your number in my handheld/And I'mma fill that bitch up with fan mail."
XXL freshman .Paak handles the hook, singing, "Hold (hold) that (that) light (come on now)/(Hold out!) Smoke (smoke) that (that) fire (come on don't stop 'till you)/Hold (feel it) that light (baby you got to, hold on)/Smoke (smoke) that (that) fire."
In case you missed it, check out XXL's recent interview with Domo, in which the 25-year-old California native delves into his new album, his love for Kobe Bryant and much more.
You can view the performance in full above via the official Kimmel YouTube account. Keep it locked to XXL for more music and news from both Domo Genesis and Anderson .Paak. Also, scroll down to check out .Paak's 2016 freshman freestyle.
30 Albums That Will Make You Appreciate Hip-Hop