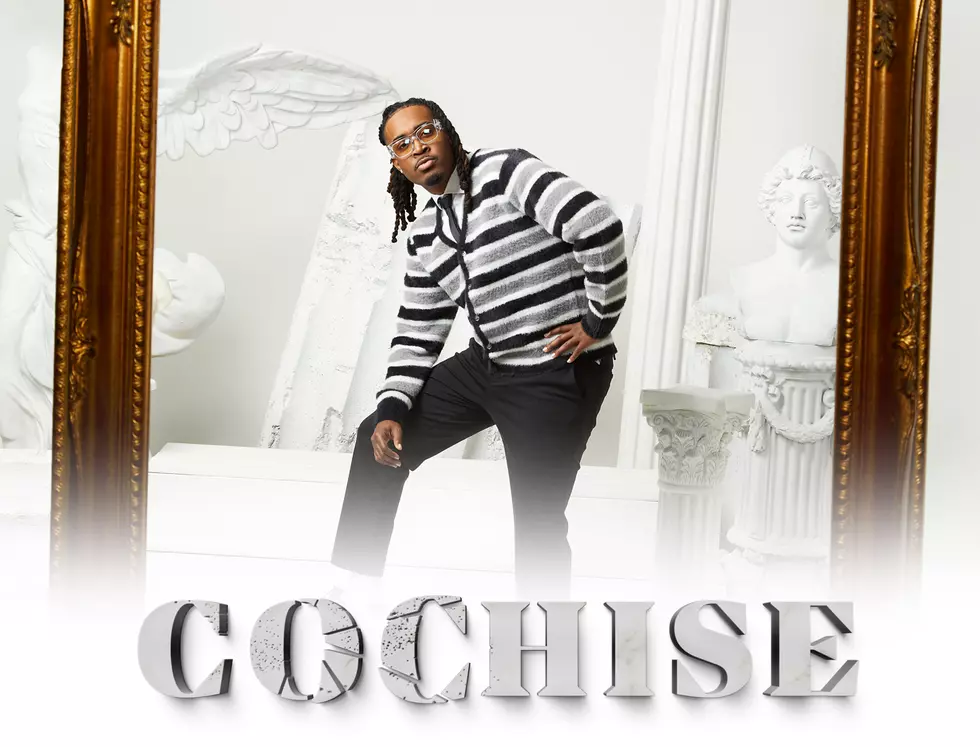 Cochise – 2022 XXL Freshman
GOV'T NAME: Terrell Cox
AGE: 24
REPPIN': Palm Bay, Fla.
TWITTER: @cochise
INSTAGRAM: @cochise
TIKTOK: @yungcochise
NOTABLE RELEASES: Songs: "Hatchback," "Tell Em" featuring $not, "Knicks," "Pocket Rocket"; Album: Benbow Crescent; Guest Appearances: Internet Money's "Right Now" featuring TyFontaine, Lil Yachty's "Charmin"
LABEL: Columbia Records
CURRENTLY WORKING ON: The Inspection album due this summer.
WHO ELSE SHOULD BE PART OF THIS YEAR'S CLASS: "[SoFaygo] is a great, great guy. Yeat is a nice pick. SSGKobe's a nice kid. I think Saucy Santana is going to break a lot of walls down. He's a great artist as well."
INFLUENCED BY: "Bob Marley, Vybz Kartel. Busta Rhymes was a really big part of my older music and then when I got into new rap. Young Thug was a really big part of me kinda learning how the new school of music is. Tyler, The Creator was like a really big part of me as well."
AS A FRESHMAN IN HIGH SCHOOL: "I was a soccer player. I was the dude that was cool with everybody. I'ma dap up the plug and I'ma dap up the nigga that might do something to the school. I was dapping up everybody. I was cool. I ain't judge. I can't judge a book by its cover."
TRUTH ON BEING AN XXL FRESHMAN:
"[When I found out I was a Freshman], I was just trying to think how strategic I could plan out from then till now. Things I can say, do, wear. From the first day it was business. It's exciting to be on something. But then what's more exciting? You being on something or you being good at what you're on? So, it's just more of me wondering how I could better myself when I'm on it. Rather than being excited just to be on it, I shit the bed. Then, it's like now I'm permanently known as bed-shitter.
I like to be myself. I do things myself. I'm just really involved in my own career. If you picked me or didn't pick me, I was still gonna be myself. So, it's just refreshing to me for [XXL] to at least look toward me and be like, OK, for somebody that's being themselves, he cool. We can bring him along.
I been in the pot. I had some seasoning. They done seasoned me up. Pause. I wouldn't say I'm a veteran, but I got some papaya on me. Some cinnamon, salt and pepper. It's not too late or too early. Just right. My main important thing is just going where God directs me. If God want me to do this and I pray on it and it follows through, that means it's something that God wants. If it didn't follow through, then that mean God ain't want it. So, I'm never complaining."
COCHISE'S 2022 XXL FRESHMAN FREESTYLE
Don't let the baby voice fool you. Only a few years into his burgeoning rap career and Cochise is making big boy moves: gold and platinum plaques, millions of streams and a major label record deal. The 24-year-old rapper from sunny Palm Bay, Fla. has found his niche in the rap game via boisterous, tone-setting bangers. However, 'Chise, whose usually known for his trademark high-pitched vocals, flips the script and drops straight bars for his 2022 XXL Freshman freestyle.
The 2022 XXL Freshman Class boasts a variety of rappers from all over the map. Like his music, which is filled with high jinks, the "Tell Em" rapper's personality shines through on the solo rap segment of the Freshmen proceedings. Cochise seamlessly transitions from detailed anime bars to money flips, spirituality and video games in a succinct 16 bars. All while sitting on a throne fit for a king.
"To be honest, my life got better when I was 5/I been in the rain feelin' pain and I ain't talkin' 'bout Jiraiya," he raps, referencing the character from the popular anime Naruto. "Went to the jeweler, now the earpiece heavy/Pole hit his back, now he look like Neji/See me, I throw the work to my mans like a Manning/If I ever take a L, it's in silence like salmon/Keep God on my mind, you would think I'm Fred Hammond/Heard you niggas gettin' hungry, that's the point of being famine."
He continues with a little braggadocio. "Stop it, I'm takin' off just like a Houston Rocket/She said the gap look big, I told her you should see the pockets/She like, 'Boy, you need to watch it,'" Cochise spits.
He closes by delivering bars dictating his dogma for life. "Seem God on my side, I could never change," he raps. "If it's God or some money, you can keep the change/If it's God or popularity, you can keep the fame/I'd rather be at home with my brothers playing soccer games/We not the same."
Cochise is a different type of character, seemingly undriven by accolades and hype, though he's receiving both, as well as a growing swarm of fans. He jumped into the game with his 2018 debut album, Pulp, which along with his 2020 single "Hatchback," earned him a deal with Columbia Records. His 2021 album, Benbow Crescent, features lively tracks like "Knicks" and the gold-selling "Hatchback," with plugg rap production aesthetics and a pitch change from 'Chise that established him as one of rap's most recognizable voices. The 2021 platinum single "Tell Em" featuring $not further cemented the Florida artist as a budding hitmaker. It also marked the first time he entered the Billboard Hot 100 chart last year. His brand new album, The Inspection, is his next chance to level up. Cochise isn't taking anything too seriously.
"I just like to have fun," he tells XXL. "That's my main thing, having fun. Life is short as shit. It's like, do you want to live life just getting money or do you want to live life having fun and then potentially getting money? That sounds funner to me."
Watch Cochise's 2022 XXL Freshman freestyle, powered by Puma, below.
—C. Vernon Coleman II
COCHISE'S ABCs
COCHISE, KALI, BABYFACE RAY AND BABYTRON'S 2022 XXL FRESHMAN CYPHER
During the 2022 XXL Freshman shoot in Atlanta this past May, selected artists were tasked with stepping up to the plate and leaving no crumbs behind by the time everything was said and done. The quad of Kali, Cochise, Babyface Ray and BabyTron did just that in their cypher. Fusing for a track strong enough to go platinum, the layered artists prove here that the only time they fold is when it comes to the dead presidents in their pockets.
The beat is laced by multiplatinum-selling producer Wheezy Outta Here. Offering his usual brand of romantic trap, the Grammy award-winning talent utilizes a combination of chordophone and woodwind instruments for the melody, along with a turbulent drum kit to match. Additionally, the foundation, best described by the viral clip of Future saying "sensational," is, of course, equipped with his standout producer tag, which came from an old studio session with Pluto and Young Thug.
Thanks to Georgia's own Kali, things couldn't have gotten off to a better start. Talking greasy, she uses an array of flows to detail her player mentality when it comes to having prospects and authentic motion in the rap game. "Niggas only hard to they homeboys/Niggas only hard to that weak-ass bitch/Flashin' them guns in the videos, and don't even know how to load up a switch/I ain't even havin' no sneaky link, 'cause a nigga gon' brag on the shit," she spits.
Next is Florida's own Cochise, who's typically known for his high-pitched delivery, zippy cadences and carefree bars that precede his lively ad-libs. He puts all of those on display here. Keeping things fun and truly going off the top, he raps about being in the presence of his day ones and recruiting people's girlfriends to keep them company. "OK, excuse me, got your shawty she loosie/I slap on her booty/She show me the boobies/And all of my niggas we getting some cuties, OK," he rhymes.
Third up is the respected Detroit rhymer Babyface Ray. Prevailing with his signature conversational flow, 'Face flexes about staying true to himself from an infant. Despite always having special qualities, he expresses that, nowadays, he has juice on tap, flexing, "Face yo' baby, face her, baby, drive her crazy/New Mercedes, huggin' me good the new 580/Blue 500, done made 500, just call me the greatest/From nothin' to somethin', now I'm a stunna like Weezy and Baby."
Rounding things out is another Michigan native, BabyTron. He opts to go a cappella, emphasizing his caption-worthy bars about being a savage-hearted hustler who gets to the bag by any means while also being quick to put his enemies in one. "Play with us or one of mines, be done left y'all/Why you playin'? Once it's up, you can't press pause/Sonic to the blues, get to runnin' like the hedgehog/Catch 'em in a Off-White tee, get 'em X'd off," he raps.
Talk about ending the Freshman rollout on a high note.
Watch Kali, Cochise, Babyface Ray and BabyTron's 2022 XXL Freshman Cypher
—Kemet High
See Every Artist in the 2022 XXL Freshman Class
Which rapper is your favorite?