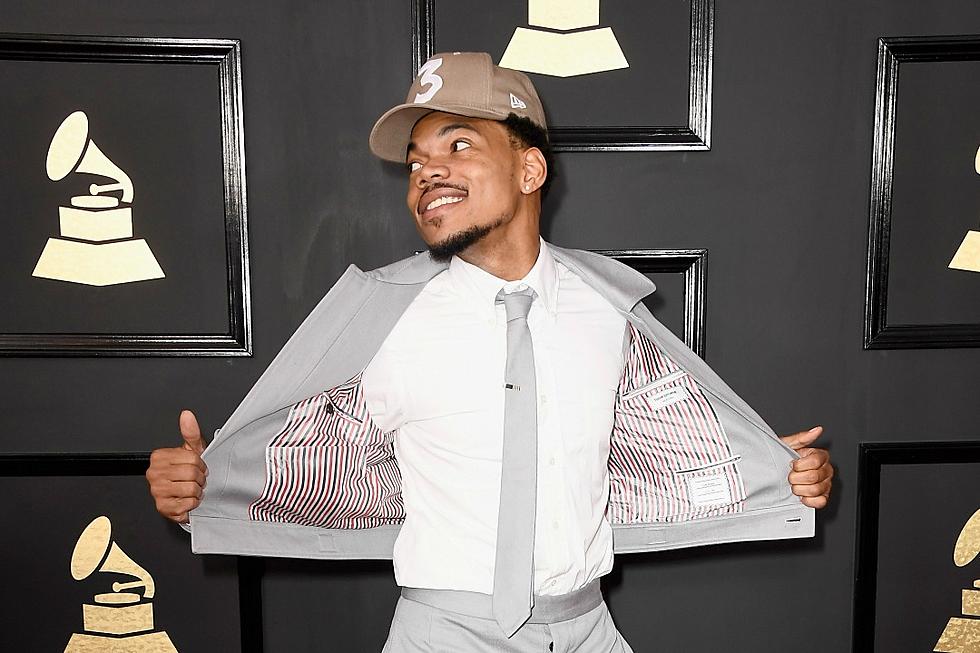 Chance The Rapper Becomes First Grammy-Nominated Rapper Without Music for Sale – Today in Hip-Hop
Frazer Harrison, Getty Images
On this day, Dec. 6, in hip-hop history...
2016: Following a highly publicized shift in the landscape of the entire music industry that many believe was spearheaded by the Chicago MC himself, Chance The Rapper became the first rapper to never sell any of his music and still be nominated for a Grammy Award on Dec. 6, 2016.
It's no secret that throughout the years, free mixtapes have been responsible for the professional growth of many of Rap's top names. Not only that, but in many cases, tracks that were released solely via the mixtape game have been considered to be some of the best songs ever created in Hip-Hop altogether. The problem with that, however, was always the fact that any given mixtape's success, specifically the amount of plays it received and how many people appreciated it, would often go overlooked and simply weren't allowed to be recognized with major industry accolades such as a Grammy Award.
For the longest time, the National Academy of Recording Arts and Sciences (NARAS) stood by its decree that if a project was to be even considered for a Grammy Award, it had to be "commercially released in general distribution in the United States, i.e. sales by label to a branch or recognized independent distributor, via the internet, of mail order/retail sales for a nationally marketed product. Recordings must be available for sale from any date within the eligibility period through at least the date of the current year's voting deadline (final ballot)." That was, of course, until June of 2016.
Despite claims from the Head of Awards Bill Freimuth that suggested Chance The Rapper had nothing to do with it, the Recording Academy announced on June 16, 2016 that moving forward, streaming-only recordings would be eligible provided that they were "released via general distribution, defined as the nationwide release of a recording via brick and mortar, third-party online retailers, and/or applicable digital streaming services." This change to the Academy's policy came to fruition just one month after Chance signed and publicly supported a fan-created petition that called for free music to be considered eligible to be nominated for one of the music industry's most prestigious honors, the Grammy Award.
With Chano's widely-acclaimed third mixtape release, Coloring Book, now eligible for Grammy consideration, the Chi-town golden boy orchestrated a full-fledged nomination campaign that would eventually cement his place in Hip-Hop history.
When the news dropped on this very day in 2016 that the 2014 XXL Freshman was in fact nominated for not just one, but seven Grammy Awards, it was grounds for celebration, and celebrate he did. That night, the "Blessings" artist threw a massive party in his hometown of Chicago to commemorate the monumental occasion.
"Tonight we won, because I got nominated for a Grammy," Chance said on stage at the event, champagne bottle in hand. "And I don't plan on waiting until February to figure out if I won or lost. I decided tonight that because I'm surrounded by my best friends, by my family, that tonight was the winning night and I wanted to celebrate with you guys here in Chicago rather than wait 'til I'm in Los Angeles. If I do win any Grammys on that night, I promise that when I get on the stage, I'm gonna say, 'Glory be to God, I claim the victory in the name of the Lord.' And if I don't win, at least I got to say it right now."
Fast forward to the night of February 12, 2017 and the 59th Annual Grammy Awards ceremony, and Chance didn't have to settle for a moral victory in light of his unprecedented nomination. In fact, he took home three Grammy Awards that night including Best New Artist, Best Rap Performance for "No Problem," which features Lil Wayne and 2 Chainz, and Best Rap Album for the project that sparked this whole thing, Coloring Book.
In the time that followed that epic night in music history, Chance The Rapper would continue to nurture his revolutionary tendencies through his countless philanthropic acts and his innovative, genre-bending music. He even went on to be named as one of Fortune Magazine's 50 Greatest World Leaders and donated his Best Rap Album Grammy to the DuSable Museum of African American History in Chicago.
See Photos of Chance The Rapper's Different Looks Over the Years