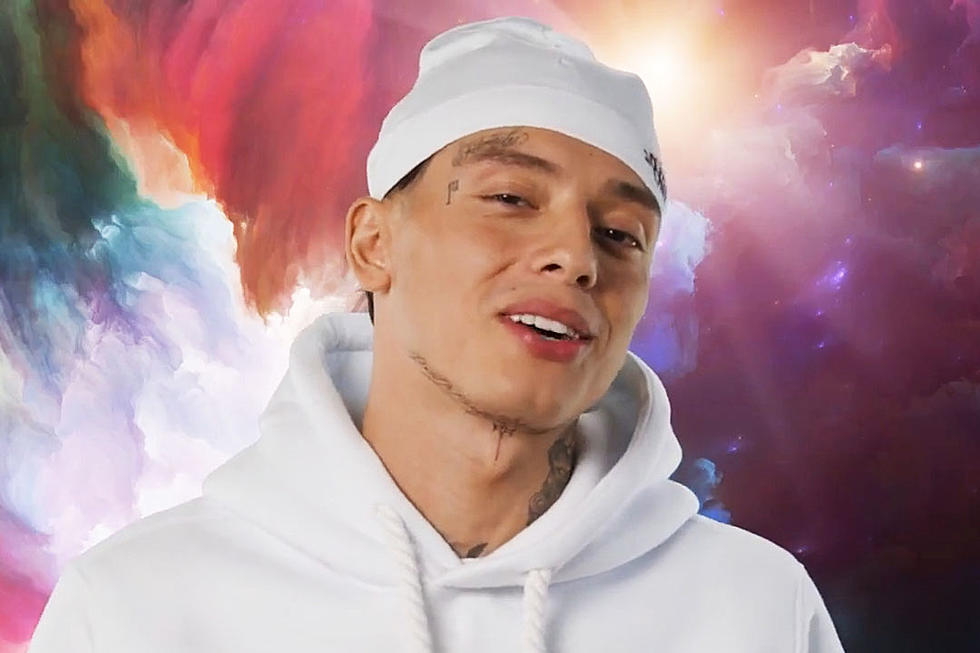 Central Cee Shares the Meaning of His Tattoos in His ABCs
XXL
If there's one thing to know about Central Cee aside from his distinct rhymes and the massive success he's earned as a former independent rapper (he just signed to Columbia Records last month), it's that getting a new tattoo is like copping a fresh pair of kicks. It happens on the regular. A look at the cover of the 25-year-old West London native's album 23 proves his ink is taking up any available space. A day prior to Cench joining XXL for the 2023 Freshman Class shoot in late May, he got Death Before Dishonor tattooed under his chin. He shares the meaning behind that tatt and a few more in his version of ABCs.
Fittingly, Central Cee starts off the alphabet with the word anti, which not surprisingly he has inked on his arm. The U.K. rhymer's 2021 song  "Hate It or Luv It" is a tell-all on the subject: "I'll cut man off and I'll keep it moving, I'm antisocial/My people skills, they need improving."
For D, Cench brings it back to the permanent artwork. Death Before Dishonor hits home for him. "it's a nice saying, innit? But even when I'm gettin' it though, like, I'm quite like a contradictive person though and I'm realistic at the same time," Central Cee admits. "But I've been definitely been dishonest as well. There's a time and a place, but for the most part, I like to say loyalty is priceless and dishonor is a no go."
Get to know more about Central Cee, the meaning behind his tattoos, his new brand SYNA, his Live Yours slogan and more in his ABCs below.
Watch Central Cee's 2023 XXL Freshman ABCs
The Freshman issue of XXL magazine hits stands everywhere on July 18. See Finesse2tymes, Lola Brooke, Rob49, Fridayy, GloRilla, 2Rare, SleazyWorld Go, Central Cee, Real Boston Richey, Luh Tyler, TiaCorine and DC The Don's official Freshman pages. In addition to interviews with all 12 artists in the 2023 Class and Freshman cyphers producer Pi'erre Bourne, it includes interviews with Lil Baby, NLE Choppa, Boosie BadAzz, Toosii, DDG, Saba, producer Go Grizzly, engineer Jaycen Joshua, singer Coco Jones, SinceThe80s' President Barry "Hefner" Johnson and AEW wrestler Swerve Strickland, plus a look back at what the 2022 XXL Freshman Class is doing, hip-hop's love for golfing featuring Scarface, OMB Peezy and pro golfer Harold Varner III, conversations with 10 new artists making noise and a deep dive into A.I. hip-hop songs. You can also buy the 2023 XXL Freshman Class issue here.
See the 2023 XXL Freshman Class