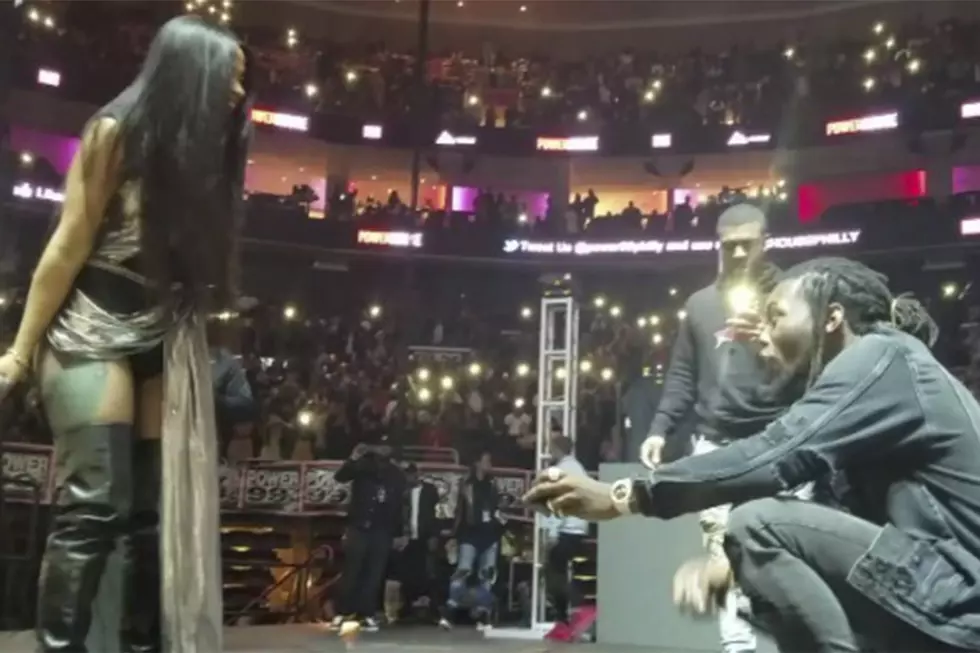 Fans React to Offset and Cardi B Getting Engaged
power99philly via Instagram
Just a few days after breaking up and then getting back together, Cardi B and Offset are now engaged.
The proposal happened live at Power 99's 2017 Powerhouse concert in Philadelphia Friday night (Oct. 27). While the "Bodak Yellow" rapper was hyping up the Philly crowd, Offset tapped her on the shoulder and quickly got down on one knee to pop the question.
As expected, Twitter was sent into a frenzy when news of the engagement broke. Many fans hoped for the best for the couple's future, with one person writing, "Man I hope offset and Cardi B beat all the odds lol." Other fans questioned the life of "rich people," asking, "Didn't offset and Cardi B just break up like last week? Now they getting married..? Rich people are weird."
While the Bronx native and Migos member, who recently appeared on XXL's 20th Anniversary cover, seem to be in a great place now, just last week, the two did go through a public breakup. On Oct. 21, Cardi posted a selfie Boomerang video on social media, labeling it, "Single." The rapper then posted a picture with a caption that read, "Peace nikka."
But Cardi quickly had a change of heart, posting another message that read, "So listen babes, I exaggerated a lil bit earlier cause I was really upset and the Bronx girl in me always have to go the extreme. I came to me sense now. I'm sorry ...waffle house on me?"
Check out some of the best Twitter reactions to the hip-hop couple's engagement in the gallery below.
See Fans' Reactions to Offset and Cardi B Getting Engaged