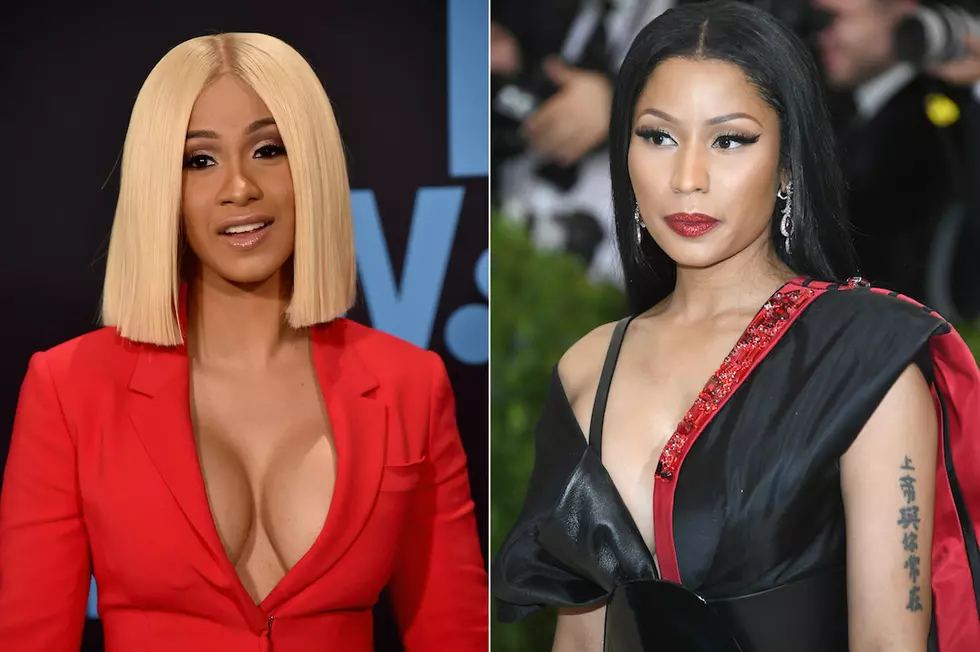 Cardi B Didn't Hear Nicki Minaj's Finished "Motorsport" Verse Until Song Dropped
Alberto E. Rodriguez/Dia Dipasupil , Getty Images (2)
Although the debate has died down, there are still some people out there wondering if there may be tension between Cardi B and Nicki Minaj. During an interview with Capital XTRA while overseas, the "Bodak Yellow" rapper addresses the controversy surrounding their verses Migos' "Motorsport" track, revealing some new details prior to its release.
If you recall, there was social media chatter about whether or not Nicki was aware that Cardi was going to be on the Atlanta trio's track, insinuating that the two might be sneak dissing each other on the song. According to Cardi, however, while Nicki admitted that her and her team cleared the song before it dropped, the Bronx native says she never heard Nicki's full verse until the track was officially released.
"Well, when I heard the track, her verse wasn't finished," Cardi B stated. "Or it's not the verse that's [on there] right now. And Quavo told me that to get on the song, and I just felt like it's a perfect opportunity for me to be on a track that's big like them. Cause those are two big people, and I just started in the game. And I just know if I get on this record, it's gonna be crazy. Like, who doesn't want it?"
The Atlantic Records signee also says that she "spoke to [Nicki] before" in person, but didn't clarify how the conversation went, and if they left things on a friendly note.
Meanwhile, the Grammy-nominated entertainer is also sharing her raw thoughts on the slave trade in Libya, calling out the United Nations for mistreating the country and its residents who are suffering. In an Instagram Live session, Cardi tells fans that Libya "hasn't had a president or any type of government running them for kind of a long time right now" since Gaddafi was taken out by the U.S. years ago, leaving the country without a leader.
"You wanna know why they not making it a priority?" Cardi explains. "You wanna know why they don't care? Because it's convenient for them. It's convenient for them because they want free resources, they want free goods, and that's why they don't give a fuck."
She even slams the U.N. for having "fake meetings" after the media exposes their alleged corruption and negligence.
"The United Nations … is always on some fucking bullshit all the time," Cardi says. It's not until "they get exposed on CNN, that's why they wanna act like they having a type of meeting and sh*t, they wanna do these fake meetings with these cameras and sh*t, like they helping and they care, and they don't give a fuck."
It's not like Cardi to get political, but she's certainly not known to hold her tongue on what she's passionate about.
See what Cardi has to say about Nicki Minaj on "MotorSport" and the U.N. below.
See Photos of Nicki Minaj's Different Looks Over the Years