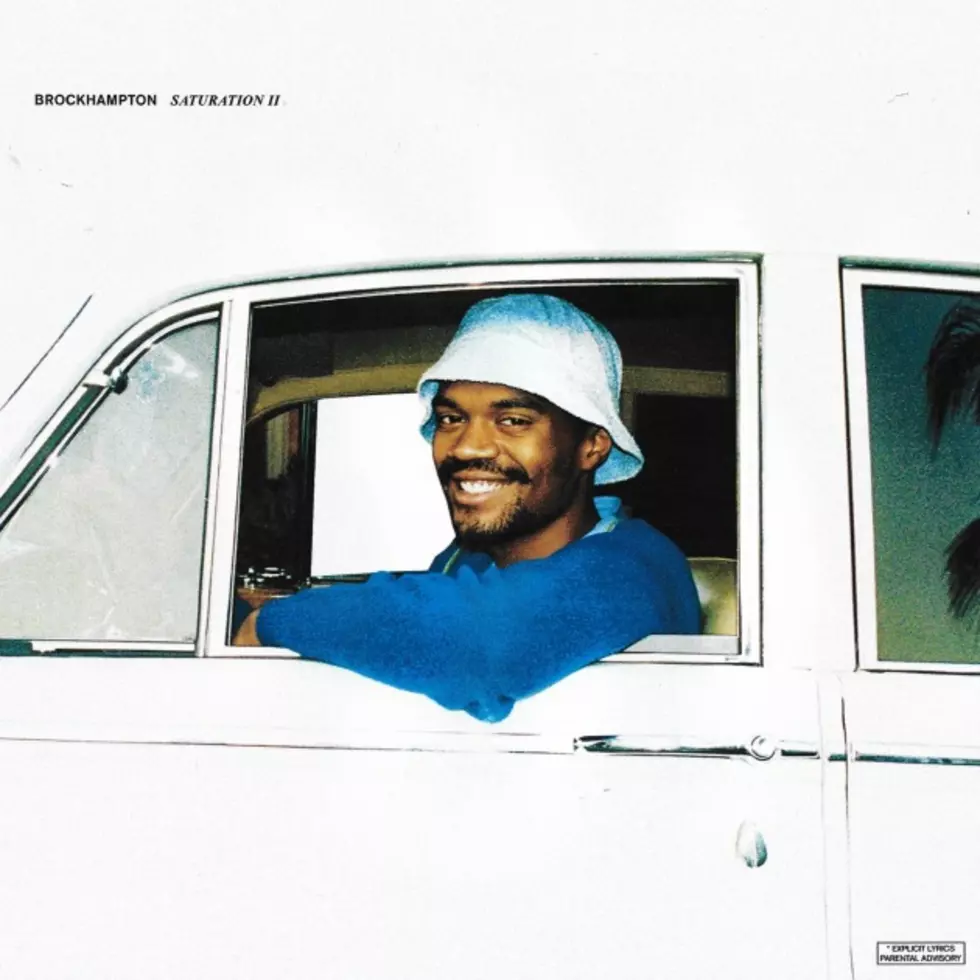 Brockhampton Deliver a Diverse Effort With 'Saturation II' Album
Empire
Brockhampton's come a long way. That much becomes clear when you listen to their 2015 tune, "Bet I," a catchy track that finds members spitting a ton of drug addiction clichés while seemingly taking on the identities of other rappers rather than defining their own. It's no wonder the group has since deleted the video from their main YouTube account.
The California-based collective, formerly known as AliveSinceForever, found a more clear-cut direction—a somewhat ambiguous one—with last year's genre-bending All American Trash, where each member showcased a more refined flow and more distinctive persona on wax. The group evolved even more so on this past June's Saturation, and they continue to do so on Saturation II, the eclectic clique's strongest offering to date.
Saturation II carries the distinction of being a project you can hear believably rugged bars about "turning grams into elbows" (Ameer Vann) on the same song as cheesy, but refreshingly earnest self-help lyrics like "treat my heart like a treasure, 'cause no one else will" (Dom McLennon). Both lines are delivered with equally full-throated conviction, and they co-exist on a hypnotic track that, to a casual listener, is all about "fuckin' commas up from the outside" ("Swamp").
In the hands of a more conventional act, perhaps it would be. Handled by the eclectic and mostly unpredictable Brockhampton, it becomes an extraterrestrial West Coast hip-hop version of Taylor Swift's "Shake It Off." This is Brockhampton, a mixed-race group of queer and straight artists that wear otherness and the insecurity that usually accompanies it with the confidence of barrel-chested trendsetters, reframing conventional—and mostly hollow—notions of coolness in the process.
The vocalists of Brockhampton are a ragtag team that feels like rap's more eclectic version of Ocean's 11. Kevin Abstract, who's the group's de facto leader, is an openly gay artist with a knack for hooks and occasionally, some witty lyricism. Vann is a quick-witted, GLC-Vince Staples hybrid that used to "run from the bloods" until he transferred to a predominantly White school where he faced racism instead of gunfire. Matt Champion is the straightforward guy with a laid-back delivery. JOBA, who's got a solid falsetto and a tight flow, studied classical music in college. McLennon is a dynamic writer who likes to "speak like a scholar and think like a nigga." Merlyn Wood is a former architecture student who operates as the group's walking bridge, injecting songs with adrenaline every time he pops up with either short verses or pre-hooks. Bearface is a crooner who left Northern Ireland to join a subversive boy band. There's a lot going on here, but it's all mostly seamless.
Saturation II meshes the diverse narratives of the self-proclaimed all-American boy band with dynamic, stylishly slick production from Romil Hemnani and Q3 (Jabari Manwa and Kiko Merley) and semi-free-associative songwriting. That looser approach to writing allows each member to be themselves as they deconstruct the dimensions of a subject while usually converging in a spirit of defiance and individuality.
On "Chick," Champion uses self-deprecation to dismiss everything from his own insecurities to critics of his music, while Vann uses clever quips to tackle said critics. From there, McLennon takes the baton to a macro-level finish line, using metaphors to describe someone who's more afraid his idea of "exciting"  becomes a "trip to the mall" than he is rejection. The result is a song that at once manages to be a track for teenagers coming out of their shell, a playful clapback anthem for fans of casually delivered death threats and a meditation for 20-somethings with dreams of self-actualization.
A similarly defiant anthem can be found in "Gummy," which finds Brockhampton flipping a middle-finger to materialism while embracing friendship without sounding like a hollow Instagram caption. With an M.I.A.-esque hook and West Coast-infused, middle-eastern instrumentation, the track makes "friends forever" sound sexy instead of sappy; the rejection of material wealth sound liberating instead of hackneyed. It also finds Kevin Abstract tackling critics who'd call him a sappy, wannabe oddball in a post-Odd Future world where eccentricity gets you a lot of followers and a Viceland show instead of a rap game-administered scarlet letter.
The writing on Saturation II is often witty and revealing, and even when it's not, each member of the boy band manages to sound enthusiastic. However, the divergent topics of their song elements sometimes fail to coalesce in vibe or substance, making it sound as if they wrote lyrics for entirely different tracks. "Junky" finds Abstract, Vann and Wood battling their relationship with sexuality, drug addiction and their family, but Champion abandons that introspection and throws in an accurate, but misplaced verse about male entitlement. Disconnects like that pop-up sporadically throughout the album, but the production is dope enough that everything still slaps.
Brockhampton travels glossier roads in two of the final three songs on Saturation II—to some mixed results. The McLennon and Abstract-commanded "Gamba" lacks the personality the two showcased earlier on the album and sounds like a less substantive version of something off Kid Cudi's Man on The Moon. Meanwhile "Sunny," with its twinkling bells and warm guitar strums, sounds exactly like its namesake and sees Vann spit a touching verse about redemption and kicking back with the homies.
From there, Bearface turns in "Summer," a piano and electric guitar-driven bookend to the latest Brockhampton project, which sounds pretty similar to the last song on the first Saturation.
Of the final three tracks on Saturation II ("Gamba," Sunny," and "Summer"), only "Summer," and Vann's verse on "Sunny" carry the unique conviction and personality of the best songs on the project. Despite this, and the intermittently scattered focus of the lyrics on the album, sleek production, the successful meshing of diverse narratives and rewarding artistic invention make Saturation II Brockhampton's strongest effort to date, and a clear sign the group is headed to bigger and better things.
See New Music Releases for September 2017