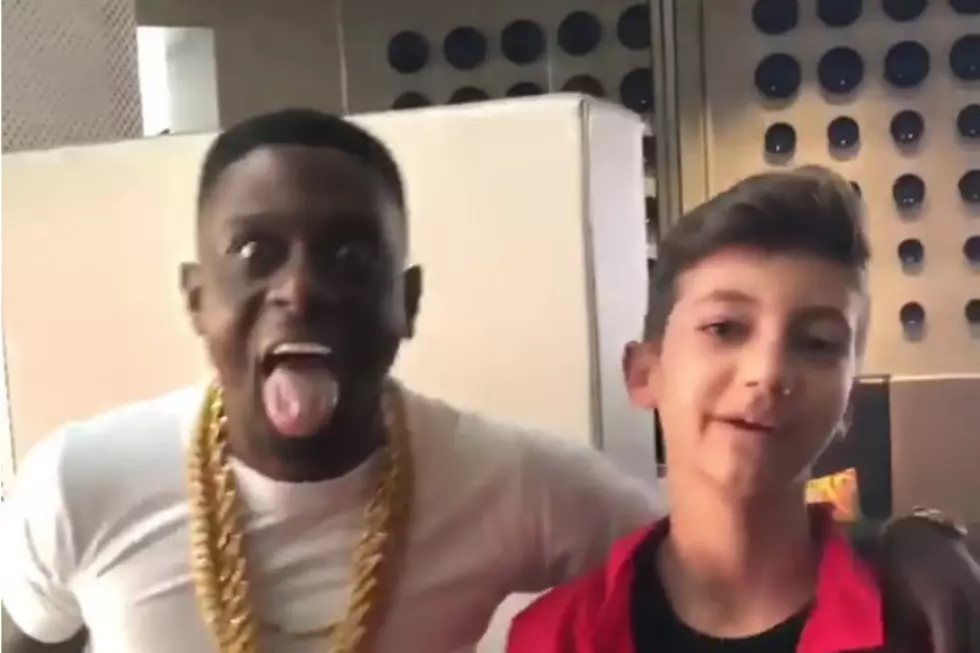 Boosie BadAzz Signs California Rapper Lil Blurry
LilBlurry via Instagram
Boosie BadAzz is expanding his musical empire. On Friday (Aug. 24), he announced the signing of young California rapper Lil Blurry.
Blurry, a relative newcomer, is the latest artist signed to the Baton Rouge rapper's Bad Azz Music Syndicate. The signing was announced via a video on Blurry's Instagram page. In the clip, the Cali neophyte poses for the camera with the "I'm Bad" rapper.
"I'm with my big bro Boosie, we just got the paperwork done," the young rhymer announces. "Be on the lookout for what we got coming next."
Boosie adds, "It's going down. Billion-dollar kid. We taking over the industry. We sitting down, we making big moves. It's up."
The Louisiana rapper appears to have snatched Blurry up pretty early in the process, as the young rhymer has a limited catalog including the tracks "Drippin" and "Emotions," both of which dropped this year. According to the internet, he's only 12 years old. As for his style, Blurry seems to have an affinity for rapping about "pouring fours" and stunting on tracks via an Auto-Tune delivery. According to his Instagram page, he has an upcoming collab with Skinnyfromthe9.
Boosie's label is already home to artists Koly P, B Will, OG Dre, Wavy and Yung Bleu. He definitely looks to expand his horizons in 2018 and beyond. "It's just about branding Boosie, whatever," Boosie told XXL earlier this year. "It can be a doll in Walmart. Anything. I'm just trying to brand anything that can go on forever and make money. I'm trying to brand us as Boosie the brand. I want investors to know—'cause I'm always looking for investors and people with real money—I want all these people to look at me and say, 'I don't know what it is about this little guy with his haircut, but when we put money behind him he's not failing.'"
Check out the signing announcement and Blurry's "Emotions" video below.
Here Are the Best Projects Released From 104 Past and Present XXL Freshmen